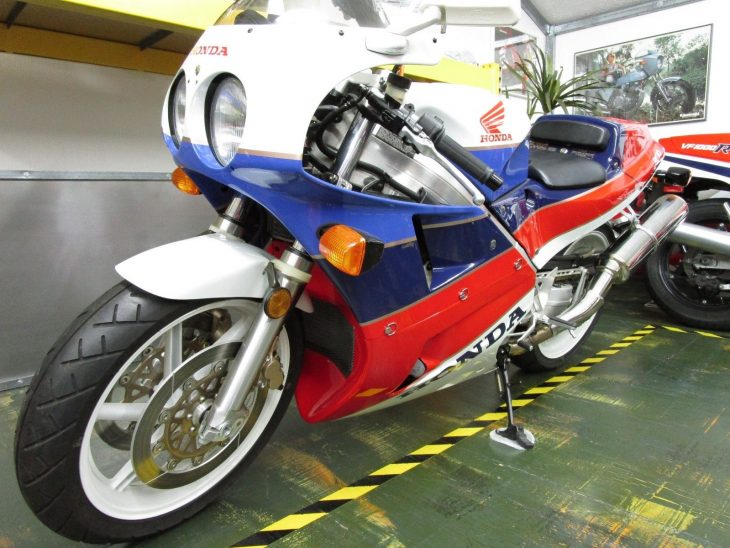 For all the accolades it's received, the Honda VFR750 RC30 is a subtle machine. To the uninformed, it doesn't look all that special, especially now that single-sided swingarms have become fairly common. The proportions are good, it's very compact, and the colors are classy: it's a handsome bike, but doesn't appear to be much more than another Japanese sportbike, although one that just looks right. And the spec sheet doesn't really do much to give the game away either, although hints about that this is a very special machine…
The bike weighed in 458lbs with fuel, coolant, and oil, with power quoted at 118hp, good for a top speed just a shade north of 150mph.  It wasn't especially lightweight, even at the time, and the power-to-weight looks decidedly tame now. Of course, numbers don't tell the whole story. They never do. They're just a useful metric, a way to compare apples to apples. I'm not good enough to test an RC30 against its peers and come away with anything useful to say, other than "that was cool." And nearly thirty years later, I'm sure it'd be hard to understand the impact of a bike like this when it was introduced if you're used to riding modern motorcycles, bikes that all learned a trick or two [or ten] from this one.
The RC30 might represent peak Honda: everything is perfectly engineered, and reviewers have always gushed about just how easy it was to get the most out of. As Pirelli says, "Power is nothing without control" and the RC30 was, by all accounts, an easy bike to ride fast, a bike that flatters the rider. The proof is in the pudding, as it were, and the bike won innumerable victories in Superbike and endurance racing. For a racebike, it had a surprisingly long shelf life, and was popular with both factory teams and privateers.
From the original eBay listing: 1990 Honda VFR750 RC30 for Sale
VIN JH2RC3009LM200170, engine # RC30E-2200324 – matching numbers
only 642.8 street miles, never raced, one private owner from 1998
unmarked original paint, decals and finish
a 49-state 'no smog' L-model, one of approx. 316 to US-market spec.
climate controlled storage
clean, transferable Ohio title
118hp at 11,000rpm, red-line 12,500rpm, 51lbft torque at 7,600rpm, dry weight 400lb, over-square water cooled V4 DOHC, 6-speed, top speed quoted at 153mph

The RC30, a modern classic if ever there was one, was created solely to win the World Superbike Championship, a goal it met in the nascent series' first and second years, 1988 and 1989. And while American Fred Merkel aboard his Team Rumi-sponsored purple and black RC30 was bringing Honda its first two WSB crowns, Britain's Carl Fogarty used another RC30 to win the TT F1 World Championship in those same years, and the equivalent FIM Cup a year later in 1990. No mere short circuit scratcher or TT rocket ship, the RC30 proved strong lasting enough to win a bag-full of Endurance Classics, too. 'That this latter requirement was also part of the design brief may be determined from the fact that a quick-release front fork and single-sided swinging arm – essential for speedy wheel changes – were part of an unrivaled specification that included a twin-spar alloy beam frame, 16-valve V4 engine with gear-driven cams, close-ratio six-speed gearbox and four-pot front brake calipers. All of which did not come cheap: at the time of its launch in 1988 an RC30 cost near double that of other super-sports 750s.'

Despite the passing of 30 years the RC30 remains a match for the following generation of superbikes but possesses an exclusivity that precious few of them can approach. 'No other bike from the late-Eighties is lusted after like the RC30', reckoned Bike. 'And then there's the exhaust note – loud, of course, but soulful enough to bring a pit crew to tears.'

This RC30 is a beautiful street example that is in stunning, as new, un-raced condition, showing 600-odd miles on the odometer. The original dealer was Cycle Sport Center, Inc. of Cridersville, Ohio. They sold it to Steve Bennett of Domi Racer Distributors, Inc. of Cincinnati, Ohio who rode the 600+ miles gently on the street, and then sold it, with a new set of tires, in late 1998 to the current seller, the first private owner. The bike has been meticulously stored unridden and maintained from then on. It comes with the original owners manual, unused tool kit, and the factory key.

A likely never-to-be-repeated opportunity to acquire an 'as new' RC30.

This bike, hidden away for 20 years, is in superb condition, so it can justify the label "museum quality." It re-defines 'as new.' Its VIN tag, shown here, illustrates just how clean this bike is.

To maintain the RC30's original finish, complicated by the use of several colors and many stick-on decals and stripes, it behooves the caretaker to take great care when moving it for photography and preparing it for sale. Remarkably, this bike has had the kid glove treatment from day one.

Foreign sales are invited. The buyer must pickup the bike from the seller. The seller can help with arranging third-party domestic and/or international transportation upon request, at the buyer's expense. Pickup must take place within 21 days of the payment clearing the bank. Thereafter, storage will be charged at $10 per day.

Contact the seller via email in the first instant. Questions are invited.
Well, I think it's always a good sign when the seller invites questions and the bike appears to be extremely clean, as you'd expect from a bike with just 600 indicated miles. Experts should feel free to chime in with opinions in the comments, and I'd love someone to fill me in on the signature that is visible on the tail section. I'm guessing it's Bubba Shobert, who raced 500GP bikes for Honda, but the seller doesn't seem to mention that little bit of trivia.
-tad