Location: Colorado Springs, Colorado
Mileage: 12,622
Price: Auction, currently $1,126 with a reserve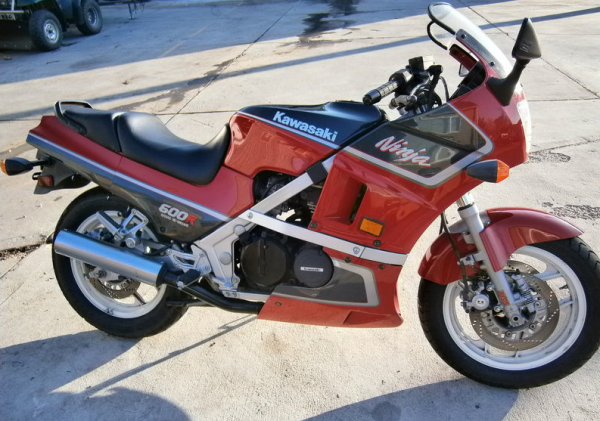 We see a lot of exotic bikes here on RSBFS, machines that are the very pinnacle of performance and build quality. Many a limited edition with numbered plates and high end, light weight carbon fiber tasty parts. They are all great and I love them as much as anybody. But, I have a special place in my sportbike heart for the early machines. Specifically, Japanese machines. They too were well built and high performance for their time. But they were also built for the masses. Nothing special. Not limited. But for everyone. And because of that, they are actually harder to find in original clean condition. Nobody really thought about these as collectible.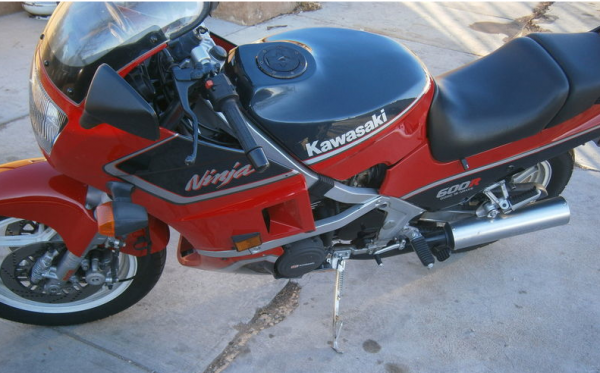 In those early years was this bike. The Kawasaki Ninja 600R. Part of the GPz line, it had a liquid cooled 16 valve in-line four cylinder motor that cranked out roughly 70 horsepower mated to a six speed gearbox. It was the cutting edge of a 600cc sport bike class that would breed innovation and competition like no other class for years to come.
Here's some more pics of this survivor-
And some brief words from the seller-
FOR SALE IS ONE OF THE CLEANEST 1987 NINJA 600R YOU WILL FIND. WITH ONLY 12,000 MILES, HAS A NEW SET OF TIRES AND THIS BABY RIPS FOR A 600cc. ADULT OWNED NEVER ABUSED. HAS SOME VERY SMALL SCUFFS RIGHT SIDE SEE PICTURE. I WILL NOT SHIP BUT WILL ASSIST WITH PICKUP. ALSO CAN DELIVER  NM, I-25 OR THE PHOENIX (MESA) AREA AROUND THE 23 OF NOVEMBER FOR $300. CAN HOLD FOR A REASONABLE TIME ONCE PAID FOR. GOOD LUCK AND HAPPY BIDDING.
This bike looks about as clean as it gets for a bike that's almost 25 years old. The seller does highlight some minor scuffs. The bike looks original and the mileage isn't anything outrageous for its age. It has new tires and if there's solid maintenance, it should be ready to enjoy on the open road.
This Ninja isn't going to keep up with current era 600's. I think everyone knows that. But there is something to be said for the bikes that came first and were made for all of us. If you like these early models, you should give this auction a look!
-RN