The 1980s were wild time of experimentation. There was a technology explosion as liquid cooling, computerized fuel injection and other performance enhancers hit the scene. The sport bike battleground became a dizzying array of different configurations, each manufacturer vying for top honors on the racetrack and the showroom. Nowhere was this more evident than the brief window of the Turbo craze; the promise of liter bike power in a mid-sized sport bike never materialized, but the Big Four made seemingly every effort to make it so. Today what remains are the carcasses of the aftermath; an antiquated reminder of how quickly technology moves forward.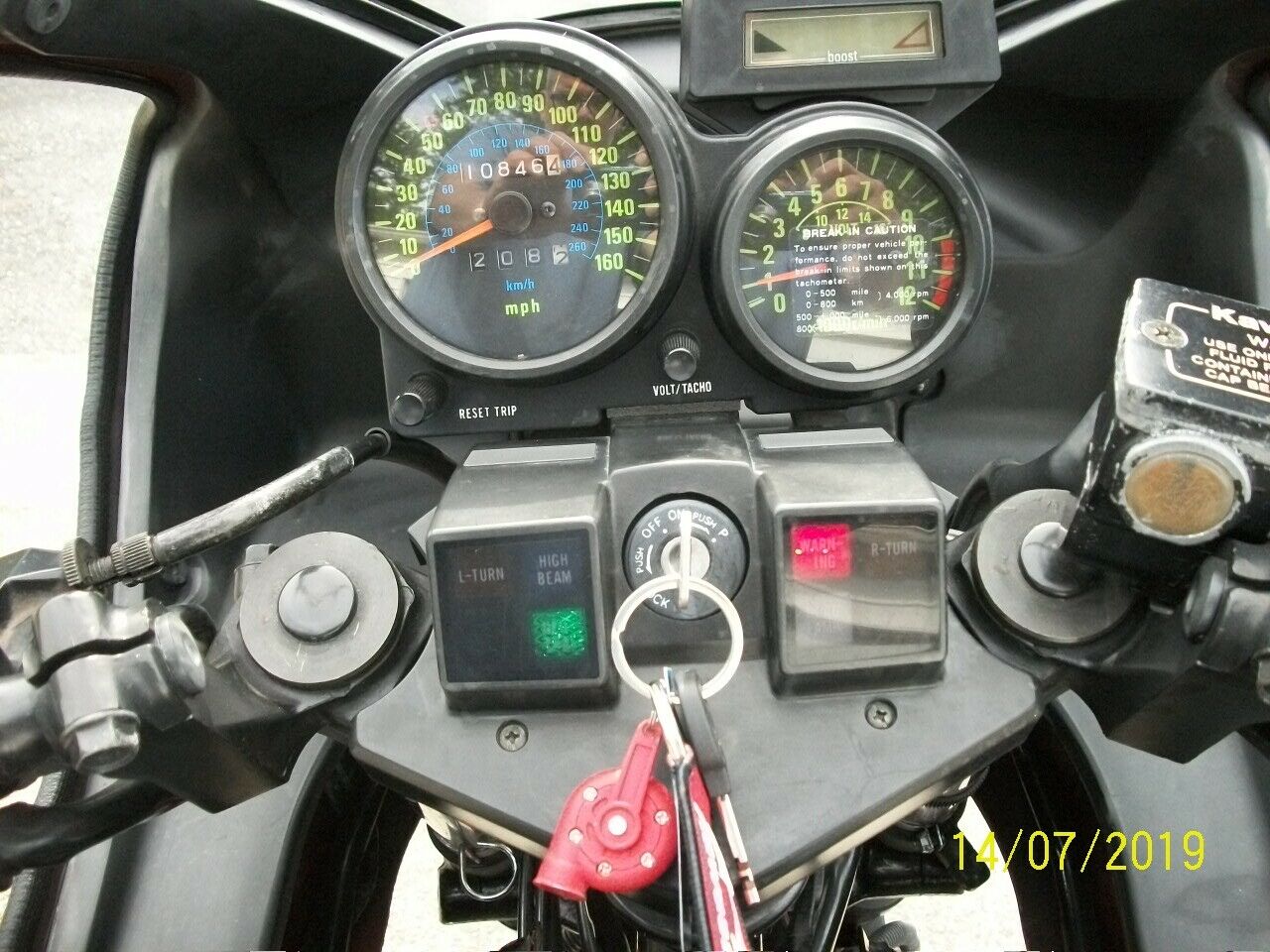 Honda Turbos followed the route of the 500 & 650 cc CX twins, Suzuki went with a 650cc Katana rip-off that originated the air-oil cooling later made famous by the GSX-R series, Yamaha phoned in a warmed over Seca with a unique blow-through, carbureted 650 cc configuration, and Kawasaki built the Top Dog of the bunch with the GPz750 Turbo. Rated by motorcycle magazines as the fasted bike in 1985, the Kawi Turbo did deliver on the 1/4 mile promise of turbocharging. However the drawbacks of forced induction – weight, cost, complexity, turbo lag, lack of power predictability, etc – quickly sunk the ship. Buyers weren't interested in paying the premium for the Turbo, and riders preferred the real world performance of the less expensive liter bikes. The year of the Turbo was over.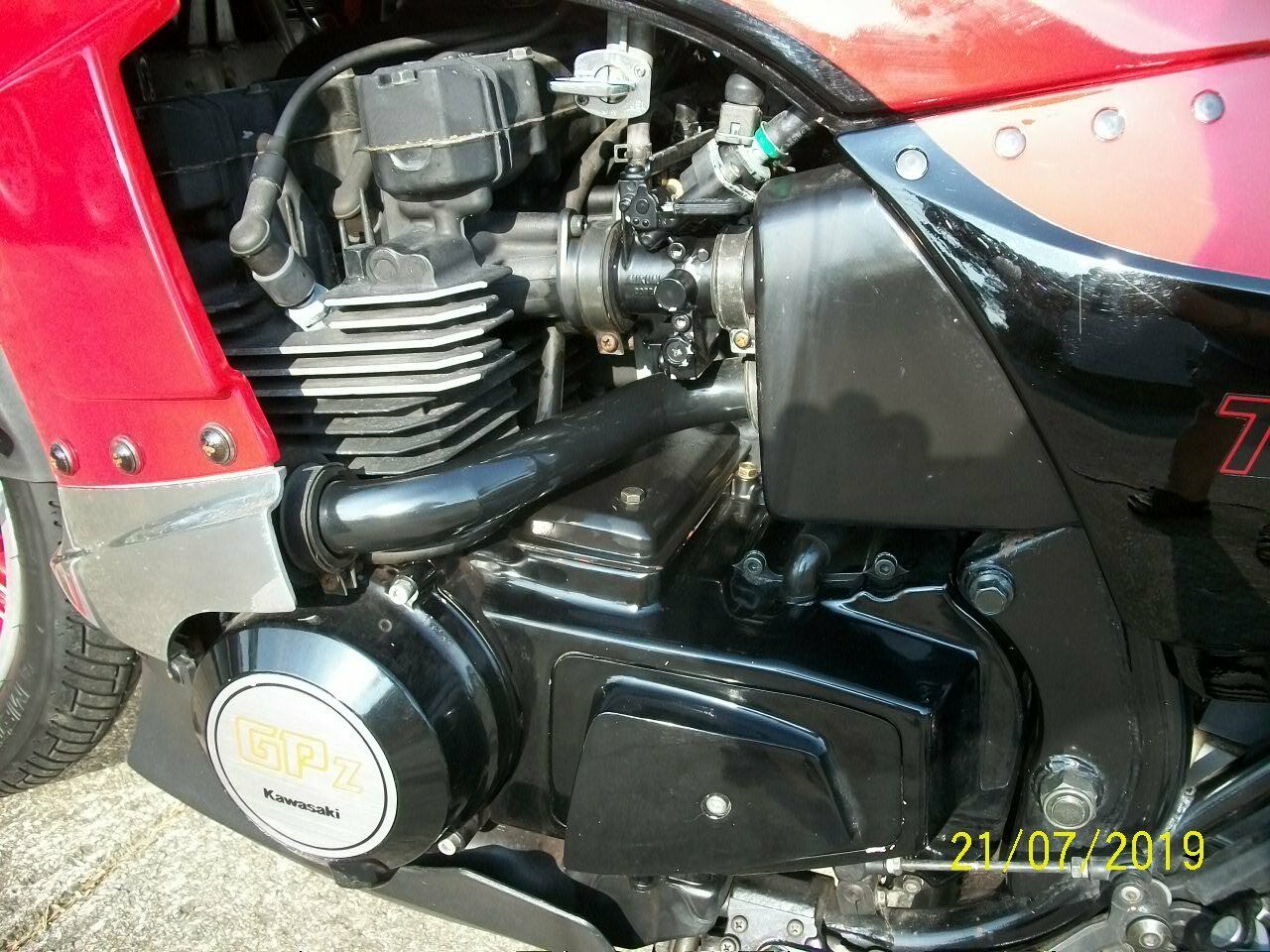 From the seller:
1985 KAWASAKI GPz750 TURBO (ZX750E), RARE and ORIGINAL
Manufacture Date – 08/84. One of 1,500 1985 GPz750 Turbos produced!!

An ALL ORIGINAL example of the fastest production motorcycle made in 1985, per Kawasaki. OEM motor, bars, seat, pipes, turbo, levers, mirrors, signals, brakes, fairing, wheels, etc. The ONE exception is an after-market uni-shock (single shock) the previous owner installed. I have the OEM uni-shock for it too and it still works great.

CLEAN and CLEAR TITLE!

Runs great! Looks great! Collector quality! This rare bike has already surpassed collector and vintage status. And, dependent on who you ask or where you look, has reached Antique status at 35 years old. Does NOT run like an old, decrepit bike….no way. ONLY 10,846 original miles on the odometer (see pic). There may be a few more miles on it when it sells. A RARE TURBO ANTIQUE YOU CAN RIDE! And ride fast…if you're into that sort of thing. How cool is that? Fresh gas. Fresh battery. Newer front and rear brakes. Turbo works like it should. All electrics work like they should. Good compression. Good tires. All those little OEM Kawa stickers and decals are still in place; see RPM gauge, chain guard, base of tank, etc. Dual helmet locks! Original, original, original. If you are tired of looking at GPz 750 Turbo's that are not original and in great condition, you can now stop looking. You have found The One.

This Turbo was last ridden in 2012 – see pic of temp tag – with annual fuel and oil changes. Basically long-term storage. New battery installed and starts right up. Currently has 92 octane in it (premium). There is very, very light surface rust around the base of the tank neck filler hole – see pic. Tank is very, very clean.

This bike isn't new (obviously) but in very, very, very excellent condition with SUPER LOW miles on it and the starting bid reflects that condition.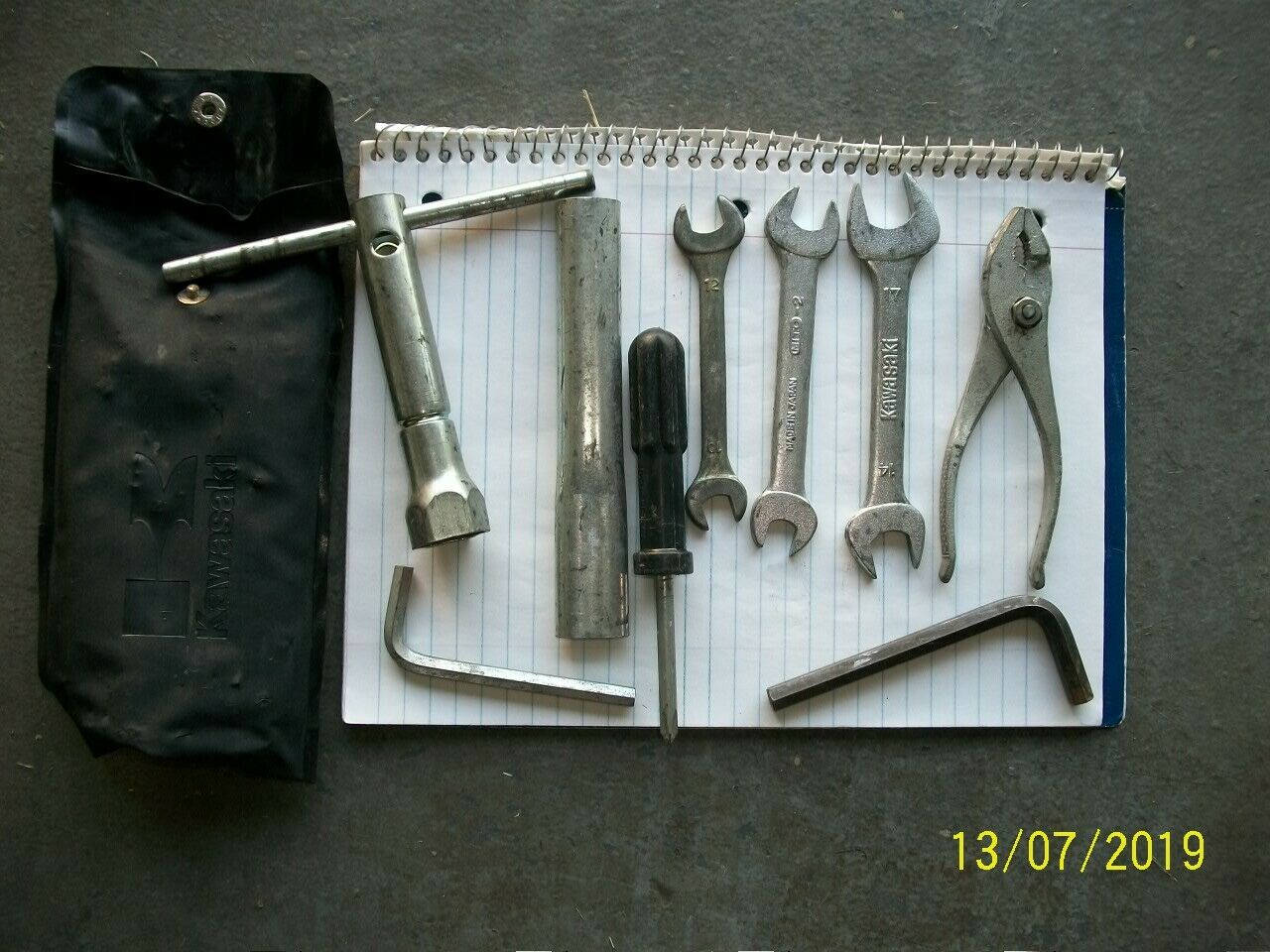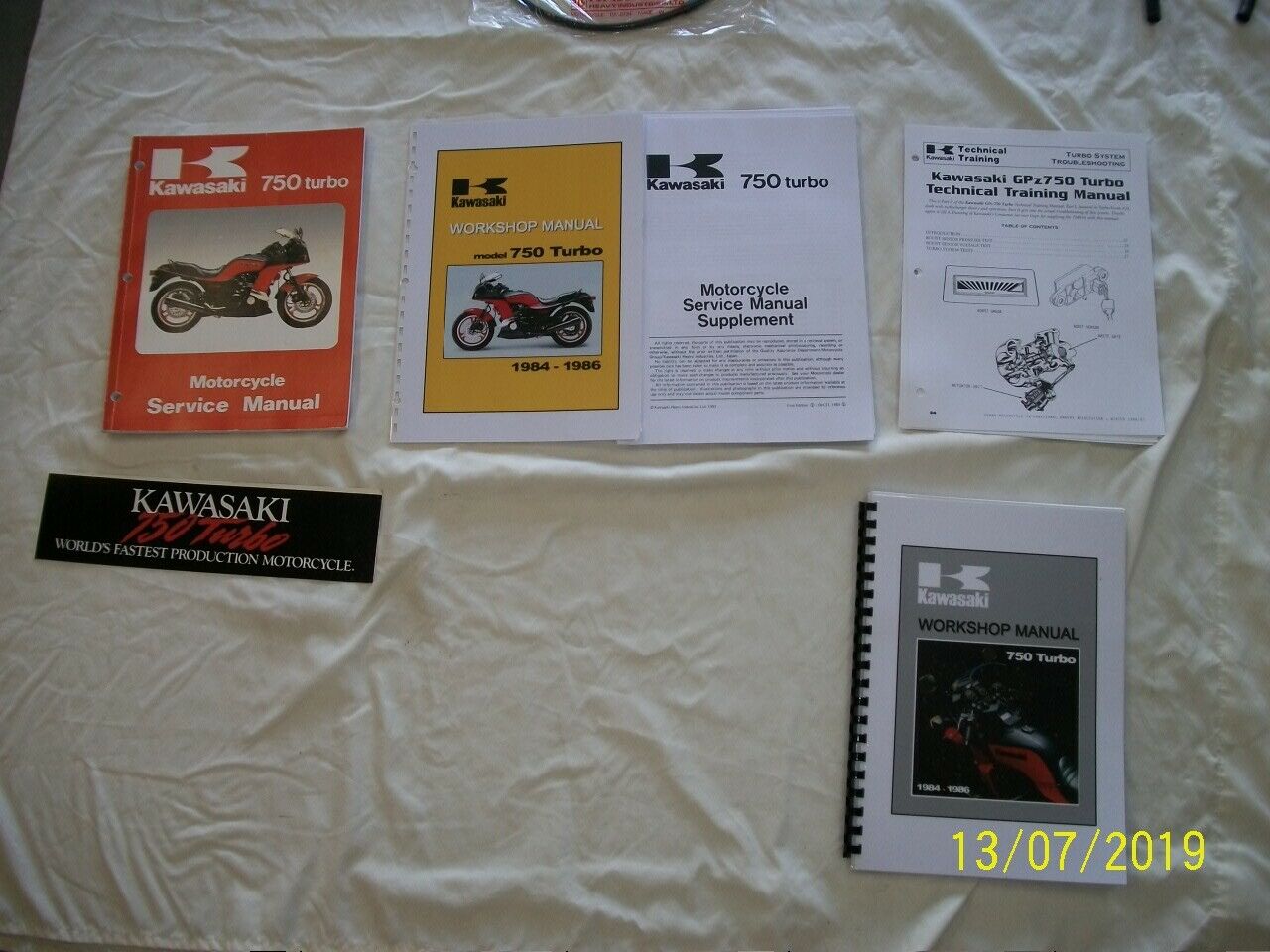 More from the seller:
Many OEM Kawi parts and accessories go with this antique GPz750 TURBO motorcycle. Items such as (see pics):
OEM Kawa Uni-shock absorber
OEM Kawa GPz750 Turbo tool kit!
OEM Kawa Ignition keys, 2 each
OEM Kawa SERVICE MANUAL (1984)
OEM Kawa WORKSHOP MANUAL; SERVICE MANUAL SUPPLEMENT (1985), TWO EACH
OEM Kawa GPz750 TECHNICAL TRAINING MANUAL, TWO EACH
OEM Kawa 20-page "PRESS KIT". This is cool. An OEM (copy) of a 1985 Press Kit, authored and published in Japan but written in English. Used for the roll-out introduction of the 1985 GPz750 Turbo for the Press
OEM Kawa "750 Turbo" sticker (bumper sticker)
OEM Kawa Fuel filter, NEW, 1 each
OEM Kawa Air filter, NEW, 1 each
OEM Kawa Clutch Cable, NEW, 1 each
OEM Kawa Horns, dual set, 1 each

Kawasaki-branded key fob; color matched to bike
Mini-turbo key ring ornaments, color matched to bike, 2 each – Super Cool!
Bike cover with custom Kawasaki patch
Master Lock wheel disc lock; color matched to bike, 2 keys
OEM equivalent NEW battery, 14L-A2 (replaces 12N14-3A); just installed
Deltran "Battery Tender Automatic" (full size) WITH pigtail connection already installed on bike
K & N oil filters, NEW, 2 each
Canyon Carver handlebar tie-down set, 1 each
Custom aluminum license plate bracket
Some extra high-pressure fuel line hose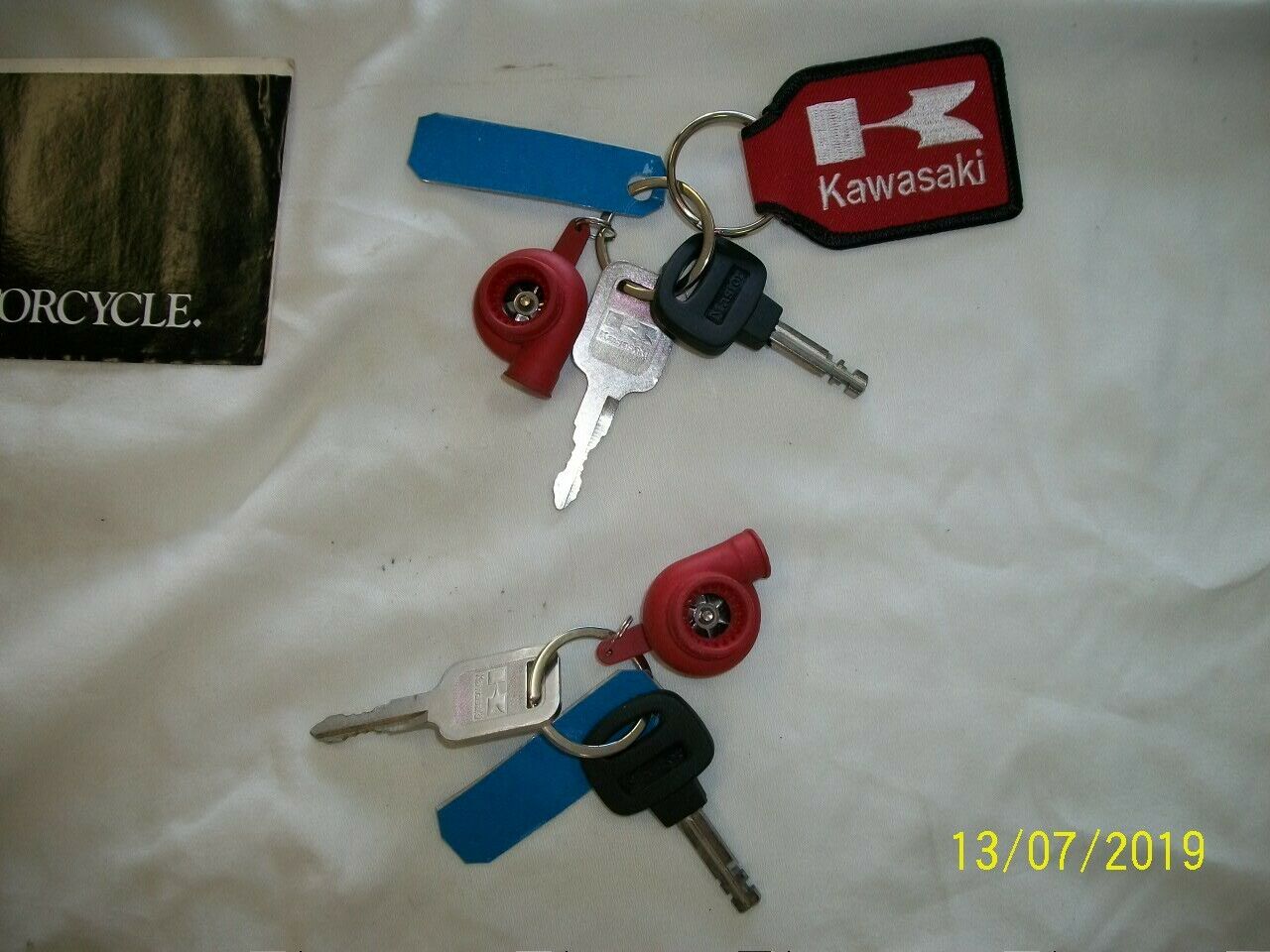 As stated previously on these pages, Factory Turbos are rare. But they are rare for some of the wrong reasons; nobody wanted them. The big Four quickly realized the poor ROI this direction was offering, and pivoted back to more mainstream sport bikes. Nearly 35 years later the song remains the same. Yes, prime examples of the XN, CX, XJ and ZX have slowly gained in value in recent years, but certainly not any faster than a super-clean example of any other 80's era sport bike. It seems completely unfair, given the rarity, uniqueness and performance of these puffer bikes – but the public votes by wallet share, and these machines have proven to have a narrow focus of interested buyers. This particular GPz750 Turbo looks awesome and has some cool stuff that comes with it. But is it worth the opening ask of $9,999? Historic values would say probably not, but the market is constantly changing and conspires to make fools of us all. Check it out here, and Good Luck!!
MI