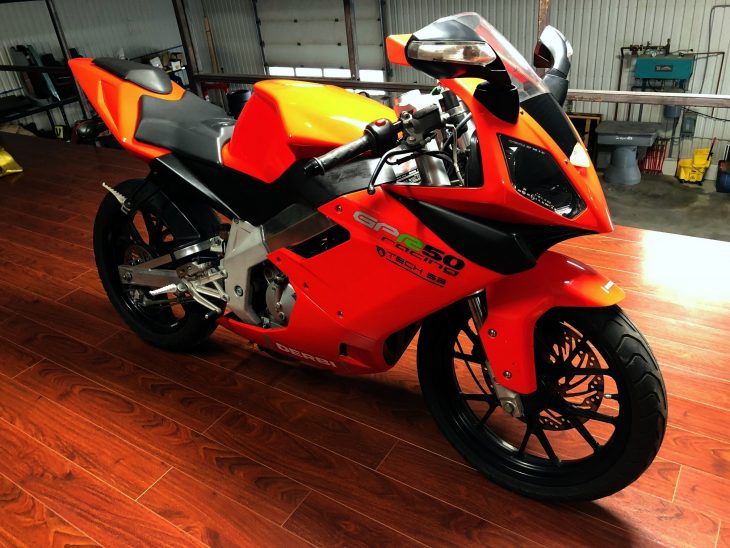 Considered a moped for legal purposes, today's Featured Listing Derbi GPR50 looks like a real motorcycle for the most part: liquid-cooling, electric start, full fairing, 17" wheels, under tail exhaust, six-speed gearbox, aluminum frame… But then there's the lawnmower-sized 50cc displacement. From the factory, you were looking at 8.8hp at the crank, or around 5.5hp at the wheel. Normally, I scoff at partial horses, but every single pony counts when you've got just 49.9cc to work with. The same thing goes for the .9cc displacement, obviously.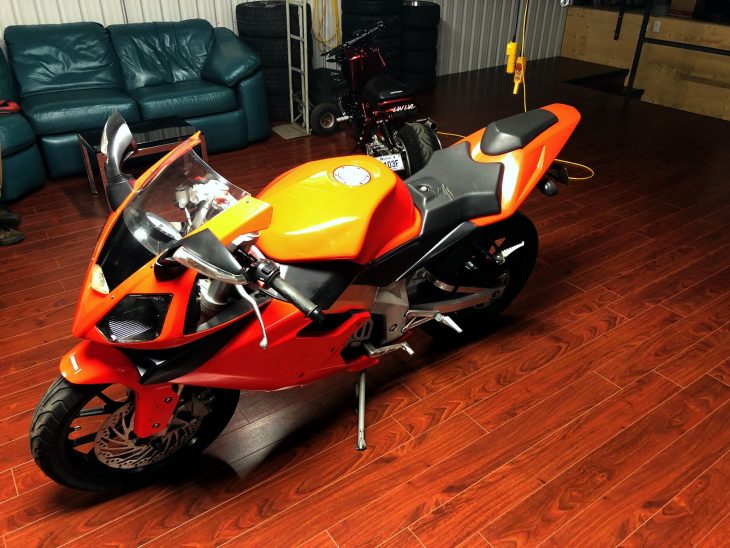 The hydraulic brakes work well, especially considering the GPR50's light weight, but you certainly won't need them to slow down too often: the bike takes care of that for you by not being fast to begin with. Obviously, top speed isn't the point with a bike like this, and the parts are there to maximize the limited power: that six-speed box means you can stay in the meat [tofu?] of the powerband and, while the suspension is pretty basic, a 242lb weight and great geometry mean a GPR50 could be pretty fun on a tight road or go-kart track.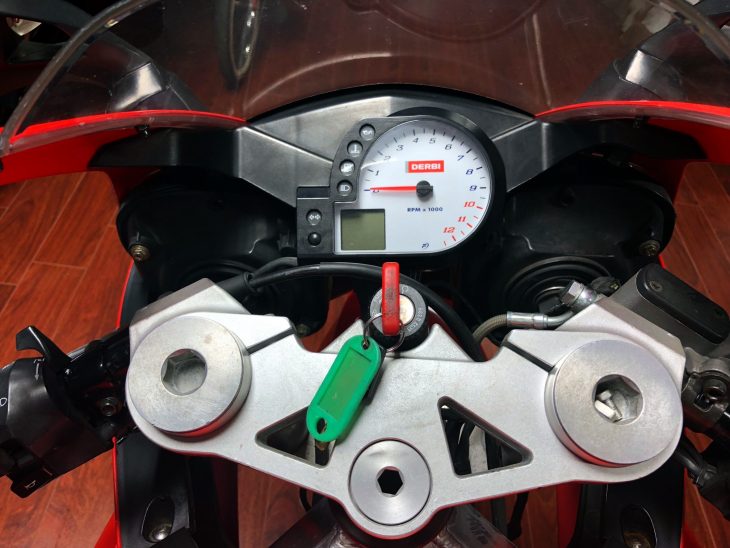 This example has been modified with a 77cc "big bore" kit that should take the bike to around 9 horses at the rear wheel, but the bigger jump should be in torque: the stock bike makes around 4 ft-lbs and a kitted bike like this should be closer to 7… Performance data for the GPR50 is pretty scarce, but a Cycle World review of the mechanically similar 2000 year model with the same kind of displacement upgrade claimed 60-65mph on level ground, with 75mph possible, flat-out in sixth gear, using a bit of drafting…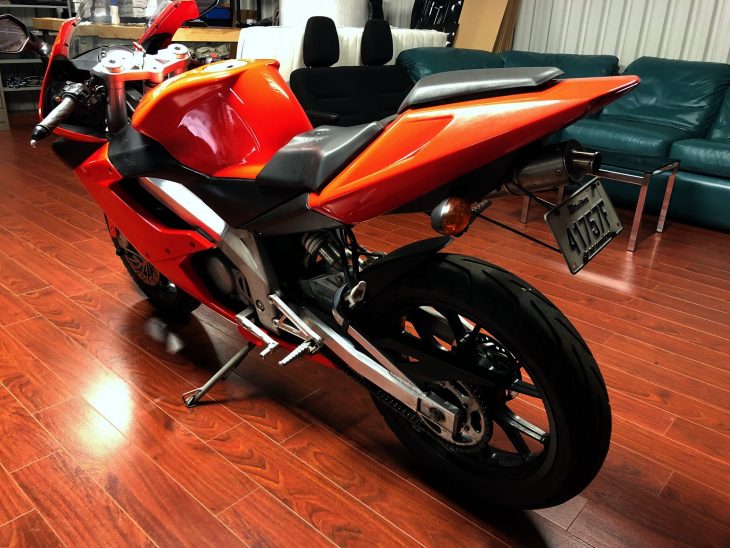 From the Seller: 2005 Derbi GPR50 for Sale
For sale is a US spec (MPH speedometer) 2005 Derbi GPR50. At one point this bike was imported to Quebec Canada, and the present owner has had the bike for the last 6 years. Due to the fact that this is registered as a 50cc, and it was plated as a  Scooter. We still have the Quebec registration that states its a "CY" (cyclomoteur = scooter). PLease check with your own state laws, as it differs from state to state. 

The Derbi GPR50 is a single piston two stroke 6 speed water cooled bike. Inverted forks, and monoshock rear suspension. Electric starter and weighs in at about 220lbs. The Derbi GPR50 up for sale in Montreal Canada, and has about 12,000 miles (To be confirmed; battery will be changed to access mileage) bike was totally rebuilt in 2014. 77cc Airsal cyl. Top racing crankshaft, 21mm carb. Arrow exhaust/expansion chamber, clutch and reeds from Malossi, new chain, new sprockets, and tires. bike was used for about 1800 miles since rebuild, and has always been sitting inside our climate controlled garage. It has not been used on the road since about 2 years. Bike has a few scratch from a small miss hap in 2014, and a few blemishes from being a 13 year old bike. Besides that , in extremely good condition , and will reach about 70MPH in 6th.

Needs a battery (we will put a fresh one in), and the clutch could be refreshed. Bike has an electric starter. Asking $2,900USD firm, will crate, and assist in shipping, but shipping to be arranged, and paid by the buyer. We have the clean, and free of lien registration, (which is the same as your Title).
Originally a US import, so gauge in MPH. Paypal for initial deposit, but bank transfer is the only way we will ship the bike, unless you pick up with cash. This is a private sale, feel free to contact the seller, at his place of business for more information.
Obviously, a GPR50 is more a toy than an actual transportation device, even with the increased 77cc displacement, at least in most of the United States. But for $2,900 this could make a great urban runabout, or a massively overqualified but very stylish pit bike. Or maybe you've got a youngster looking to start a racing career?
Contact info@tech-53.com with your interest.
-tad