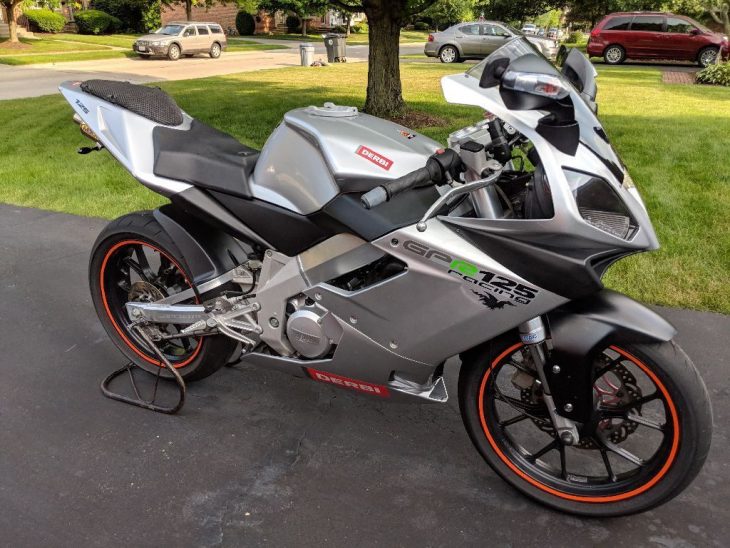 This Derbi GPR125 was the very end of the line before the Spanish manufacturer, and pretty much everyone else, switched from two to four-stroke engines for their entry-level 125s. As you might expect, this led to the expected decrease in stinky two-stroke smoke and a massive reduction in fun. 125cc two-strokes aren't exactly barn-burners, but they make much more power than four-strokes of equivalent displacement while weighing significantly less, and the change meant the class went from being high-strung funsters with youth-safe limits to the boring, efficient commuters and learner bikes of today.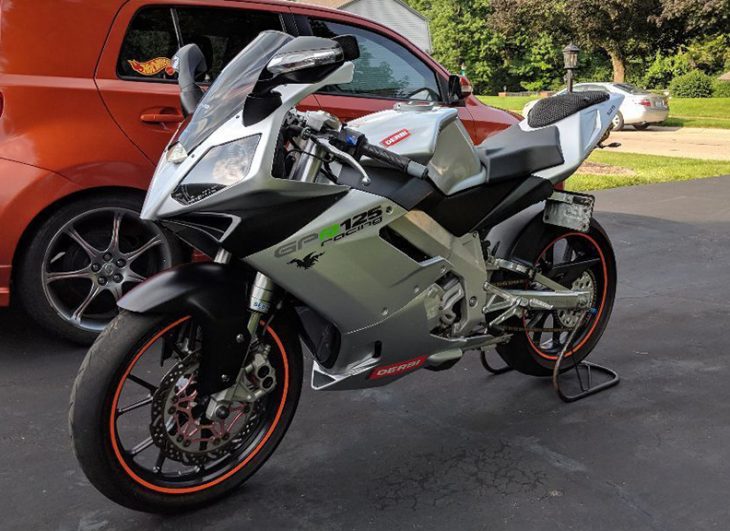 The two-stroke 125s were bikes for new riders, but they were styled to inspire wannabe racers and incorporated some advanced design elements. The frame was aluminum, and the box-section swingarm was braced, although the 33hp [once derestricted] engine probably didn't really require it. A six speed gearbox meant you could make good progress using the minimal power available, since the bike weighed in under 300lbs wet. And the styling seen here is extremely aggressive and the bike is surprisingly well-finished, with neat details like electric start, turn signals mounted in the mirrors, and an undertail exhaust.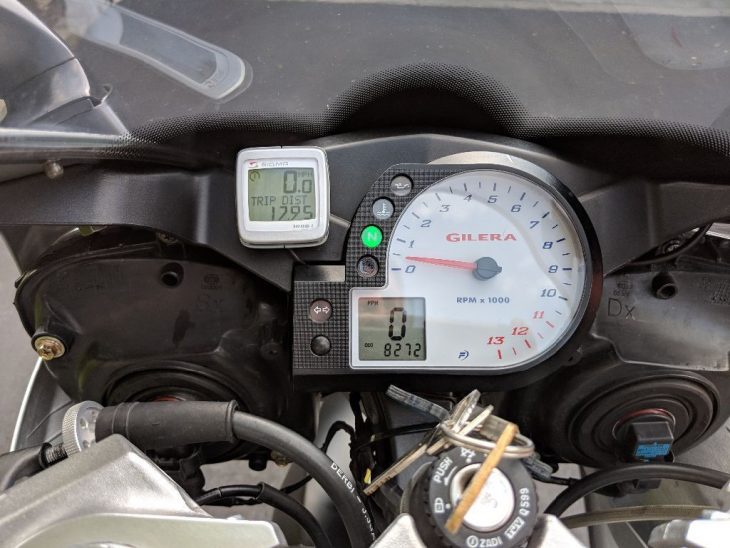 The main issue is that all of the bikes in the class have limited straight-line performance and pretty basic suspension: they were meant to provide budget transportation and, looking past the manic engines, the bikes are fairly uninspiring, upside down forks, modern frame design, and sporty looks aside. Luckily, the geometry is excellent so the handling is good, in spite of the crude components, and the bike uses Yamaha's liquid-cooled TZR125 single, so reliability and parts availability should be no problem.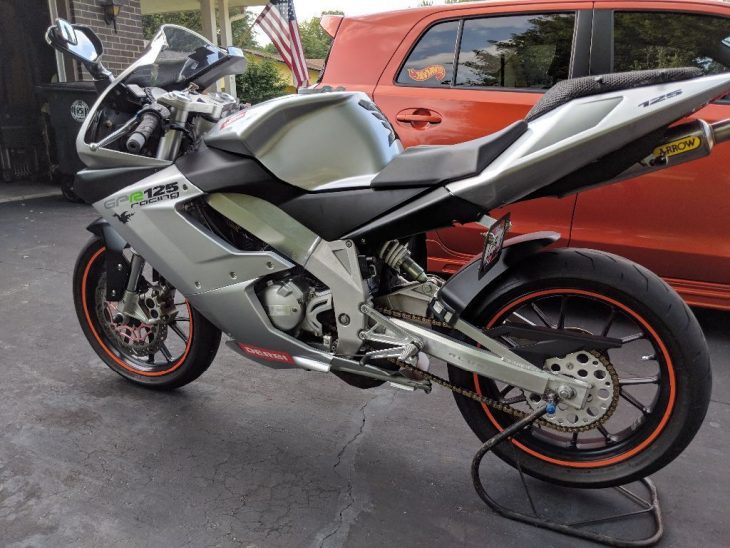 From the original eBay listing: 2006 Derbi GPR125 for Sale
Look closely, it's the only one you're likely to see here in the states! This is a 2006 Derbi GPR125 Racing. Only a handful of these were brought into the U.S. The engine was sourced from Yamaha, by Derbi, and it's the same engine used in the Euro-spec liquid-cooled Yamaha TZR125R street bike, and the DTR 125 2-stroke dirt bike. It's liquid-cooled, and has 6-speed trans, electric start, power valve, and oil injection, so premixing isn't necessary, just pull up to a gas pump and fill it up. I've only run Motul synthetic in it since I've owned it. If you don't know anything about 2-strokes, you should probably look elsewhere.

I've owned this bike ten years now. It's been unbelievably reliable, but I'm ready to move on to something else. It's currently showing approx 8300 miles on the clock, but I still ride it to work sometimes (although I also have other bikes I ride regularly). The indicated mileage is 662 miles less than actual. The original meters only read in kilometers. I picked up another set that reads in miles and mph. The difference between the two sets (after converting kilometers to miles) was 662 miles, that's the reason for the discrepancy.

The top end was rebuilt about 1500 miles ago, strictly for maintenance, not because there were any problems. I port matched the cylinder to the cases while I had it apart, because the factory matching was very poor. I also cleaned up all the ports. The cylinder is still standard bore and in excellent condition. This bike came in 1st place overall in the 2009 Lake Erie Loop, completing 659 miles in 11 hours 16 minutes. That's WFO across Canada for hours. If that's not a testament to reliability, I don't know what is! And it won by a long shot! http://www.lakeerieloop.org/race-results/2009-rr.html

The list of mods/upgrades/spare parts is long, so buckle up! Besides the top end work already mentioned, the stock carb was replaced with a Keihin PWK D-slide, it has Boysen dual-stage reeds, heavy duty clutch springs, a 3-degree advance key, and an Arrow undertail exhaust with titanium muffler. I also have for it a hand-built Jim Lomas side-exit pipe with a carbon fiber end can. Only ten of these pipes were built, and this one is serial numbered 007! (Just lucky) I also have a spare set of lowers that have been modified to clear this pipe. The air injection pump and associated plumbing have been removed. I think that wraps up the engine part of the program.

The front brake disc was replaced with a full floating wave rotor from Metrakit. The rear sprocket is a custom made, lightened aluminum sprocket. The bike came with no helmet lock from the factory, so I was able to add one from a Yamaha YSR50. The crazy heavy steel rear brake stay arm was replaced with a custom made aluminum one. The stock plastic shifter was replaced with an aluminum one from an Aprilia. The rear pegs and peg hangers have been removed, as has the long stock rear mudguard, and small LED turn signals were installed to clean up the rear end. The orange stripes on the rims are just rim tape. You can remove it in five minutes if you don't like it. The bike tips the scales around 285 lbs with a full tank of fuel. I also added a Sigma bicycle computer. They're super accurate, and you get a second trip meter in the deal. The stock windscreen was replaced with a Puig double-bubble screen (an incredibly nice piece!). From the factory, one headlight is for low-beam, one for high-beam. The only time both are on is when you hit the flash-to-pass switch. I added two relays, so now when you hit that stitch, both will come on and stay on, until you hit it again. I also installed headlight bulbs that are slightly higher wattage than stock. This was done a long time ago and there have been no problems. I'm a fanatic about NOT making mods that can't be reversed, so everything can be put back to stock if you choose, although I think all these mods are for the better. I have ALL the stock parts, except for the stock muffler, and stock front brake rotor. 

I have a HUGE amount of spare parts for this bike (I'm a motorcycle hoarder). I have a bunch of spare bodywork, some electrical parts, spare factory decals, all the stock parts that were removed, and other misc odds and ends. 

The swingarm stand down in the photos is NOT included in the auction. The bike has a regular side stand.

The common wear items, like tires, brake pads, and chain are in usable condition, but are nearing the end of their service life. Battery is in very good condition. The bike always starts easily, always goes, and there are no other issues I'm aware of, other than what I just mentioned. And since I know someone is going to ask, I've had it over 80 mph on flat ground with my 165 lb self on it.

The bike has a clear Ohio street motorcycle title.

This is truly a once-in-a-lifetime opportunity. I challenge you to find another one of these for sale in the U.S. So please, keep it real. I'll be happy to help with shipping from my end, but this is totally at the buyer's expense, and must be agreed upon ahead of purchase. Local pickup is available. Please ask your questions before you bid! I reserve the right to end the auction early, as the bike is also listed for sale locally. 
Well you can't say that the seller isn't providing plenty of detail in that listing, and the $4,500 asking price frankly seems like a screaming deal for such a cool and unusual bike. The main issue here is that it's obviously very limited in terms of function: good looks aside, it's still pretty slow, especially on US roads if you no longer have the physique of a 17-year old.
-tad