Jon emailed me a few days ago about his Guzzi cafe racer and unfortunately I was swamped this weekend. So with 17 hours remaining, please document.write('');head straight to his eBay listing and check it out!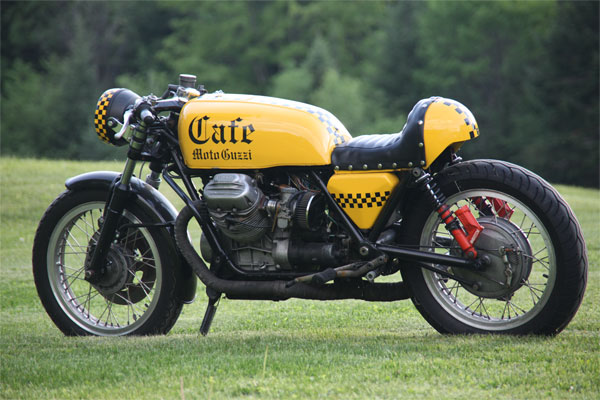 More details from Jon's listing:
And now we present a 1975 Moto Guzzi cafe racer designed and built by the legendary Steve Bolvari.

This spectacular cafe racer started life as a Moto Guzzi 850T, before it was hand built by Bolvari. A "cafe racer" is a motorcycle genre that had its start in London with the famous Ace Cafe "rockers" (the original name for bikers in the UK) of the early 1960s. It is very unusual to find early 1970s Moto Guzzis converted into a cafe racer.

The Moto Guzzi 850T has an 844 ccm V2 four-stroke engine. In unmodified form it made 55 HP at 6100 RPM. It has a 5 speed gearbox and shaft-drive. It originally weighed 562 lbs wet, yet could reach 112mph. Naturally, this cafe racer is much lighter and has had some performance modifications made that are befitting of the genre.

[…]

This cafe racer was built by Steve Bolvari of MOTO CUSTOMZ INC. Steve has built a number of show winning bikes. Perhaps, the most notorious is the Moto Guzzi chopper that took People's Choice award two years in a row at the 2005 and 2006 IMOC Rally.

This bike was modified from a 1975 850T Moto Guzzi. Lots of custom made parts were installed. Straight intake manifolds matched to intake transfer with 38mm Mikuni carburetors. It has an increased diameter two into one exhaust that is characteristically wrapped with heat wrap. The frame has had some modifications with the front dropped 1 1/4 inches. A pair of 13 1/2″ Marzocchi air shocks have been installed. Wide clip on handlebars are used but retain the older controls for the authentic old school look. The paint is very fresh and includes the original Bolvari "Cafe" logo and his signatory checkered-flag motif. A custom seat has been built.
This is a nice reminder that we'd like to do more classic sport bike listings and here's a great example that I think fits our niche. Sorry for the delay Jon,
dc
[AffomaticEbay]Moto Guzzi Custom[/AffomaticEbay]
7 Responses.