More Than Tires: 1968 Bridgestone 200 Roadracer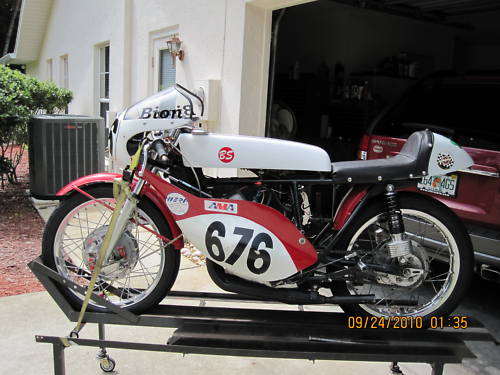 A week ago I really doubt I would have posted this bike.  I have seen the light after attending the Barber Vintage Festival at Barber Motorsports Park.  I have to admit I enjoyed the hell out of seeing all the different vintage bikes on the track.  I thought I was up on most types of bike — I think not.  They had everything under the sun on the track:  hand shifters, two strokes from the 50's and 60's, vintage sidecar and on and on.  On top of the racing you had attendees riding every imaginable bike.  My head was on a swivel most of the time.
This Bridgestone caught my eye tonight because it is exactly the sort of thing you saw at the festival.  Something you'd never heard of.  This isn't made up, Bridgestone Tire Company did make motorcycles.   Apparently they made pretty damn good motorcycles with quite a few technical innovations.  According to this excellent site on Bridgestone motorcycles, those innovations came with a price tag.  Along with the relatively high price tag and a waning corporate interest the bikes faded away by the early 70's.  There was enough interest in the bikes that there were actually race, or "SR", versions of some of their bikes.  This bike apparently is not a "SR" but has some parts from one.
Some info from the auction:
Bridgestone roadracer, 200cc, numerous spares including 175cc bottom end, cylinders and heads. Spare 200 cylinders. Condition of bike is as raced. Bike is race ready.  Avon racing tires, ceriani forks and redwing hammer head shocks. Has adjustable steering damper. Carbs are 22mm and sourced from a Kawasaki A-1.  Has SR rotary valve covers. Bike runs and shifts very good and is a fun ride. Currently AHRMA F-124 legal with spares to run as a 175 making it GP200 legal.
One last thought on these vintage bikes.  I was really surprised by some of the technology on these older bikes.  I'm a two stroke fan so a Kriedler 50cc bike caught my eye in the Barber Museum.  How does, 50cc's, 16hp and 16,000rpm sound?   I give credit to all those racers past and present who had/have the guts to ride those bikes with the skinny tires and spindly frames.  Maybe this Bridgestone is appealing if you've caught the vintage bug. 
Be sure to check out the website I mentioned earlier, it has model history, pictures, classifieds and even the audio from an old Bridgestone commercial.  I've got the damn thing running through my head now.
IK