First up is our brand new Facebook page. We're going to use this area to connect with our friends on Facebook and talk about the listings, lifestyle, and fun the RSBFS site affords all of us. Stop by and friend us, share a picture of your bike (maybe even with a RSBFS decal on it), and tell us what we can do for you.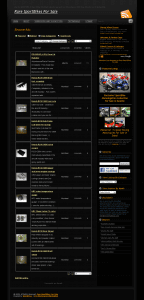 Next is our new classifieds section of the website. This is still in Beta mode, which is programmer speak for 90% complete but close enough to use — just be patient with the process. You can use it to list your spare motorcycle parts, project bikes, or general motorcycle goodies for sale. For only $5 a listing per month, your ads will be available to over 40k sportbike fans a month!
As always, thanks for reading!
dc