All Austrian:  2010 KTM RC8R Red Bull Limited Edition
If you buy strictly Austrian then this is the bike for you.  Austrian built and plastered with sponsor logos from an Austrian company.  You may or may not know but Red Bull was actually invented in Thailand and discovered by an Austrian business man who set the company and marketing in motion.  Well, the Thai founder who owned half the company just recently passed away.  Bikes and current events, what else can you ask for here on RSBFS?
If you are strictly into street bikes you may not be aware but KTM is on a serious tear in the dirt bike world.  They hired Roger Decoster and Ryan Dungey and are now serious players in Supercross (before his injury).  European motocross and enduro is their own personal playground and they have had a steady stream of innovative bikes hitting the showrooms.  Their presence in the street bike market is much more subdued with the RC8R.  They are racing the AMA series again this year but I think they are looking for top 10's instead of podiums.  I don't think these Red Bull limited editions exactly flew off the showroom floors,  even with their  exclusivity.  In fact,  this is the first one I can remember being sold by a private seller.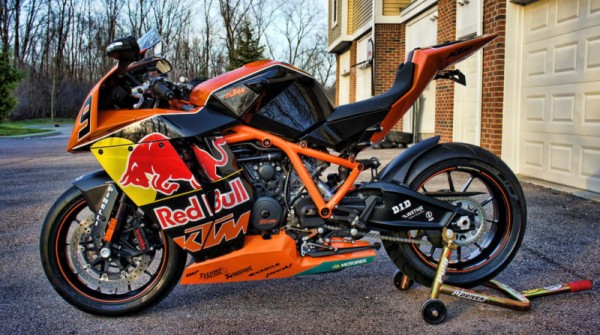 You sure as heck won't mistake it for anything else, that is for sure.
The info:
2010 KTM RC8R LIMITED EDITION RED BULL
COMPLETE WITH FACTORY CLUB RACE KIT (4500.00) OPTION (NIB)
LESS THEN 20 ON THE CONTINENT AND SLOWLY DECREASING.
ONLY 381 MILES!!

Retail was 23,999.00 / NADA Lists this bike at 19,500.00 in average condition.

LC8 two-cylinder, enlarged oil cooler, optimised gears, displacement: 1195cc, power: 180 HP (132.4 kW) power output with optional club race kit
– 7.5 kg lightweight steel trellis frame with modified chassis geometry: caster raised by 6 mm, wheel base shortened
– WP suspension 43 millimetre upsidedown fork, TiAlNi-coated
– WP shock absorber, TiAlNi-coated piston rod
– Forged Marchesini light alloy wheels with a multi-spoke design
– Radially-mounted Brembo four-piston monoblock brake callipers with reinforced 320 millimetre brake discs
– Akrapovic Evo4 Full TI system installed.
And some video
There is obviously not a darn thing wrong with the bike.  I'm not even sure if there is a spec of dust on it.  The seller is asking $21,500 OBO.  Is he close considering the 381 miles on the bike?  I did see a couple for sale on the internets for similar prices.  Even with the low numbers produced, I have a sense the market and demand for them is a bit soft.  I've been wrong plenty of times though.
Ian