In spite of very positive reviews, the RC8R, KTM's Origami Superbike, never sold well. Some feel it was that the original iteration wasn't quite ready for prime time, with a power deficit and a crunchy gearbox, along with some pretty basic electronics, compared to Ducati's 1198. The bike's high price tag probably didn't help things either. The second generation seen here addressed the first two issues, but the bike was always an analog holdout in an increasingly digital class.
Maybe it was that the people that buy superbike riders are a snobby bunch and didn't want to take a chance on an expensive new machine built by a dirt bike manufacturer. Or maybe they just aren't fans of orange. You'd think they'd have gotten the message that the bike would perform, since KTM's earlier 990 SuperDuke and Supermoto had gotten pretty good reviews. The heart of the beast was an updated version of those bikes' liquid-cooled 75° v-twin that originally displaced 1148cc in the RC8, although it was later increased to 1195cc for the 2010 RC8R model, with an output of 175hp and a pretty massive 90 ft-lbs of torque.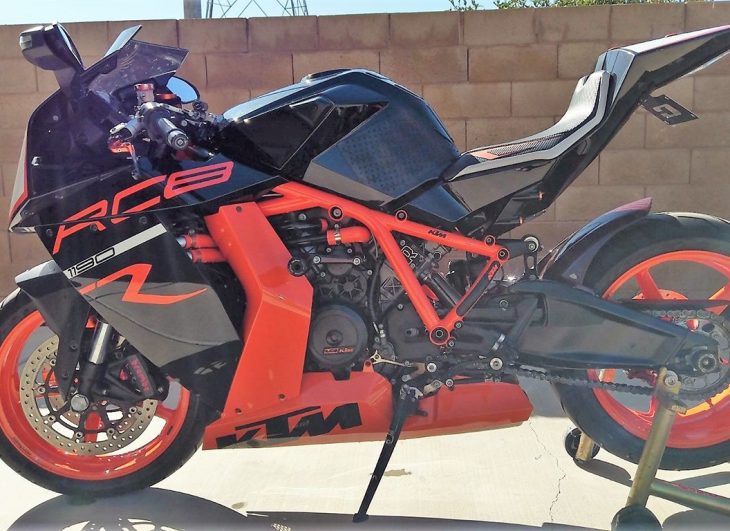 It didn't compete against the class leaders when you compared spec sheets, but the KTM was never really about the pure numbers or technology simply for the sake of it. It was designed to actually function as a motorcycle, and the bike's adjustable ergonomics were intended to work for a wide range of riders and riding styles, from dedicated track day junkies to casual weekend sportbikers. These were difficult to shift when new, but have managed to hang on to their values on the used market pretty well. Those few folks that bought them seem to love them and I think people realized quickly that the RC8R would eventually be considered a classic.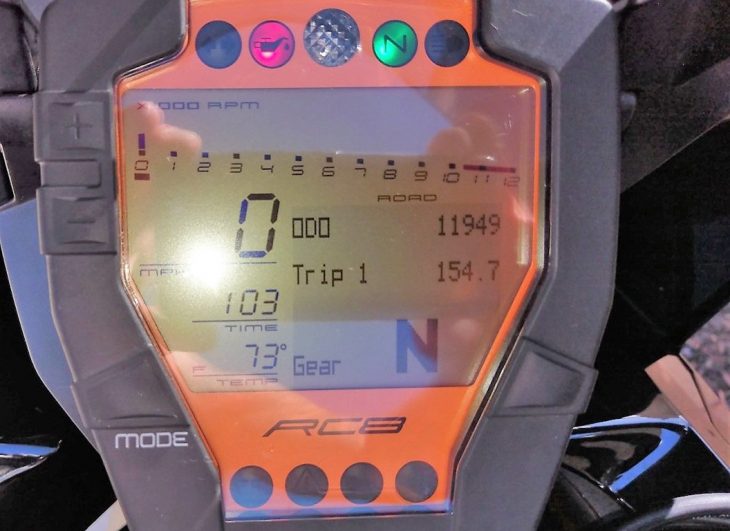 From the original eBay listing: 2012 KTM RC8R for Sale
11,949 Miles
250 models were made for North America for 2011 and 2012 years
Clean VIN/Title
Adult Owned and Maintained (unmolested by dumbasses)
All Receipts
Not Raced
Major Service at 10,836 ($1,840.34) KTM Motor Cafe
Frame Sliders
Axle Sliders
New Tires
Oil Changed
Coolant Changed and Orange Samco hoses added
New Brake Fluid
New Battery w/ Tender Dongle
New Pads Front/Rear
New Rear Rotor
Fork Seals
Billet Aluminum Orange KTM goodies
Rear Orange Carbon Fender
Smoked Front Fairing
Rottweiler Stage 3 SAS Removal System
Luimoto Seat Gel Insert
Luimoto Seat Cover
300 Page Owners/Service Manual

KBB @ $10,975.00
KBB Average Expected Miles @ 20,030

$11,000 Cash In My Hand or NO Test Rides…. NO BS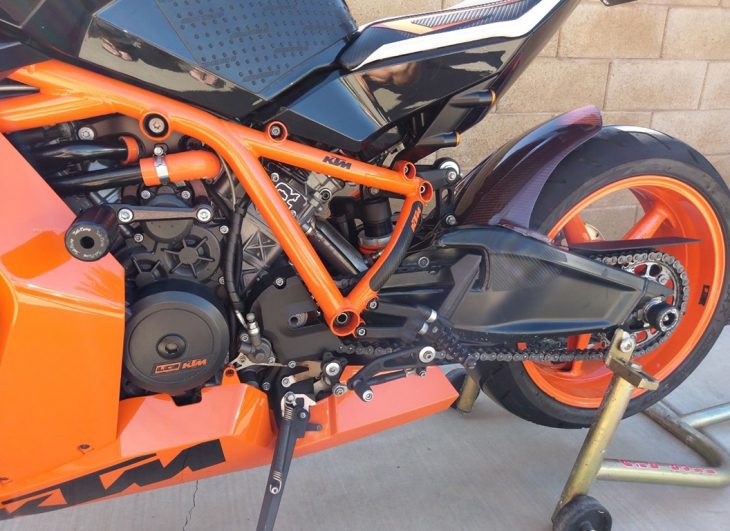 There's Something About That Listing That Bothers Me, But I Can't Quite Put My Finger On It… We surely all feel the pain of tire-kickers and looky-loos, and you'd better believe I agree with the seller's last line, but I'm pretty sure people that do that stuff won't be deterred by anyone putting "no BS" in their listing. Sort of like putting "no players or married guys" in your online dating profile… And the list of service and parts is nice but that "new rear rotor"…. sorry: "New Rear Rotor" makes me a little nervous. How the hell did that happen? Anyway, at $11,000 this isn't the cheapest or the lowest-mileage RC8R I've seen for sale recently, but it's a clean example and those striking colors fit my Halloween theme.
-tad