I'm not always a fan of race-replica graphics, but it's hard to argue that some just look right: Rothmans and Repsol Hondas in particular just drip with style and authenticity. KTM's RC8R lends itself to wild graphics as well, since it's anything but restrained, even in regular production colors. Even slathered in all-black aftermarket carbon fiber, it still isn't subtle. It just looks like a low-flying F-117… Love the looks or hate them, it's pretty impressive how well the look of the bike has aged, aside from the simple LCD dash: anyone not familiar with the KTM could easily be forgiven for thinking it's a brand-new bike.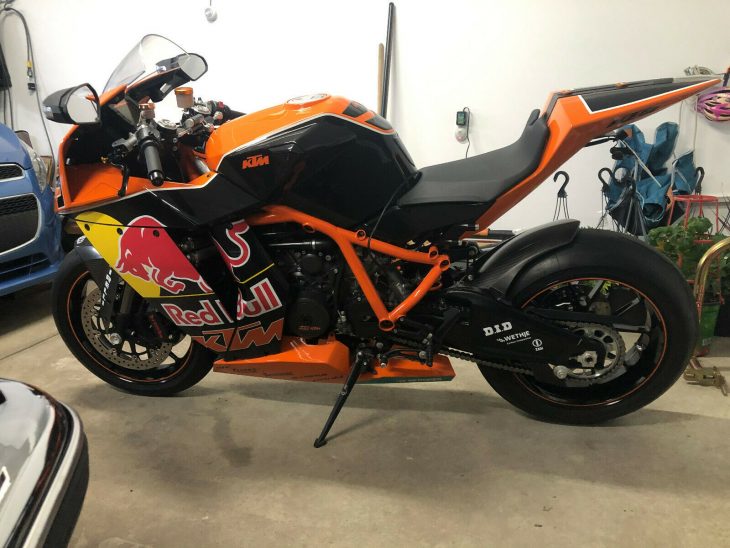 Unfortunately, the nice ones that have come up for sale in recent years have often had asking prices not far off that of a brand-new bike. Which is ironic, since they didn't sell very well when new, and managed to make that unusual move from slow-selling lame duck to modern classic in one jump. Certainly, the performance specifications are there: introduced in 2008, the bike was powered by a 75° v-twin that originally displaced 1148cc. Much-needed gearbox improvements were made and displacement was increased to 1195cc for the 2010 model, with an output of 175hp and an impressive 90 ft-lbs of torque.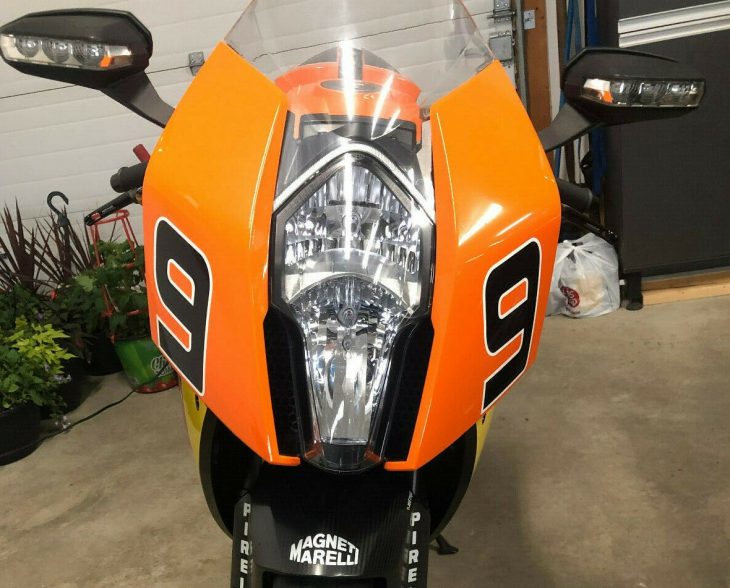 Adjustable ergonomics made for a surprisingly versatile sportbike that could be set up to do a bit of light touring or hard-core trackday riding after just a few minutes fiddling with some tools. One thing you'll notice that's missing: a sophisticated electronics package. The RC8R was introduced on the cusp on the modern sportbike electronics revolution and, although traction control and the like were fairly primitive at first, they were undeniably effective, and have only become more refined over the past decade. And unfortunately, the RC8R didn't have them.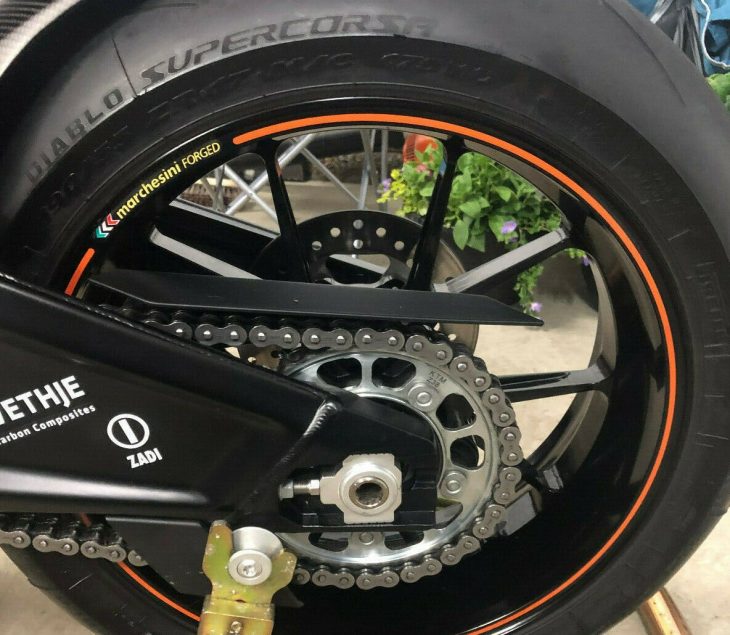 The Akrapovič and Red Bull Editions celebrate the RC8R's racing efforts, but the company had limited success in that arena: perhaps owing to the roadbike's limited sales, KTM didn't bother to develop the RC8's electronics to allow it to compete on equal terms with the superbikes from other manufacturers. Which is a shame: it was a blast to watch Chris Fillmore roar down the main straight at NJMP back in 2011, the lone v-twin fighting a losing battle against a field full of inline fours… It is apparently possible to fit the updated engine and electronics from the current Super Duke R into the RC8R, but it's not nearly as easy as you'd think and not a project for the casual wrench-turner.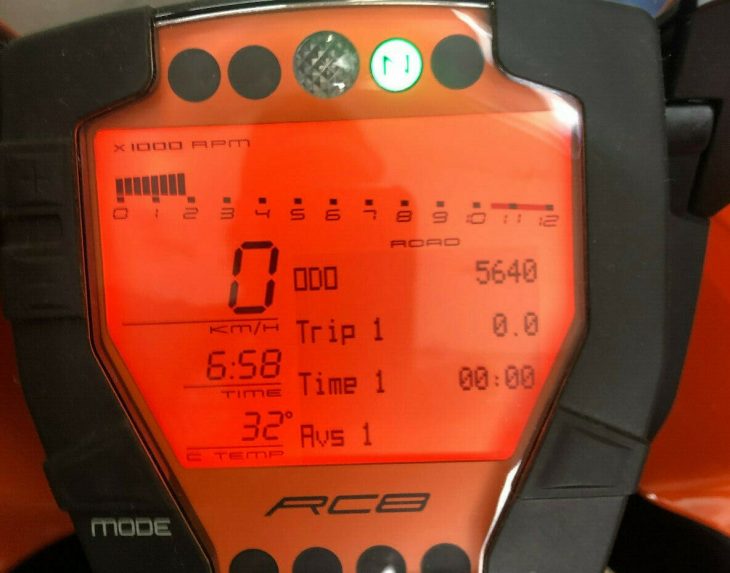 From the original eBay listing: 2010 KTM RC8R Red Bull Edition for Sale
Immaculate condition, super rare: RC8R- Red Bull Edition – with KTM Club Race Kit… $5000 option.

Over $30,000 new. KTM Club Race Kit, a $5000 option. Race kit includes full titanium Akrapovic exhaust, air filter, head gasket and 10 addition HP. Orange powder-coated frame, carbon fiber fenders. All stock otherwise , except for orange KTM anodized brake, clutch reservoir caps. Have all stock components as well including all 3 keys. NO trades, serious inquiries only.
This Canadian example is available for $13,990 CAD, or just a shade under $10,000 USD, and has a tick over 5,000 miles on the orange-tinted odometer. The Akrapovič exhaust should liberate a few horses and some much-needed noise, and the bike is otherwise nearly stock. It sure ain't subtle, but it's collectible, has amazing presence, and is a damn fine sportbike, to boot.
-tad