Update 3.19.2015: The seller has decided to hold on to this one. -dc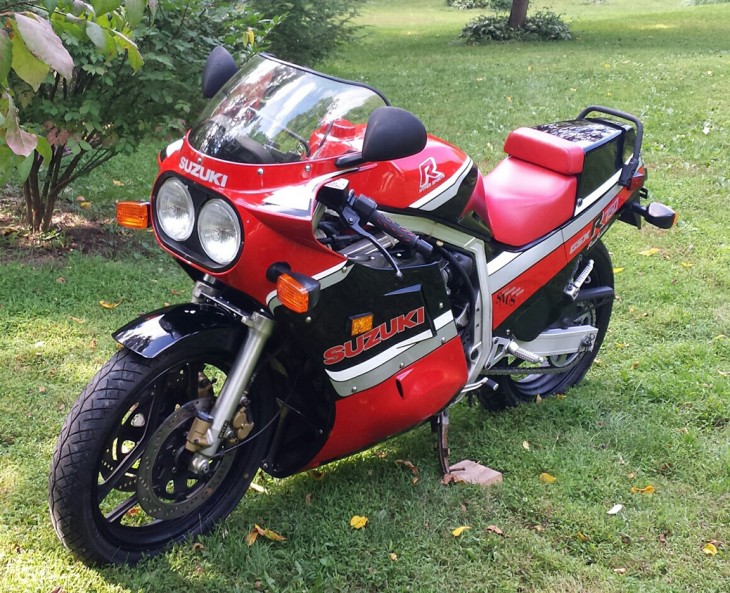 Today, we've got a very original and very clean first-generation GSX-R750 for sale. The point cannot be made strongly enough: the original GSX-R750 was ground zero for modern sportbikes. The underlying principles of light weight, mass-centralization and purpose-built focus on speed had combined previously in exotic bikes from niche manufacturers like Bimota, but those bikes often had single-digit production numbers and, while they served to demonstrate what could be done, they were a "what if" sideshow and had no real impact on mainstream production. Previous Japanese "sportbikes" were big, heavy inline fours with revised and reinforced suspensions, better brakes, and increased output, but they were fast in a sort of "hulking" way, something like a modern day Hayabusa: they were nothing to sneeze at, and did handle predictably, but didn't have anything like the backroad focus of a modern 600 or 1000.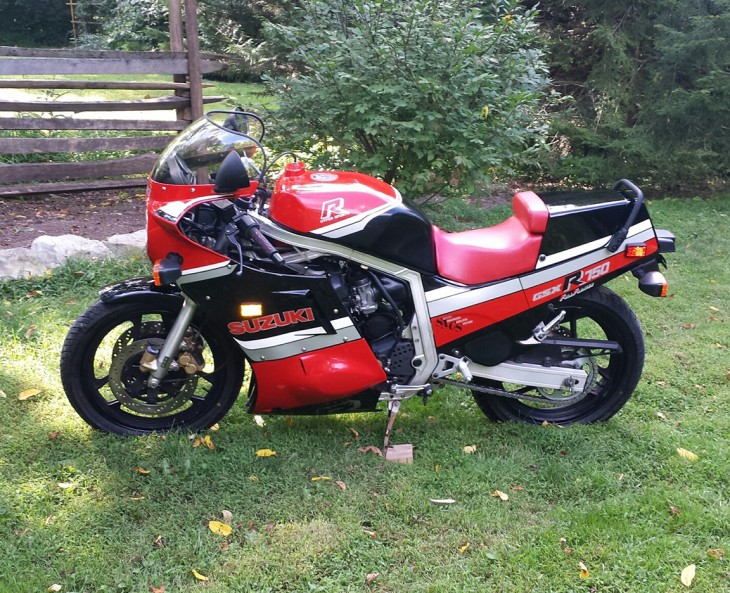 Introduced in 1985, the GSX-R was powered by a 750cc inline four. Seemingly a step backwards, the engine was oil/air-cooled, although it was felt that the weight savings and simplicity versus liquid cooling would easily offset the power disadvantage.
Almost as importantly, while other bikes might have dabbled in middleweight performance and handling, the GSX-R set the tone in terms of look, with a slab-sided fairing that fully-enclosed the motorcycle, leaving engineers to focus on function instead of form, since the mechanical bits would be completely concealed. A distinctive aluminum beam frame, dual front discs, a monoshock rear suspension, and 18″ wheels front and rear helped set the standard as well, creating a basic look that still endures today, and likely continue into the future, until we adopt a practical replacement for the telescopic front fork.
From the seller: 1986 Suzuki GSX-R750 for Sale
The bike has not been wrecked and no painting has been done. 100% original with 25,000 miles. The bike has been ridden and has normal wear and tear, but it is a crowd-pleaser, to say the least.

The bike is in perfect running condition and because I'm a little fanatical I recently had the bike fully serviced, prepped, and set up on the Dyno at Karns Performance Suzuki, in Mechanicsburg PA to get the carbs set up and the bike in tip top condition. These guys specialize in sport bikes and I knew I had the right shop when I went in and saw the GSXR-750 Limited up on a pedestal on display in their shop. Jason, one of the owners, took the bike in and made me feel good about leaving it with them. I was apprehensive about having all the work done but these guys are pros and it was right up their alley.

This complete service was almost $2,000 and included:

New fork seals and fluid.

New fuel petcock/valve.

Fresh oil and filter.

New OEM air cleaner.

New chain and sprockets.

New OEM Bridgestone radial tires.

Ultra sonic carb cleaning and balancing.

Dyno run/tune, to set up freshly cleaned carbs. Graph printout etc..

New battery.

New fuel lines.

Fresh front and rear brake fluid and flush.

Fresh clutch fluid and flush.

New flasher relay.

The paint is deep and lustrous, there are no visible scratches, the windshield is perfect and clear, the rear solo seat cowl cover is in place, all lights and electronics function as new, the inside of the tank is like new, the bike has been stored indoors its whole life and currently has fuel stabilizer run through it and is on a battery tender. The stock seat was recently put back on there is a Corbin Gunfighter that comes with the bike. The previous owner stored the stock seat and it is in brand new condition.

I purchased this bike from the original owner last summer who was a local State trooper. It was in near perfect condition with a couple very minor imperfections: a small dent on upper left edge of tank from a broom mishap that is barely noticeable. In fact I didn't notice it when I bought it but got the story later from my friend. There is also a small section of gray epoxy on the inside upper left faring in a thin strip a couple inches long, presumably to stop a hairline crack. However no crack is visible from either side. I did not notice either of these things when I bought the bike as they are very subtle or out if view.

Neither of these imperfections detract from the pristine appearance of this rare and stock condition machine but in the interest of full disclosure I wanted to point them out.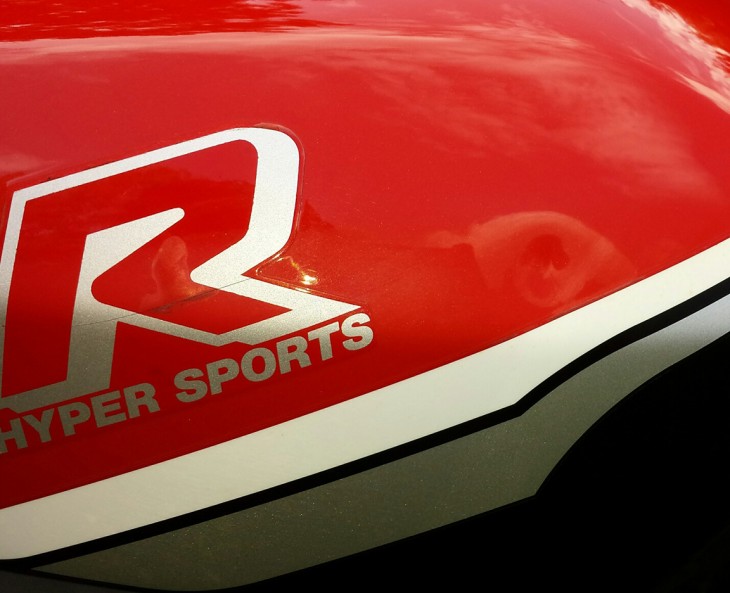 -tad