Starting with their DB1, obviously, and continuing through the present day, Bimota has a long history of using Ducati engines in their bikes. And while other Ducati-powered Bimotas have generally used the torquey but relatively low-power air-cooled versions of their classic v-twin, this Bimota DB7 is powered by the liquid-cooled, four-valve Testastretta version, which gives it the goods to keep up with other superbikes of the period!
Founded in an era when the Japanese "Big Four" had mastered the art of making powerful, reliable engines but were still falling short in the handling department, BiMoTa [Valerio Bianchi, Giuseppe Morri, and Massimo Tamburini] took those powerplants and stuck them into lightweight, cleverly-engineered masterpieces that were very much "race bikes for the road." Lightweight bodywork that lifted off with just a couple bolts, stiff and light frames that look like modern art, and high-end suspension components all made for racy, rolling sculpture. But time marches on, and once they were done with engines, the Japanese manufacturers moved their attention to handling, which would have effectively put Bimota out of business. So it was "adapt or die" time for the tiny Rimini manufacturer, and they shifted to building the bikes they do today: hideously expensive but very exclusive and meticulously-crafted motorcycles for well-heeled enthusiasts.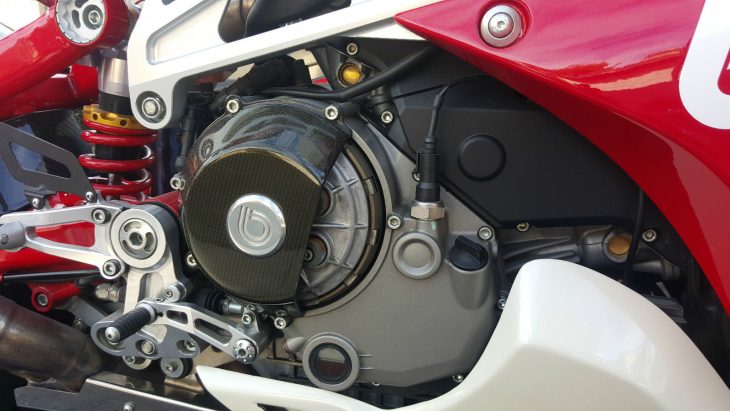 I've said it before, but take a long look at the photos: Bimotas get more impressive the closer you get. That hybrid frame with both steel trellis and machined aluminum components, along with a swingarm that matches. The DB7 isn't really any lighter than a Ducati 1098 of the same era and doesn't make more power, so you're paying a real premium for style and quality, which you get in spades. Only the Koso gauge lets the looks down a bit, since I've been seeing ads for them in the back of bike magazines for years and is a bit too "common" for my taste. I'd prefer something a bit more in keeping with the wild looks, but it should at least work, something older Bimota gauges seemed reluctant to do. Plus, those white segments along the outer edge of the tach do light up as the needle swings around, which is pretty cool.
As the seller mentions, this example has had the muffler removed, leaving just the "bladder" that likely contains the catalytic converter, with a pair of tips on one side. Funny, it almost looks like it was designed to be that way… This is a popular trick for older single-sided swingarm Monsters as well, saving weight and increasing noise in a way that's easily reversible. Better sound, less weight, and no impact on the environment: win, win, win!
With a $15,000 starting bid and no takers yet, I think this bike looks like a bit of a bargain, compared to the nearly $35,000 list price for a new DB7 in 2008. Of course, that's really the only time you could think of a DB7 as any sort of bargain…
From the original eBay listing: 2009 Bimota DB7 for Sale
This is the 2nd bike they built which makes this bike even more exclusive. This bike has been sitting inside my living for the past 3 years and now stored at a local performance shop where they did a complete major service. This is a one owner bike and has never been down, crashed, wrecked, tracked, or even ridden by anyone except myself. I babied this bike from the day I purchased it six years ago. I only rode this bike every three months from Las Vegas to Angeles Crest Hwy in LA so all miles were highway.  This is the cleanest bike you will find.  It looks BRAND NEW!!!!!!

The front windscreen has been painted white to match the bike
The bottom belly pan had been painted white with custom red/black BIMOTA logo
The wheels were painted white
The exhaust was custom cut and two stainless steel tips added
Custom license plate bracket
HID lights installed
Brand new tires
Brand new rear sprocket
Brand new chain

This bike looks amazing… all the above were tastefully done. It draws attention everywhere you go. If you have any questions, please contact me.  The bike is now stored at Irish Mike's Performance in Henderson Nevada.  If your local or happen to be in Vegas, just stop by his shop.  He has full service reports.
The seller mentions that this is "the second bike they built" but, since the DB7 was introduced in 2008, I'm wondering if this is maybe the second bike of the second model year? Regardless, the DB7 is a very beautiful machine, with immaculate detailing. I think modern Bimotas are well worth the money if you're a rich enthusiast, as you'll appreciate the workmanship that went into its creation and the exclusivity, while the extra outlay in purchase price is probably a drop in the bucket compared to the other toys already in your garage. But if you're a regular Joe, looking for the best bang for your buck, this doesn't even rate: there are plenty of faster bikes out there that cost far less and won't have you crying every time you accidentally rub up against it with a belt buckle or jean rivet…
-tad