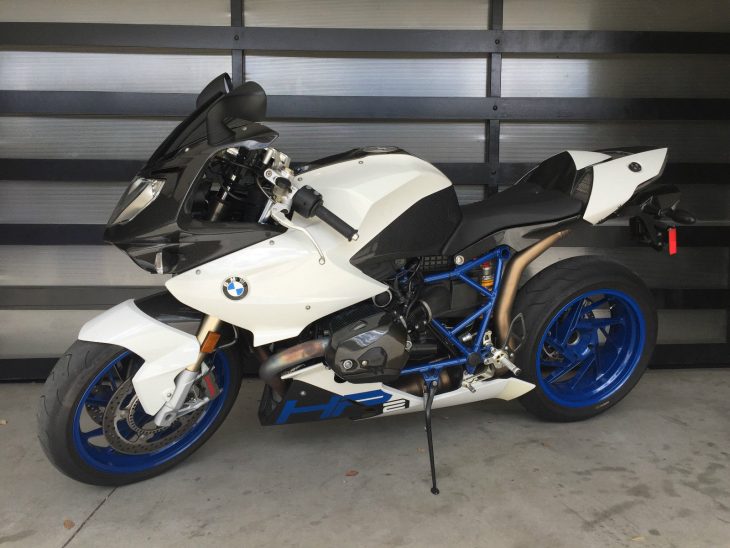 In the early days of motorcycle design, there were a variety of alternatives to the telescopic forks that have become the standard in an industry evolving towards efficiency but, unfortunately also towards homogeny. Even the S1000RR that followed today's HP2 Sport as BMW's flagship sportbike is evidence of this: that striking asymmetrical bodywork is wrapped around an inline four and conventional, if highly sophisticated suspension. Sure, it blew everything into the weeds upon its introduction and has more performance than any mortal can actually use on the road, but it's kind of… same-y. You certainly can't accuse the HP2 of that.
It may look like a pair of telescopic forks up front, but that's actually BMW's Telelever front end, and the HP2 features a pair of Öhlins shocks: one in the rear, and one controlling the movement of the front wheel. These days, the only real players in the alternative front end game are BMW and Bimota, although there are always a few weirdo independent builders lurking in the wings. Forkless front ends have distinct theoretical advantages, but generally seem to have two problems. One, they're more complicated to design and manufacture, and multiple linkages in set ups like the one used by Bimota can lead to play and vagueness in the handling, something that should actually be a strong point of the design. But the bigger issue seems to be the fact that the rest of the industry revolves around telescopic forks. They aren't ideal, but people know how to set them up and make them work, you can buy highly-developed components off the rack from specialists, and riders are familiar with how they feel: Bimotas and BMWs are actually engineered with a bit of dive tuned in, so they don't feel completely alien to riders used to telescopic forks.
Like the front suspension, the engine of the HP2 is a bit more than it seems as well. Sure, it uses BMW's iconic flat-twin engine with its longitudinal crank, shaft-drive, and cylinder heads sticking out where you might find the highway pegs on a Harley Fat Boy. But inside, you're looking at titanium connecting rods, and the bike debuted new four-valve cylinder heads with radial valves that helped the bike produce a claimed 128hp. Those heads feature skid plates in case you deck them out on track: roadgoing cornering clearance is generous, but track riders are advised to add a bit of rear ride height, and might need to adjust their racing lines slightly if they're used to dragging elbows in the corners. For the rest of us, this is a very capable mount for road or track.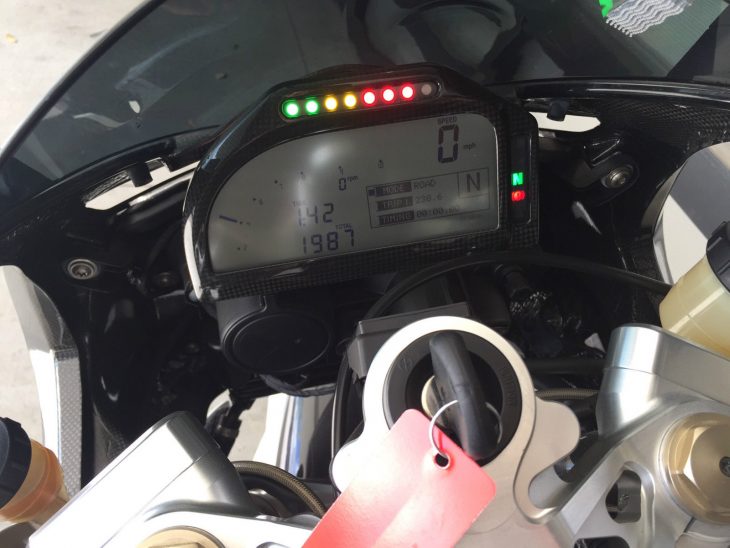 Elsewhere, the bike was kitted out with the best of everything: monstrous radial Brembos, adjustable ergonomics, and even a quickshifter that was the very first fitted from the factory to a production motorcycle. Carbon fiber is everywhere and includes a self-supporting rear seat unit, and helped the bike weigh in at a relatively svelte 392lbs dry. Keep in mind that those exotic titanium rods will need replacement at the 30,000 mile mark, but that's a long way off for a collectible like this, and at least you just need two of them…
From the original eBay listing: 2009 BMW HP2 Sport ABS for Sale
This is the ABS version.  One owner bike.  Own the coolest boxer ever. This is number #103.  Only 1987 miles.  Bike is nearly perfect.  There is a small blemish on tail section.  Tires are like new, bike has been maintained at local BMW dealer with full records. Currently has extended warranty until June of 2017.
So the original listing makes the lazy eBay poster move of copy/pasting the bike's manufacturer's specs in place of any detailed information about the bike being offered. Sellers take note: no one cares about the fact that the bike has a three-phase alternator. And just what in the hell is "inner leg curve, unladen weight"? If you've got some sort of wild racing cams in your bike, the people looking to buy it might want to know. Otherwise, it just smacks of "well, I know I should post something here in this section…" It's basically non-information: no one is reading it, and most of it is pretty meaningless even if they did. I'm assuming with just a shade under 2,000 miles it probably hasn't needed anything. And even if this isn't the original owner, I'm sure the "full records" mean that the seller can confidently say "there are no issues" leave it at that.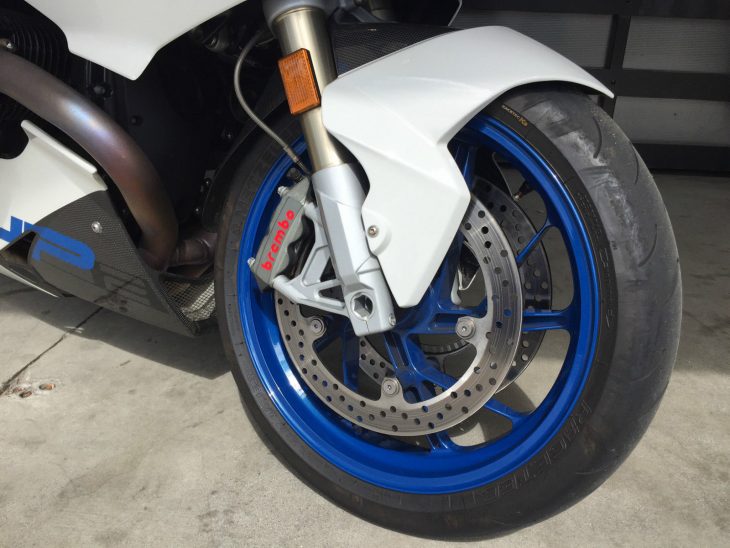 HP2s are quirky, fast, rare, and actually usable, although they don't seem to be particularly desirable yet. Maybe they're confusing to collectors? Neither fish nor fowl, with decent, but not eyeball-flattening performance and sporty, but not particularly beautiful looks. High-quality, light-weight, race-bred parts attached to a platform ultimately limited by design in terms of absolute performance. But with a whole raft of perfectly fast, competent, and slightly vanilla inline fours out there that can be had by the bucket load, it's hard to put a price on character and individuality. Or maybe you can: the Buy It Now price for this one is $16,999 which is pretty much right on the money for a nice HP2
-tad