2006 Yamaha R1 Limited Edition #226 of 500
Location: Deptford, NJ
Mileage: 0/1
Price: $9,999.00 current bid or $15,499.00 B.I.N.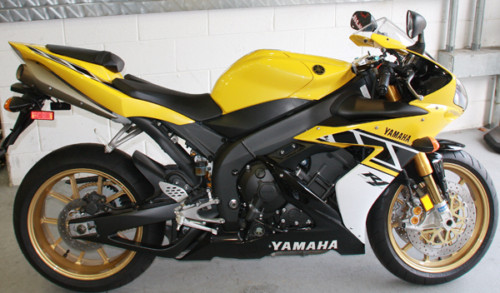 As recently as Thursday I had two conversations about this very model with my buddies Steve and Glenn; both having recently purchased this model.
My feelings about this bike are the same now as they were in 2006 in that these will suffer the same fate as other Homologation Sportbikes. They will go way down in price only to shoot back up as time passes. I personally would love to have one of these and like all of my other stuff I'd be the proud owner (for a few months) and would take great care of it.
I'm sure there are many folks, just like myself, who appreciates a well taken care of motorcycle. In this particular case there's no need to worry because it has 0 miles and has only been looked at for the better part of 5 years now.
This one has all the parts to be a true collector-
-low miles
-being sold as new, but no factory warranty which means it was sold and titled
-snazzy tool kit
-manual
-brochure
-original everything
Since these are only in their collectible infancy it's too early to say for sure, but I'm going to assume that since these have painted or anodized everything they will age very well if kept out of the sun. We've all seen way too many 80's/90's collectibles that have corrosion or discolored aluminum bits.
The R1 LE's came from the factory with plenty of trick bits such as a slipper clutch, gold Marchesini's, Ohlins forks, Ohlins shock, adjustable ride height, Titanium exhausts and upgraded Pirelli rubber.
This one is sitting close to the original MSRP of $18,000 so I'm assuming it won't sell, at that price, this early in the game. And if it does sell it will take a long, long time for the buyer to get a return on investment.
So, if you're in the market and have a lot of time to kill you can
Cheers!
dd