2006 KTM RC125 Red Bull livery racer
Location: Cato, WI
Mileage: 0
Price: $27,000.00 (!)
Update 7.23.2011: Originally listed in November 2011, back on eBay. Links updated. -dc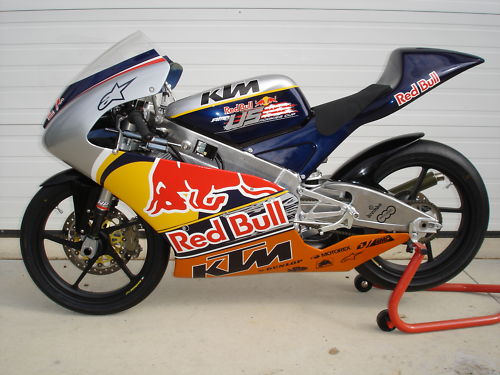 If this one looks familiar to the RSBFS.com die hard fans it's because we had it on the site about a year and a half ago. Although, it doesn't look any different, go faster or rail through turns any better, the seller has decided to double the previous asking price of $14,900.00. Personally, I think it's a pretty rare unit and would fit well in any collection. However, I suspect it will remain in Cato, WI for a while unless the price comes down from the stratosphere.
I certainly think that most fans of our site can appreciate a works racer and all that comes with it. I know I certainly can and I stared at the photos in awe of the unobtainable bits for quite a while before writing this post. Radial mounted Brembo caliper, sweet factory aluminum swing arm, and who can overlook the sweet Red Bull/KTM racer paint scheme?
I remember being in the pits during 2008 Indy MotoGP and walking by all of these bikes lined up. It was definitely occupying 3 of my senses as I strolled by. Since I couldn't sit on them as they were warming them up I had to utilize my sight, smell and audible senses. Obviously, the smell was the best, but I have to admit there's nothing like hearing a truck load of 125 ring-a-dings firing at one time.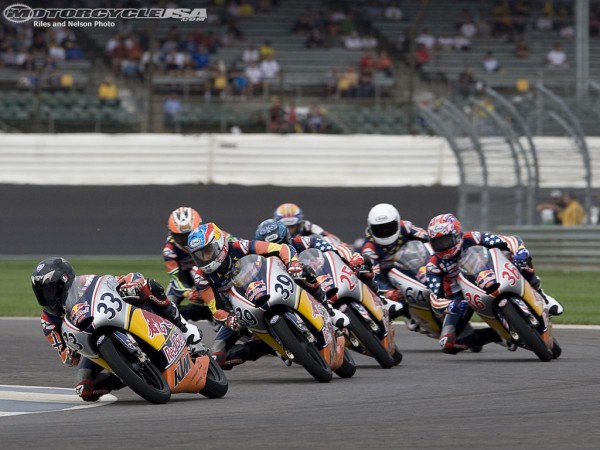 Who knows, maybe this bike is in the race photo. Okay, so that still doesn't make it worth all the money, but it would certainly look good in a living room. Besides, it's small and doesn't take up much room 🙂
Definitely ranks high on the cool factor scale so if you're interested I think I'd give the seller a call and see what's up with the price. I thought we were in a recession anyways….
Thanks for the submission Spoot-
Cheers!
dd