Located in Truckee, California is a very nice 1997 Honda RS125 with a decent spares package.  It seems we haven't been posting as many Race/Track bikes of late but this one seems to be a very good deal.  Sellers listing:
Selling a 1997 Honda RS125 that was used by Leandro Mercado for the 2008 season. It's in very fast, 1:48.7 at Infineon in April of '08. After going through it, it's in very nice shape with a ton on new parts.

New Engine (less than 100 miles on crankshaft)
Brand new 1997 cylinder $750 and top end $200. (approx. 25 break in miles only). Note; I used a used cylinder & top end for testing/run in new engine and then added the new cylinder & piston.

New white paint on 2002 A-Kit style bodywork ($450 paint job)
New suspension/just rebuilt by CRS tuning $650 (Dave Moss of Catylist)

New seat $15, wheel bearings $20, renthal grips $13, silencer packing $24, Galfer Brake pads & fluid $45, Brembo Front Caliper rebuilt $45, Dash foam $12 etc. Radiator is 1 year old and Carlos Neves just modified it for the over the radiator airbox and to fit newer style bodywork better.
The spares included:
Jet kit 150-190 main jets
4 needle jets
2 new chains
3 new top ends ($450 alone)
Handle Bars (2ea)
Foot pegs
Coil & cap
CDI computer
Front Sprockets 15,16,17,18
Rear Sprockets 35,36,37,38,39,40
Front Stand
Rear stand
The seller states that the tank will also be painted white to match this week.  This bike is listed at $3,000 making it a very good deal for a very serious track junkie or aspiring amateur racer.  See this bike on Bay Area Riders Forum here.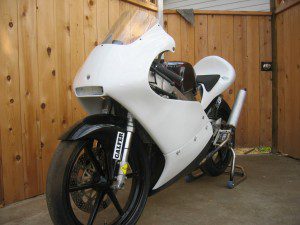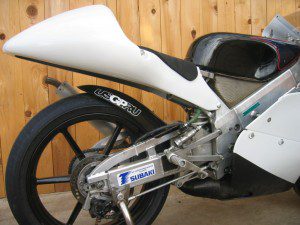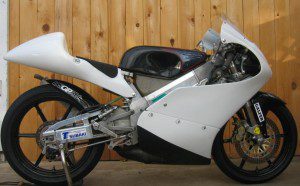 AG