Warning!
This post is in our archives. Links in this post have been updated to point to similar bikes available to bid on eBay.

1996 Kawasaki ZX-7RR N1. Yep, it's a live one

Mileage: 6,987 original
Location: Colorado- somewhere in the Rocky Mountains
Price: a low, low $6,500.00

Lean, mean and Green is the best way to describe this 96 Kawi……..okay, maybe not so lean by today's standards, but back in the day it was as good as any and all of you Ducati and Honda fans can hold your comments until the end please.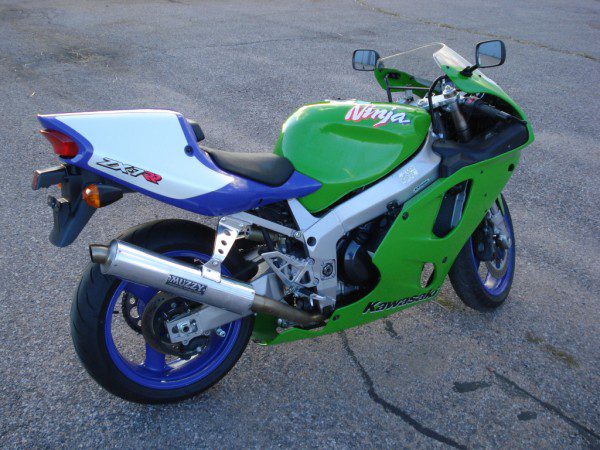 There are many things that I like about this bike and a few that I have concerns with. I'll start with the bad so I can finish on the good.
Downs:
1. Missing the front turn signals
2. Missing the side fairing reflectors
3. Doesn't have the Muzzy 7rr Special sticker on the tank
4. Butt pad is a little beat up
5. Seat has a gas cap stain – can see if you look closely at pictures
6. Needs a new front tire, but it's the original D204 Sportmax
7. Has a pencil sized dent in the gas tank.
8. Rims may have been painted at some point.
9. It's too far away from me 🙁
I'll use my pea sized brain to describe each 'Downs' for you. The front turn signals shouldn't be any big headache to locate as every 1990's model Kawi used the exact same style. The reflectors should fall in line with the turn signals. The Muzzy sticker is sort of a novelty and can be a deal breaker on a perfect example, but shouldn't affect any 'deal' on this one. The Butt pads are made of a very soft and easily damaged foam. I would say most K's, M's and N's are all a little rough unless they are garage queens with no miles. The seat stain isn't visible in any of the pictures, but was fully disclosed by the owners broker. The explanation for the stain was at one point in the bikes history the tank was removed and sat, upside down, on the seat, leaked a little gas and stained the seat cover. I've never looked for a replacement seat so you'll have to take that one on yourself. I think having the original front tire could be a plus for the right collector. A dent in the gas tank is a major flaw for serious collectors, but it's pretty small….. Maybe one of those old LP pleather tank bras would cover it up. This last one I'm still up in the air about. I have never, in my entire 30 years of riding motorcycles ever seen color coated wheel weights, but the sellers broker insist that they are OEM color matched wheel weights. I have checked every picture I have on my computer of N1's and none of them have color matched wheel weights. Anyone? Bueller? Bueller? Beuller?
Ups:
1. It's a N1!
2. Better than average condition
3. Low miles
4. Has one original tire 🙂
5. It's priced right.
6. I like it a whole lot for the money
7. See 1-6 above
8. See #7
9. See #8
10. See #9
Having worked at the plush RSBFS offices for just over a year now I am aware of the wide range of opinions that go along with motorcycles. One mans "mint condition" is usually another mans "average condition". This usually stems from our personal experiences, collector background, size of bank accounts and overall consideration for age and what it does to our beloved motorcycles. There's one comment on the forum that says "It could be in a Kawi museum". For me, I couldn't disagree more with this statement. Museum pieces are 100% and nothing less and there's no gray area for me. If this bike was a museum piece it would bring upwards of $10,000. I have information of a N1 that sold last week that was better than this one, but not quite the museum piece and it sold for around $8,000.00. The same seller has another one that is a museum piece and he is asking upwards of $10,000 and won't let it go for any less. So back on point, I feel this one is priced correctly and anyone who buys this won't get hurt in the long run.
If you're in the market for a N1 and don't want a piece of furniture, I recommend you give this one a look and talk to the seller. Ask as many questions as you need to and don't be shy about it. I'm not buying the bike, but if it was closer you could bet your last dollar that I would've been knocking on the sellers door with my checkbook…. and the wife's blessing of course (which I do have on this one).
Jump over to the zxforum here and contact the seller for more info.

Cheers!
dd