Located in Wenatchee, Washington is a very cool 1991/2 Kawasaki ZX-7RR.  I have become very interested in these lately and this looks to be a very good, original, example.  This bike has 10,244 miles and an asking price of $5,500.  The bike has some small scratches on the fairing but otherwise looks to be OK; it comes with an additional rear tire.  Thanks must go out to Doug & Phil for clarification.  This post is somewhat older, so see the ad on Craigslist here.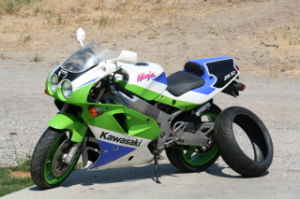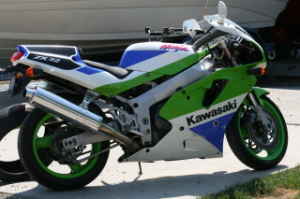 AG
Update: Looks like there were some typos in the ad. Our sharp eyed readers are on the case. Check comments below and Doug writes in:
The latest posting for the zx7rr is not correct. That is a 91/2 7rr. Just in case you don't know (maybe you do know) 91, 92 didn't have the adjustable swing arm and have K1 (91) or K2 (92) in the serial #. 1993 and 94 have adjustable swing arms and have M1 (93) and M2 (94) in the serial # plus the square ram air in the upper fairing. Skip 95 and the 96 have N1 in the serial # adjustable swing arm and steering head and 41 mm flat sides vs the preceeding years 39mm flats, also 96 have the steel tanks vs the aluminum tanks. One more note worthy difference is the fairing. 96 were all green lower and upper with a purple tail section.
Thanks for the heads up guys! dc