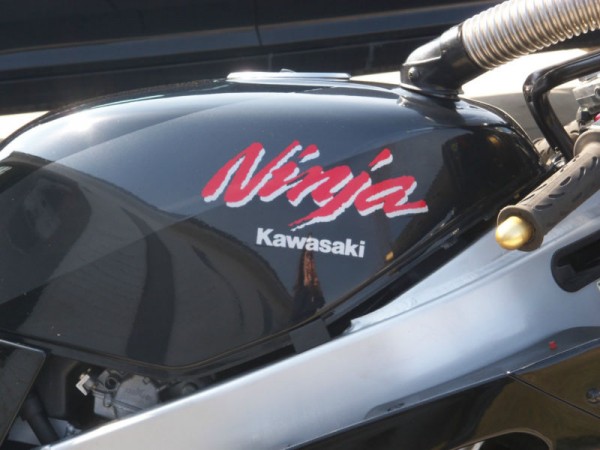 My brain is having a hard time processing a ZX7 not dressed in the familiar Kawi green.  Like the Yamaha FZ750, earlier this week, this 1990 ZX7 is another great example of a survivor.
I'm impressed, even the side reflector is still there.
The details:
 Up for sale is my 1990 ZX7 model H2.  This is a rare and very sought after bike, and the H2 is more desirable than the H1 (1989).  The colors and this H2 are very rare compared to the blue, green, and white bikes.  I would consider the bike in mint condition for a 23 year old survivor.  It just went through a full service and checks with new fluids, battery, tires, and chain and sprocket.  All the instrumentation, lights, everything works like it should.  There are no dents, rips, no stress cracks, no damage of which to speak – the bike retains it's originality.  There are some scratches but nothing large enough to take a picture and show.  The bike is missing the chain guard and that's it.  It has 16,000 miles and rides, drives, and shifts like new.  Truly amazing for 23 years old.
No dings or dents.   Why do I have the sudden urge to vacuum?
So far, not even a nibble on the auction.  I'm going out on a limb and guessing the starting bid of $4,600 is a factor.  As rare as the color is, I imagine the majority of buyers would want the green because that is what is so associated with the bike and brand.  On the flip side, how many squeeky clean, low mile 1990 ZX7's have you seen lately?  I have a feeling it is a round number.
Ian