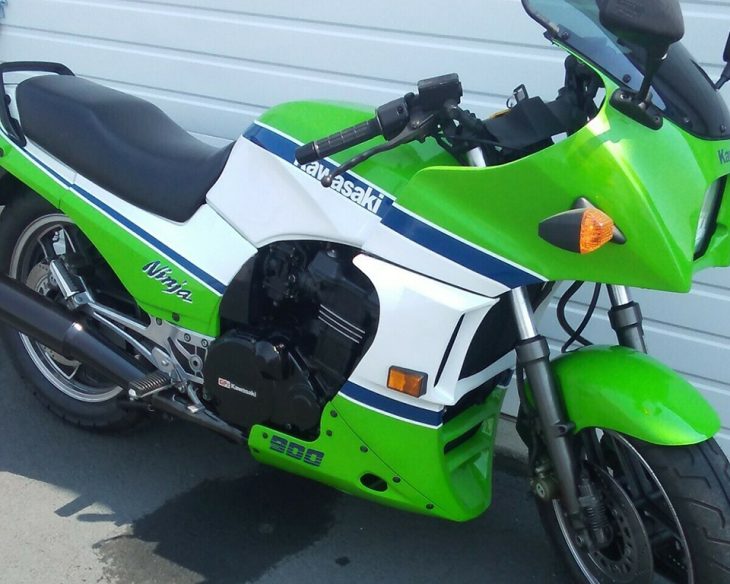 Today's Kawasaki GPz900R "Ninja" is one of the most iconic Japanese sport bikes of all time: the image of Tom Cruise racing a Tomcat along a runway, with just a pair of sunglasses, a bomber jacket, and his million-dollar smile to protect him from bugs traveling at 221 feet per second was burned into the minds of fans, cementing the Ninja's place in motorcycling history as one of the coolest bikes ever. Unlike the film version, this example is slathered in classic Kawasaki green-and-white paint, making it just that extra bit 80s.
Elsewhere, the bike was known as the GPz900R, a clear evolution of the earlier GPz models. But here in the USA, it got a much more evocative name: "Ninja." It's clearly a bit silly now, naming your motorcycle after an ancient and heavily mythologized group of secretive assassins. But in the 1980s, ninjas were the height of cool, and the edgy styling of the bike certainly fit the name.
But the bike was sophisticated under that angular skin as well: the Ninja used one of the first liquid-cooled engines fitted to a motorcycle, and it eschewed the usual center-mounted cam-chain for one mounted on the end of the 16-valve engine to make it more compact. Today the numbers look decidedly sport-touring: 546lbs wet, with 115hp and a 151mph top speed. But at the time, the bike was pure sex and finding one this clean is pretty difficult today.
From the original eBay listing: 1985 Kawasaki GPz900R for Sale
Up for auction is a rare opportunity to purchase a fully sorted and functional ninja 900R in the KAWASAKI trademark A2 export lime green. Thousands of dollars and thousands of hours went into the restoration/sorting of this motorcycle by a factory trained Kawasaki technician as a means of therapy. Believe it or not, it has $500.00 worth of OE o-rings in the cooling system and carburetors alone. Has had the mechanical work necessary for it to be right, whatever was needed was done or replaced (carburetor kits/cooling system complete overhaul etc.

This was the series of NINJA that started it all as the first water-cooled road-superbikes by Kawasaki. Restored by veteran motorcycle restorer that has been doing this since the 1980s. Valves adjusted to specifications, good cylinder pressures, pulls hard!  Valves lapped for optimum pressure. Good compression as would be expected with the low miles! New tires, chain, clutches pulled checked, counter-balance shaft chain adjusted. Replaced front wheel bearings because he did not like the way they felt in his hands. All new fluids in every system. This bike has standard drive sprocket ratios.

 This 617 LIME GREEN (this is not a lime green of a 1970 barracuda) it is a proprietary mixture color that can only be bought through authorized KAWASAKI dealers at $200.00 a quart retail. PPG DC-3000 premium clear.

Like most Japanese sportbikes, these depreciated to a point where they became nearly disposable, and many were thrashed, heavily modified, or written off. This one has obviously had a ton of attention lavished on it, and that paint! With just 10,500 miles on the odometer this is very clean and ready for anyone looking for a quick trip down that highway to the danger zone…
-tad