Metuchen, NJ – 5,769mi – $5,200 Reserve not met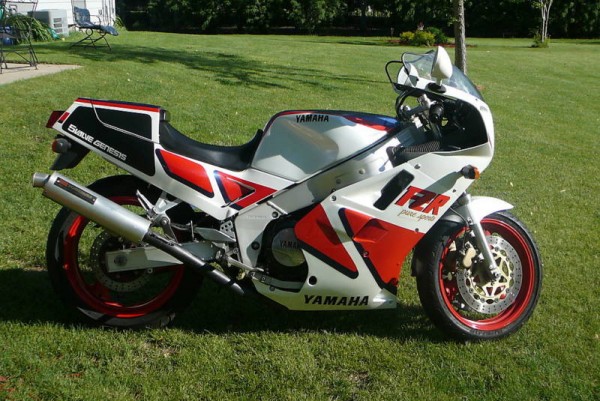 We all know that the Yamaha FZR750R (OW-01) is highly collectible and low production homologated special that doesn't come up for sale often. Because of this, that bike is pure unobtanium for 99% of people. The precursor to the OW01, the FZR750R Genesis, is however more attainable and not quite as rare. Granted, you don't see these popping up for sale with as much frequency as the rest of the FZR line, but they do present an opportunity to ride something rare, cool, and a fraction of the price of the OW01.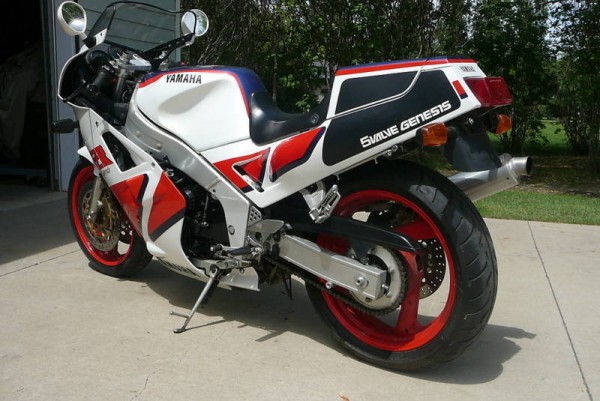 The FZR750R Genesis featured a 106hp engine and Yamaha's DeltaBox frame which was advanced for street use at the time. The FZR750R was homologated for AMA racing and only 200 examples were made, which actually means less available than the OW01. The last digits of the VIN on this one shows "266", so I am not exactly sure what implications that has as to production numbers. The bike for sale here is very clean with less than 6k on the clock. The only modification is the Yoshimura pipe and the original is included with the sale.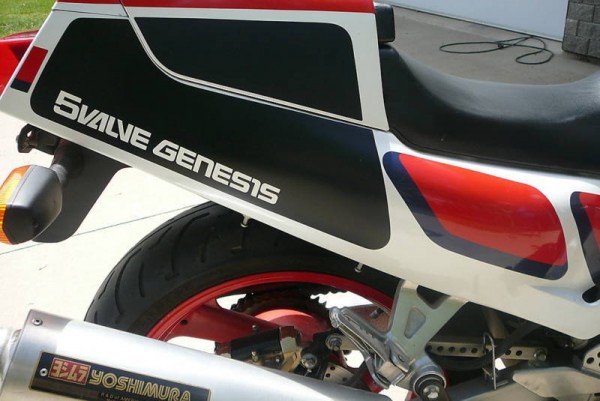 From the seller:
This auction is for a 1987 Yamaha FZR 750 RT. This motorcycle has some historical significance as it was the precursor to the phenomenal FZR750RR (OW01). To homologate the FZR 750 RT for AMA racing, Yamaha had to import 200 street-spec 750's This is one of those 200 made for the US market. This machine has less than 6K miles on it and it is in immaculate condition. There are no notable scratches, scuffs, dents, dings, etc… It is as perfect as it can be; and I don't hesitate to say it is truly in museum quality condition. Many of these motorcycles ended up on the racetrack, but this one has never been raced, crashed or abused in anyway. This machine has spent the vast majority of its life being stored in a showroom. After I purchased this machine, I rode it about once every two months on a 20 mile loop to go through the gears. There were absolutely no mechanical issues and it operated perfectly. I had no problems with the engine, transmission, clutch, brakes, exhaust, electrical system, etc… The bike has always been stored in a climate controlled environment and I've never ridden it in inclement weather. Given the number of motorcycles I had, I took the motorcycle to the local dealer and prepped it for long term storage about 2 ½ years ago. It's been sitting in my den since. With the exception of the exhaust, the machine is 100% stock. I do however have the original exhaust and it is included in this auction; as are various other miscellaneous parts and documents. I believe I possibly have several oil filters, sparkplugs, handlebar grips, owner's manual, etc.. I'd have to go into my storage area to get a complete list. While I consider this machine as very special, I've enjoyed owning it and believe it's time to let someone else include it in their collection.
Asking prices for these bikes were around $5k a couple of years ago, but given that the market for clean vintage sport bikes is always on the rise combined with the fact that these really don't show up often and in this condition, I would say that $6k-$7k isn't unreasonable. I would be all over this bike if it was closer and I had the cash on hand. I got a feeling this is going to be one of those future collectibles that will become increasingly harder to come by. If you feel the same way, then jump over to the auction here and have a look.
-JS