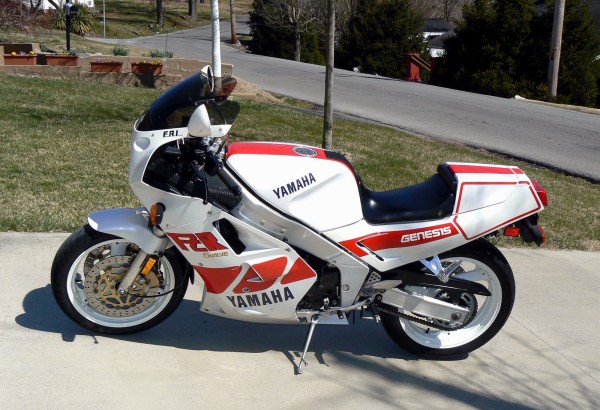 Here's another very sharp pre-OW01 Yamaha 750cc special that's been listed in so many weeks (this 87 FZR 750RT just sold for $8500). This one has roughly twice the miles but looks just as clean and complete. Good luck to buyers and seller!
dc
1988 Yamaha FZR 750RU for sale on eBay
from the seller:
It Has The Original Body. It Has Never Been Raced, Or Wrecked.
It Has Some Small Scratches here And There as it is 25 Years Old.
It Has New Braided Front Brake Lines. It Has New Yamaha Front Brake Pads.
It Is Equipped With a Tinted Windshield.
It Has A Vance And Hines 4 Into 1 Exhaust System.
It Has New Factory Grips And Bar Ends.
It Has A Stage 1 Jet Kit Installed.
It Has A New Yuasa Maintenance Free Battery Just Recently Installed.
The Front Forks Were Just Re-Sprung And Fitted With New Seals, Wipers, Oil and They Have Less Than 50 Miles On Them.
The Tires are In Good Condition. All Of The Lights Work And All The Reflectors Are Still In Place.
New Oil And Filter Were Just Installed Recently.
It Runs and Shifts Perfect And is Ready To Ride To Your Home.
The 1988 Yamaha FZR 750RU Has Floating Rear Brakes.
It Has New Front And Rear Yamaha Sprockets, Which Are the Stock Ratios.
I Do Not Have The Stock Pipe Or The Owners Manual.
The bike is Currently Being Stored In a Garage Out Of The Weather But Has Been Checked And Just Ridden Recently In Good Clear Weather.