For Sale: 2002 Ducati MH900E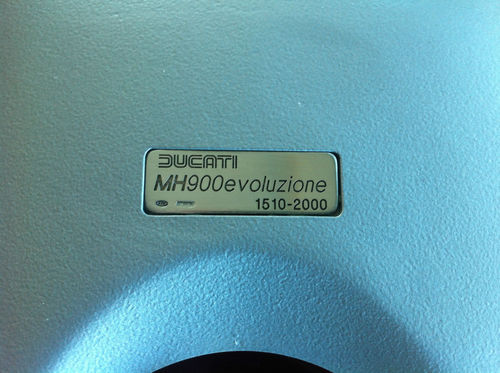 From the sunny State of Florida – home to gorgeous riding weather mostly year 'round – comes this ZERO mileage example of a modern day collectable Ducati: the MH900e. Designed as a contemporary remake of the legendary Mike Hailwood editions of the late 1970s and early 1980s, the original MHe was released on January 1, 2000 as an internet-only sale. The limited edition and numbered bike sold out on the same day. From that point forward, prices on these rare machines have been on the rise.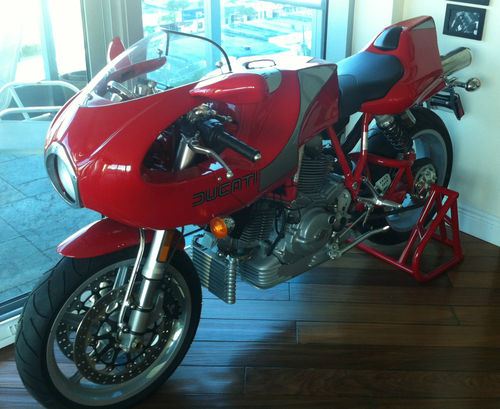 This particular MH900e appears to have been housebroken from an early age. There is no doubt that it does look good indoors! The seller claims "zero" miles, however there are no pictures of the odometer listed. While many machines have some minor mileage as the result of factory or dealer prep, it is not unheard of for buyers to circumvent the delivery mileage for purposes of collectability. This might be one such rare machine.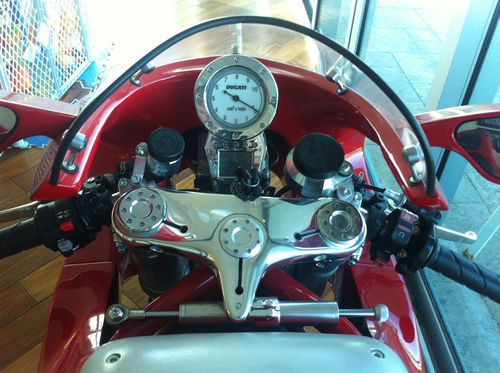 From the seller:
Its Simple!

This Bike is one of a kind, its absolutely BRAND NEW with ZERO MILES, its has never been ridden on the street, it came directly from the dealer to my house on a flat bed.

I am reluctantly selling this prized Ducati, my wife told me i have to, and our highly active kid's safety is at stake.

This bike is a 2002 and has been in our home as a piece of art for the last 9 years.

if you are looking for one of these limited edition rear Ducati this one is for you.

Its # 1510
The MH900e has been regarded as a truly unique bike. Not simply another Ducati with a Limited Edition number sticker on the top triple clamp, the MHe look unlike any other Ducati in the lineup. The 900cc air cooled engine is shared with the Monster and SuperSport models, but the rest of the bike is all MHe. These are sharp-looking machines when seen in person, with reasonable performance on par with most 2-valve Ducati sportbikes. There are reports that the riding position is a bit extreme on these models, but riding is not the big draw for this particular auction.
This auction is going on right now, with an opening bid of $14,100 with reserve in place. The BIN is set for a stratospheric $21k – which would certainly be a record for one of these MHe machines (notwithstanding this seller looking for $1m for a pair of them in 2010). But since a bike can only be zero miles and "new" once, this seller definitely has an edge on the used market for thse modern Mike Hailwood replicas. For more info, details and pictures click on the link and check out the auction!
MI