The Ducati MH900e was an internet sensation when it dropped on the Google-Tube in the magical year 2000. Designed as a futuristic homage to the Mike Hailwood replicas of the past – but devoid of the Hailwood name in order to avoid royalty payments (later paid to the family retroactively) – the Evoluzion is perhaps Pierre Terblance's best known design. Today this bike still looks amazing and modern, despite a couple of decades having passed. This bike continues to make a statement to the riding public. Sadly, many of these bikes were not ridden, but instead hoarded away as collector machines. And while museum pieces allow future generations to adore old-new motorcycles, it subsequently robs the current generation of the pleasure of riding. It also tends to drive the prices up, which we are seeing here.
In many ways, the MHe accomplishes a fine steak dinner outcome starting with cheeseburger basics. At the end of the day you might just see a plain-Jane air cooled Supersport under all of that fancy dress. But oh, such a fancy dress it is! From the gorgeous asymmetrical swingarm that is art in and of itself, to the high-rise shotgun exhaust sticking out the tail section, to the totally-unique-to-this-model bodywork that is both cutting edge and retro, the MHe screams style. And thanks to evolutionary updates to the redoubtable desmodue twin, torque is abundant and outright power is adequate. In all, you take what has already worked for the past 20 years, and make it look newer and edgier. And it works astoundingly well, even today.
From the seller:
The Ducati MH900e was produced between 2001 and 2002 as an homage to Mark Hailwood's race at the Island of Man TT in 1978. The MH900e was designed by none other than Pierre Terblanche who made a special visit to the Larz Anderson Auto Museum shortly after the creation of this now rare, limited production motorcycle, for the landmark Art and Design of an Italian Motorcycle talk. Powered by a Supersport 904cc air-cooled L-Twin engine. Only 2,000 units were ever made and the sale of these motorcycles defied norms, selling directly to the consumer from the Ducati website, with 1,000 selling out in only 31 minutes. This particular one owner motorcycle has led a pampered existence. Clean as a whistle and in pristine condition because the bike has never ever been registered! In fact, it has only been exhibited as a fine piece of Italian sculpture in the original owner's residence. This is not a garage queen! No, this one is essentially, for all practical purposes, new! With less than 10 miles on the odometer and showing no flaws whatsoever in the Ducati Rosso paintwork, as expected with a machine of this caliber, it is remarkable to take in.This MH900e is highly suitable for the discerning collector. Original shipping crate, with corresponding shipping markings included, as well as race stands and full documentation. A must see! All proceeds benefit the Larz Anderson Auto Museum. Accepting bids beginning at $25,000. This is listed on multiple platforms and the listing may end at any time. This is a rare opportunity – don't wait!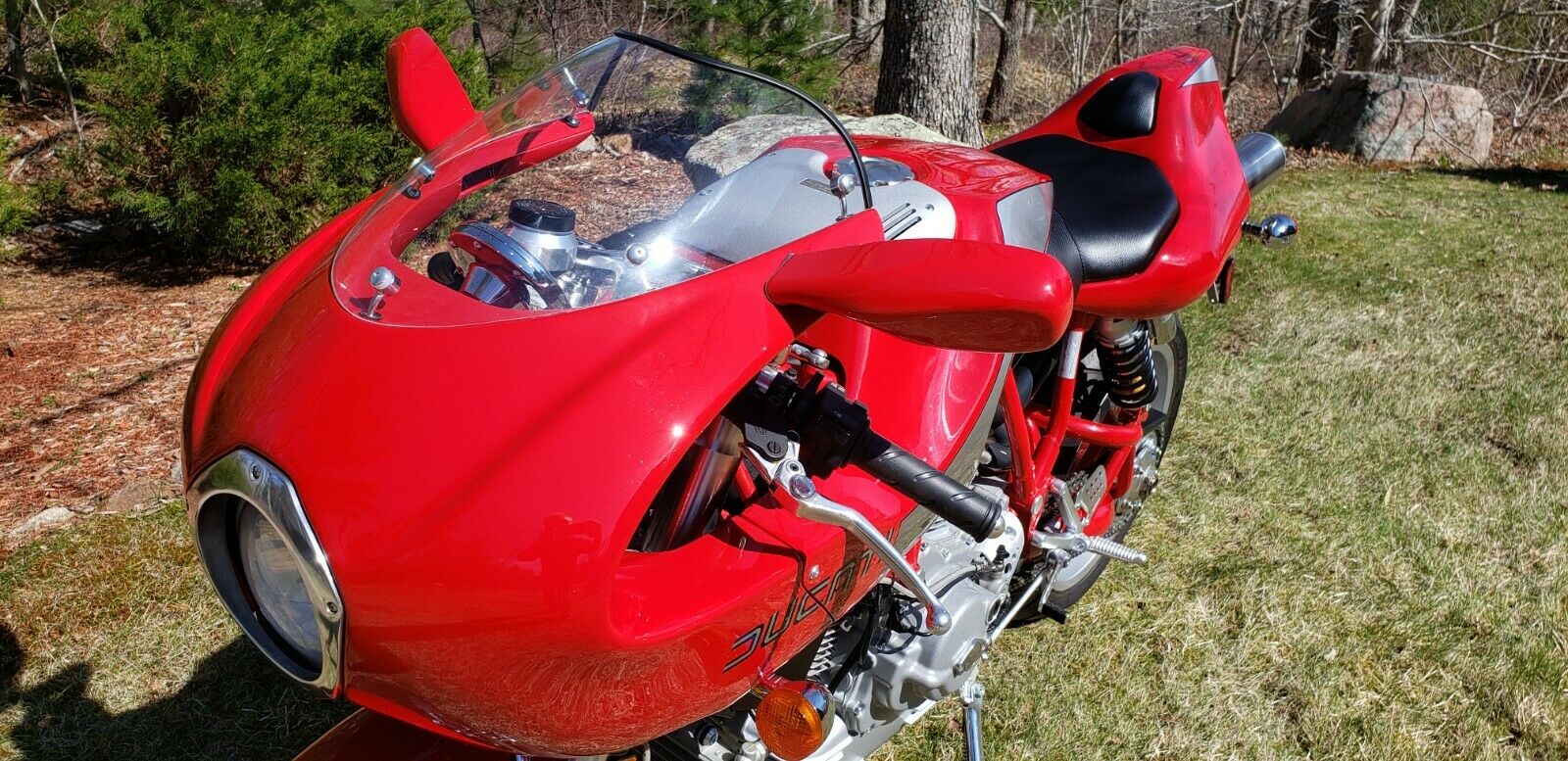 There is a time in nearly every collector bike's lifetime when it can be had for sticker. Often, a few years from new, it can be had for less than sticker. Then – if the bike is desirable enough and rare enough and in demand – prices will rise. I can already hear the "I remember when you could buy one of these for $10-12k" comments in the making. Sadly those days are gone, and prices have been steadily climbing. This seller is asking for a very steep $25k minimum for this almost new (10 miles claimed, never registered) beauty. And look at the pics – it has been well taken care of in a "I'll never ride it but just look at it" sort of way. I congratulate people that can do that. I am simply not that strong.
The collector market continues to be strong for MH900e models; these are all individually numbered, and the production run was limited to just 2000 bikes across 3 or so years. A fun fact is that Bimota was tagged to build these bikes, but thanks to the vDue implosion and subsequent Bimota bankruptcy, Ducati was forced to build it themselves. Hand-built in Bologna, the MHe was announced in late 1999 as a 2000 model, while actual production started in 2001. These are interesting, if not uncomfortable, sport bikes that have a pretty stout following and a strong based of demand. We do see them for sale from time to time, but it is rare to find such a low mileage, one owner example. If you are looking to add to your stable of bikes, this could be the blue chip investment you seek. Check out all of the details and images here. Stay safe, and good luck!!
MI