Warning!
This post is in our archives. Links in this post have been updated to point to similar bikes available to bid on eBay.
While many motorcycle fans are sticklers for originality, I take a more flexible view: basically, if you make changes, even significant ones to the bike, but manage to maintain the spirit of the original, I'm probably on board. And while this Yamaha RZ350 isn't quite stock, the seller obviously wanted to stay close to the look and feel of the original, with suspension improvements that should make the bike even more fun to ride.
If you live in the US and want a sports two-stroke of recent vintage, you're likely looking at some tired ex-Japanese market bike imported through Canada and now of very questionable provenance. Or you're looking at an Aprilia RS250.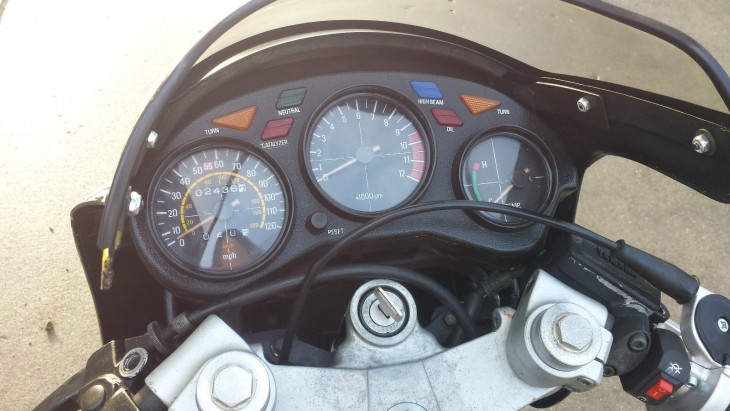 Two-stroke fans here have found slim pickings in the last 20 years or so, but it wasn't always that way. Back in the 1980's, that glorious era of neon, Nagel prints, big hair, and slightly ridiculous motorcycle acronyms, two-strokes were still popular, and enough people cherished their RZ350's that they're some of the most accessible sports two-strokes available here in the US. Sure, there are some thrashed bikes out there, but it's not too hard to find well-preserved examples if you look.
Which is especially surprising, considering they were produced only between 1984 and 1985. The bikini-faired sportbike was powered by a 347cc two-stroke parallel twin that was evolved from the RD350, but added liquid cooling to the package, along with Yamaha's YPVS which, as you can probably guess, stood for "Yamaha Power Valve System."
At the time, the RZ350 was a serious back road tool and was one of the best-handling bikes available at any price, and required rider involvement to maximize the two-stroke powerband.
From the original eBay listing: 1984 Yamaha RZ350 for Sale
Great bike that needs nothing, I'm selling to fund my Aprilia RS250 project. Specs below:

Motor:

200 miles on fresh top end and crank rebuild. Crank was trued and welded, Wiseco pistons on 2nd oversize bore. OEM head gasket. Zeeltronic CDI (non- programmable). Genuine Keihin PWK 28 flat slide carbs, uni pod filters and quick turn throttle with custom cable and aftermarket kill switch. Banshee adjustable ignition timing plate (currently running +3 degrees from stock). Allspeed expansion chambers that were repacked and powder coated black (sound great, not too loud). Oversized aluminum radiator. The carbs are jetted properly (if not a little rich) and the bike runs great. Starts on the 2nd kick cold, idles nice, pulls hard and is extremely smooth. Setup for 40:1 premix and premium pump gas.

Chassis:

Aluminum FZ600 swingarm (professionally machined to fit in the RZ frame). Fox shock with ride height adjustment.   FZR wheels (new bearings, powder coated black). The sprocket carrier was machined for proper chain alignment with the wider rear tire. FZR forks (fresh rebuild),triple trees and clip-ons, tapered head bearings. FZR brakes front and rear, stainless rear line. New chain and sprockets, chain is a gold o-ring 520. New tires. The bike handles and stops very well.

Body:

All of the paint was redone with reproduction decals and professional clear coat. Reproduction solo cowl with bump pad. Inside of gas tank is rust free, it was professionally coated by a radiator shop. Manual style petcock. OEM seat with no rips or tears. Custom laser cut stainless bracket to mount the OEM fairing and gauges to the FZR triple clamps (looks factory). The frame has original paint and has a few minor scratches and nicks but overall is very presentable. I left off the horns and turn signals for a clean look but the wiring is still there if you want to add them. The rear fender was also eliminated and tail light tucked up a little higher.   Included are the stock rear fender and tail light bracket.

Full disclosure: The motor numbers and frame numbers do not match. The original engine cases had damage to one of the crank bearing journals and it was decided to use a different set of cases. Clean title in hand which matches the numbers on the frame. The damaged cases with matching numbers will be included. The odometer shows 2400 miles but I have no idea if that mileage is accurate or if they are even the original gauges. It doesn't really matter since everything on the bike from the ground up is essentially new or rebuilt.
Bidding is up to $3,999, but there's plenty of time left on the auction. The seller has obviously put plenty of work into it, but will purists balk at the changes?
-tad