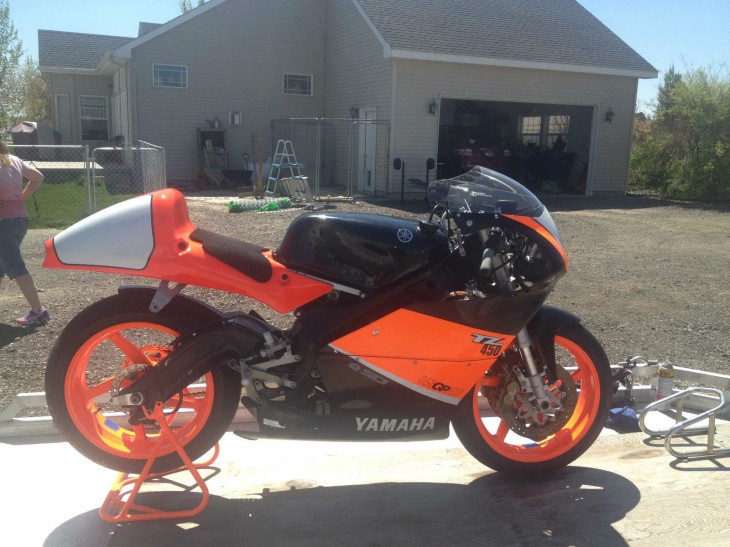 So you've been badly bitten by the track-day bug, and you want something that will really teach you to go faster, something you can beat the living hell out of and it will just ask, "Please sir, can I have some more?" Or maybe you've decided that track days just aren't enough, and you want to go racing. But not being a 16 year old kid with delusions of immortality and a boatload of cash to build a competitive Supersport machine, you need something cheap to buy, simple to run, and easy to maintain. You may not impress your riding buddies, but you can't beat something like this Yamaha TZ450 single for riding thrills.
Now right now, you're probably thinking, "But Yamaha never built a TZ450."
No they didn't. But in the past few years, it's become popular to use off-road engines and even whole motorcycles as the basis for lightweight track machines. The formula is simple: take a stock dirt bike engine, frame, and swingarm, add a modern sportbike front end or modify the existing forks, rear shock, add rearsets and bodywork. Companies like Roland Sands Design and GP Tech sell kits to help you along, or can even build you a complete machine.
Finished machines have a dry-weight of about 250lbs. It's a nearly perfect package for track junkies, with easy parts availability, a flexible powerband, and extreme light weight. All-in, if you build it yourself? Under $5,000, plus your time and effort.
Or you can just buy a bike someone else built. Maybe one that features the race-winning prowess of Yamaha's GP-framed TZ250, stuffed full of thumper torque.
From the original eBay listing: 2009 Yamaha TZ450 for Sale
Motor: 2009 YZ 450 four stroke single with: bored cylinder,  Hot Cams camshaft, Vertex piston, ported and polished head, lightened and knife edged crank, oversized custom aluminum radiator, GTYR slipper clutch, revised internal gearing, and custom Graves motorsports exhaust.

Chassis:1994 Yamaha TZ 250 Grand Prix Race motorcycle chassis with: Brembo front calipers, Brembo 19mm radial master cylinder, Marvic magnesium wheels, Ohlins steering damper, Mychron4 digital dash, and good condition body work.

Spares: stock TZ 250 wheels, tail cowl, new vertex piston, clutch plates and springs, new gasket set, new base gasket, rear stand and external gearing.    Sprockets front steel: size 14 and 15.    Rear aluminum: 32,35,36,37,39,40,41, and 42.

Title and Mileage: This is a race bike and has never been titled.  It also has no device to indicate mileage. It will be sold with a bill of sale only.
The seller is asking $8,500 for his creation. You could certainly build your own for cheaper, but obviously this is a bit of a step up from a converted dirt bike and features some very trick bits, along with geometry honed in the crucible of racing. Also it's pretty cool to have a TZ with a big single stuffed into it.
Earlier this summer, I spoke with a guy who ran a MZ Skorpion Sport in AHRMA's Sound of Singles series who told me, "I've been riding for years, but the Skorpion is the bike that taught me to go fast." Learning to ride something light that stresses handling over straight-line speed really is the best route to really fast riding. They don't stick budding racers on Superbikes and hope for the best. Those kids have generally spent years on small, lightweight machines that teach them more than "get the bike upright, twist the throttle to the stop, and hang on."
This bike sounds like just the ticket to faster, safer riding!
-tad