Though you would had to have been a racer or one of your Ducati dealer's best customers to rate a 996 SPS back in 2000, they are starting to appear with some regularity.  Most have just introductory miles like this one, and are carefully tended.
Ducati and Carl Fogarty were working hard to continue their championship-winning ways, and the SPS was their homologation special for the turn of the century.  Not radically different than a base 996, it's just a little more powerful with 123 hp.  Suspension was top-of-the-line Öhlins for 2000, and worked well with the adjustable frame geometry to suit a rider's preference.  Marchesini forged their 17-inch wheels for the occasion, and likewise Brembo supplied their best 4-piston calipers up front.  A sea of racing red gives way to white number areas behind the single seat.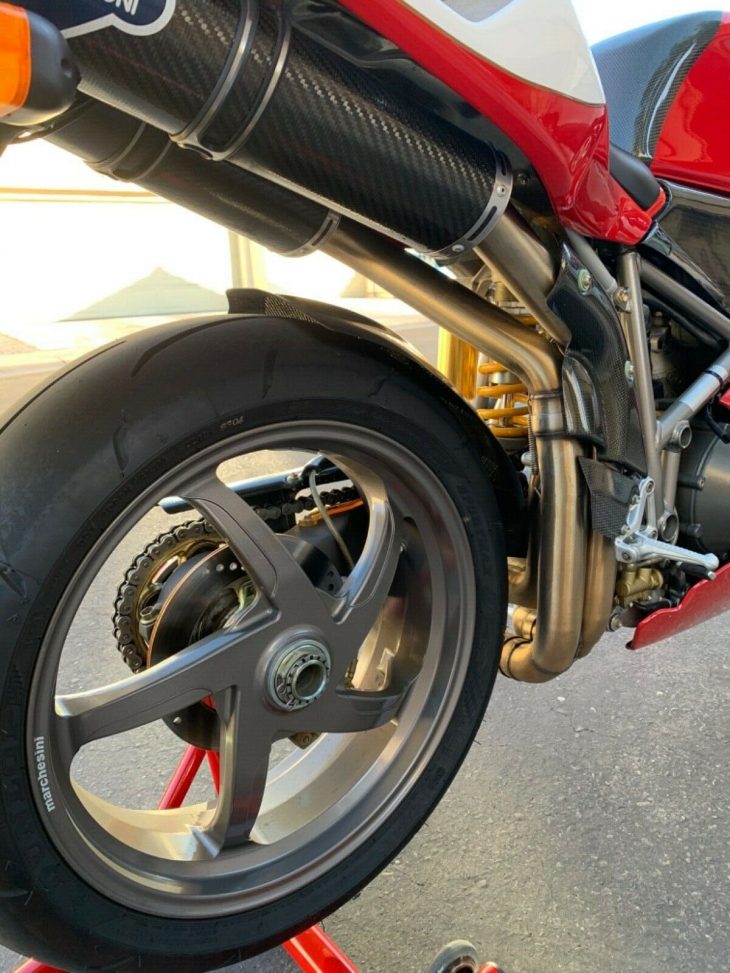 For whatever reason this short-term owner didn't warm up to the red experience, fortunately the previous completed a major service last summer.  Miles are not significant at 4,565, and it looks very stock, right down to the clutch cover.  Condition looks great save one near miss on the right seat console, and the belt buckle / key guard is cheap insurance.  Some SPS's come with their original tires, but thankfully this one has new rubber.  The owner's comments from the eBay auction:
The bike is all original, it's been ridden and well cared for. 

-4570 miles with almost new tires (under 400 miles)

-went through a thorough inspection in September 2019 (when purchased). All fluids and fuel system were flushed and replaced. Switched water tank to carbon fiber one. 

-battery, spark plug, belts were serviced July 2019
Foggy's 2000 season ended early in a collision at Philip Island, but the work he did developing the 996 paid off with Troy Corser's 2001 championship.  Though the 996 could be a chore around town, as speeds exceed highway normality and the wind lightens the load on the rider's wrists ( and makes the cooling system work ), it turns into a great pleasure.  Maybe the next owner will take the new tires at their word and put a few miles on this millennial beauty.
-donn