Ducati's Superbike homologation special in 2001 was the 996R, and received the first narrow head testastretta engine, thinner 320mm front brake disks, and bodywork with almost no vents.  One place it didn't scrimp was MSRP, and along with its factory-new appearance, this example sports an ask which is virtually the same as in 2001.
The R shared much with the preceding SPS, but the powerplant was comprehensively revised, more oversquare with larger but lighter pistons to displace 998cc.  Valve angle was reduced to 25 degrees, allowing bigger valves and more compact desmodromic actuators.  54mm oval intake tracts had one shower injector for each cylinder, under Marelli electronic control.  As configured in the 996R, 135hp was the result, with max torque of 77 ft.-lbs. at just 8,000 rpm.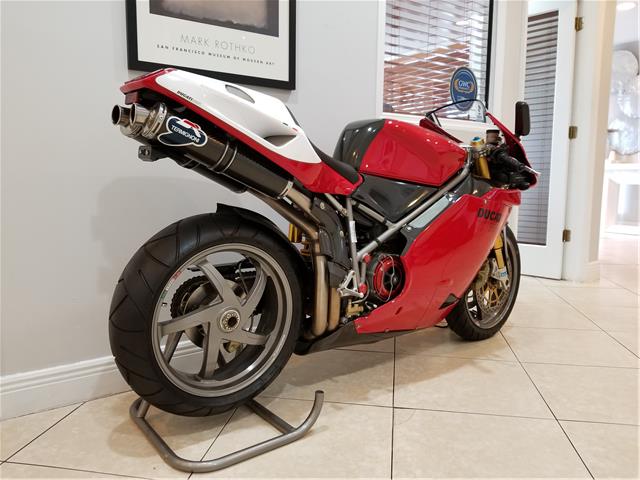 Chassis, suspension and brakes sound similar to the SPS, but are closer to the race machine with fully adjustable Ohlins, special Brembo brakes with lighter rotors, and forged Marchesini wheels.  Body work is all carbon but relies on motion to get the airflow to work, the sleek fairings completely uninterested in sitting at idle.  Carbon Termignoni mufflers imparted a distinctive boom to the exhaust.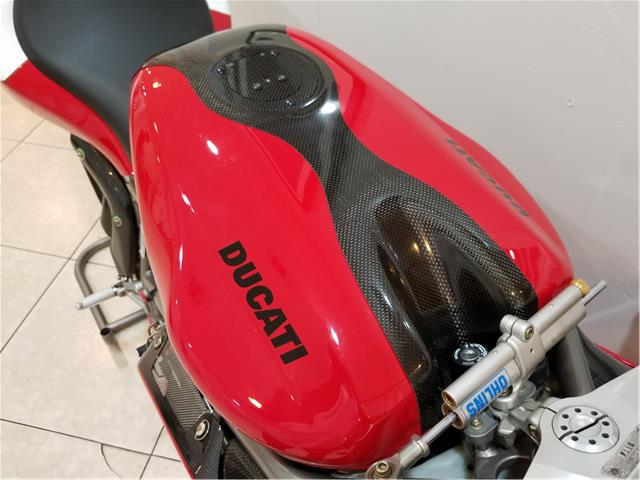 Not much information about the chain of ownership, but with only 225 miles, it's been more a series of guardians.  On office display, it looks new in every way, with the mirrors and signals looking like possible updates.  From the eBay auction:
This particular Ducati 996R is a one-owner, USA delivered, 225 original mile example.

Build Number 114 of 500.

Sale includes all owner's handbooks, both keys, OEM compliant mufflers & ECU, Ducati Performance Carbon Fiber Parts, Termignoni Exhaust and Computer, Evoluzione Slipper Clutch and Titanium Guard, and all original parts.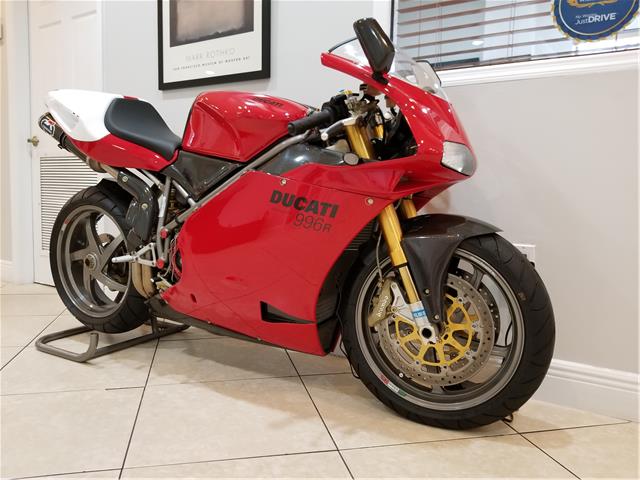 The FIM's directive to was make the homologation machines available to customers, but the factory's interpretation did not really include the general public.  Special connections, select privateer race teams, and a dealer's best customer could place an order, but a walk-up inquiry might find them to be sold out.  When new £17,000 – over $50,000 – accounting for inflation this -R should be about 75 large.  But even at a smashing discount the new owner will be an unusual motorcyclist.  Very fitting for a most rare Ducati, which will likely never get to 226 miles.
-donn