DISCLAIMER!  Let me start by saying that I actually owned a '98 TL1000R.  I had the first one in Michigan and rode it for almost 6 years.  So this post is will be love/hate for me.  I went into the dealership to buy an R1 and despite having left a deposit, it was sold (salesmen!).  So the dealer cut me a screaming deal and I left with my first V-twin.
The Suzuki TL1000R was a failure, but it was a spectacular one.  Suzuki (like everybody else) was blindsided by the Ducati dominance of the 90s in World Superbike Racing and tried to bring their own V-Twin to the scene.  They debuted the trellis framed TL1000S first in 1997 and, well, the reaction was harsh.  There were NO complaints about the 996cc engine.  It was a monster, producing a legitimate 125hp and nearly 80lb-ft of seamless torque.  The problem was that the surrounding bits weren't up to the task of containing it.  The press quickly dubbed it another "Widow-Maker" as it developed a reputation for nasty tank slappers and spitting riders off.  It got so bad that Suzuki recalled the TLS and retrofitted them with a very crude damper.  It didn't help very much.
The next year, Suzuki brought out the TL1000R.  It still had that monster engine (good) that was now producing 135hp and that rotary rear shock (bad)… but the rest of it was very different.  The styling was subjective, but I loved it.  Sure it was a little bigger and curvy… but think of it like this; The TL1000R is Kate Upton and the Ducati 916 is Kate Moss.
So what do you notice after the styling?  The wheelies… Oh my God, the wheelies!  They just happened everywhere, on barely half a turn of the throttle.  This torque thing was very new to me and I had a lot of fun.  The problem was, that was pretty much all it was good at.  With the new beam frame, the added bodywork and other bits, the TL1000R was over 20lbs heavier than the Tl1000S.  And, despite being a V-twin, it was still very wide.  It was NOTHING like a Ducati 916 and Suzuki very quickly threw in the TLR's racing towel and went back to what they did best (GSXRs).
PS.  Don't let your butt hit that back seat hump, because that's about all it takes to let it loose at highway speeds.  Ask me how I know.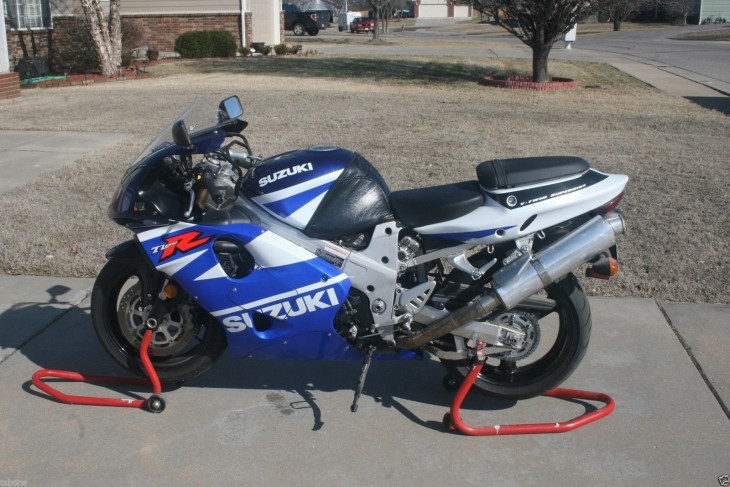 The seller has a great amount of detail in his eBay auction.  I've posted some of it and you can read the rest here: 2003 Suzuki TL1000R on eBay
This has sat in the garage way too much in the last several years.  I have a different lifestyle, too many things with not enough time to do them and just don't get to make time to ride any more. 

Up for auction is a 2003 Suzuki TL1000-R.  I'm the original owner and have some extra items to go along with it.  The bike has never been down and was purchased new in April of 2004 and currently has 12,500 miles on it.

Immediately after break-in period of 1200 miles I did the following:
Installed Ivan's TRE
Installed Power Commander II
Installed used Yoshimura full exhaust
removed Pair valve and installed block-off plates
I suspect this posting may draw some heated discussion both for and against the TL1000R and ultimately that is it's legacy.
-Mike M.