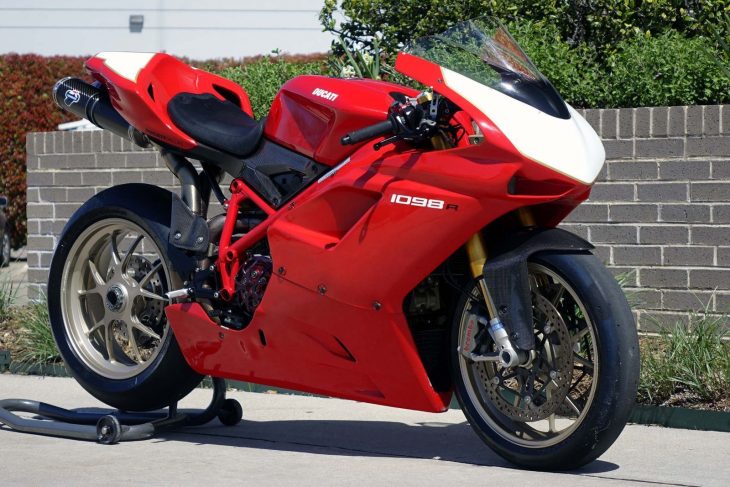 To some, it might seem like sacrilege to take a gorgeous, expensive, limited-edition Ducati superbike and turn it into a trackday toy. But if you've got the money to spend on something you can afford to wreck and want the very best, you can't go wrong with today's Ducati 1098R track bike. Honestly, homologation-special Ducatis don't really make practical roadbikes anyway: their uncomfortable ergonomics, race-bred handling, and ridiculous power only makes sense in an unrestricted environment.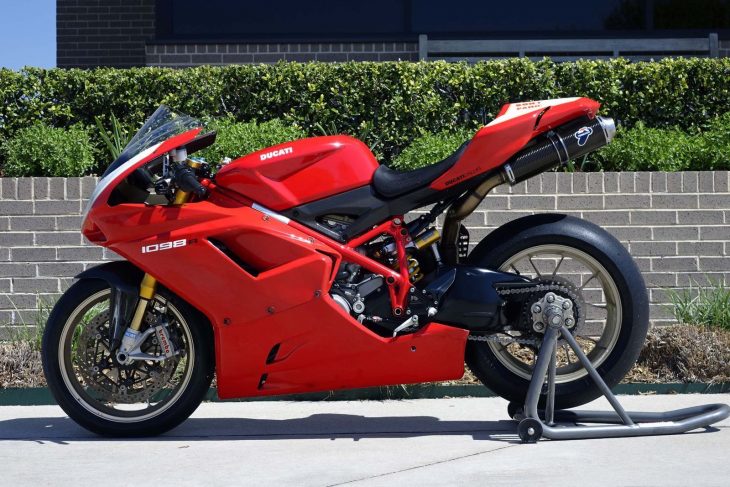 History I'm sure will be kind to the Terblanche-styled 999. But at the time, the successor to the storied 916 was a relative sales flop, in spite of it being better in virtually every way. Power was up, electronics were more sophisticated, and the solo seat models even offered adjustable ergonomics. Unfortunately, the restyle went just a bit too far for Ducati's conservative fan base, but Ducati quickly learned their lesson. The 1098 that followed was really Ducati walking back their radical mandate, at least in terms of styling. It's a good-looking bike, but obviously kind of derivative, which was really the whole point after all. It may be my least favorite Ducati superbike, but apparently I'm crazy because I know more than a few guys who love it unreservedly. And you can't argue with the performance: in ultimate, 1098R form seen here, the v-twin pumped out a claimed 180hp, a huge jump over the earlier bike.
A big bump in displacement certainly helped: the 1098R actually had a larger 1198cc engine to exploit the full displacement allowed by World Superbike regulations at the time, an interesting reversal of the more recent Panigale 1299R that displaces less for the same reason... Aside from the bump in displacement that resulted from a larger bore and shorter stroke, the R also used titanium valves and connecting rods to help the bike rev higher. And while the 180hp is basically the minimum required for entry into the literbike club these days, the massive 99 lb-ft of torque should be enough to widen eyes everywhere.
Possibly the most significant aspect of the 1098R, aside from its competition-derived engine, was a race kit exhaust and ECU "intended for off-road use only" that liberated an additional 9hp and also activated the revolutionary Ducati Traction Control system with 8 levels of adjustability. It was relatively crude, compared to today's systems, but was undeniably effective and was used on Ducati's MotoGP and WSBK machines of the time.
After all that, it's almost easy to overlook the bike's trick suspension that included an Öhlins TTX36 twin-tube shock at the rear and represented pretty much the very best roadgoing suspension money could buy at the time. Just 300 examples of the 1098R were imported to the US, priced at $40,000. This one is number 277 of a total 450 produced worldwide and has only 2,800 miles on it, although most of those have accumulated on closed courses, and track miles are kind of like dog years...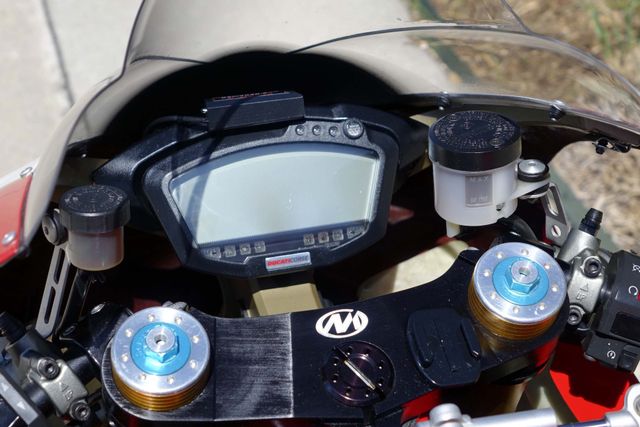 From the original eBay listing: 2008 Ducati 1098R for Sale
ONLY 2,800 MILES

#277 of 450

THIS BABY IS BAD!

PLEASE UNDERSTAND THIS IS A TRACK BIKE, NOT A STREET BIKE

The 1098 R is the ultimate Superbike. The most advanced, most powerful twin-cylinder motorcycle ever built. It is the product of a team of designers and engineers focussed on one objective only – to win.

The 'R' is a race bike, pure and simple. Its competition specification and superior components together with advanced electronics and race-proven chassis technology deliver a level of performance that empowers you with confidence and capability. On the road, it distinguishes you as a connoisseur of high-performance motorcycles. On the track it promotes you to a higher level of riding and closer to realising your dreams.

World Superbike rule changes mean that the road-going 'R' version is closer than ever to our factory race bike. The 1098 R is not a replica – it's the real deal. An incredible 180hp L-Twin Testastretta Evoluzione engine in a race-winning Trellis chassis set-up tips the scales at an unbelievably lightweight 165kg (364lbs) and comes with a race kit that introduces Ducati Corse's world championship winning traction control system.

Once again, Ducati raises the bar and sets the world standard for sport bikes while turning the heads and racing the hearts of enthusiasts throughout the world.

The 1098 R – Built to Win

If you have a need for speed, then this is your answer. 

This motorcycle was bought stock from the Ducati Dealership in 2012 when it had only 331 miles. The previous owner has upgraded numerous parts over the past few of years. I do have most of the original parts here in a box. The bike does have a couple minor scratches and chips (most have been professionally touched-up). Normal wear items for a track bike. This 1098 has always been serviced at the Ducati Dealership. Please understand; THIS IS A TRACK BIKE, not a street bike. 
The Buy It Now price for this low-mileage, race-ready homologation special is a reasonable $19,995. That's less than other 1098Rs we've seen, but of course it's likely to see a harder life than most and that's going to make it less desirable to collectors. 180hp and primitive traction-control seen here might not sound all that impressive, in this age of the cornering-ABS-equipped, up-and-down quickshifter-ed, traction-controlled, 206hp at-the-wheel Panigale 1299R Final Editions. But this 1098R most definitely is a very significant and collectible homologation-special Ducati from the dawn of the Electronics Era, when rider aids shifted [see what I did there?] from simply improving safety to making riders faster. If you've got the cash to splash, this is a pretty cool way to get your trackday kicks, and a race track actually seems a more appropriate place for a 1098R than collecting dust in some collection.
-tad