Update 12.15.2021: This bike has SOLD to an RSBFS reader! Congratulations to buyer and seller! -dc
Always a fan favorite, this 1982 Honda CB1100R Featured Listing is being brought to us via RSBFS reader Paul. This bike has been in his stable since 1985, and has been relocated to the US and titled in Illinois. That makes this rare homologation model even more rare, as we scarcely see them in the States (the last example that appeared on RSBFS was over a year ago). Values for these models remain strong, and given the age, few number of bikes built over a 3 year period and legendary Honda quality, one can expect values to remain strong for a long time to come.
The CB1100R is an interesting model to be sure. Feeling familiarly like the "F" model released in the States, the R is a very different animal. Sure, the bone structure may be similar, but the CB1100R was built to go racing – endurance racing at that. In the multi-hour segment of racing reliability is favored over outright speed; as the old adage goes, you first have to finish in order to finish first. However you also need power, handling, and a platform that can take good care of the rider for long periods of time. Power – about 115 ponies worth – came from bumping compression and cam timing on the air-cooled, inline four. Engine internals were lightened and blueprinted where possible to ensure longevity on those long, full throttle runs. Handling was aided by what was cutting edge of the day – multi-adjustable front and rear suspension (twin shocks and anti-dive front fork components). The engine was rigidly mounted in the frame in the manner of race bikes as well – great for stiffness, but not ideal for the buzz-free, touring set. Braking was another area of focus, with twin piston calipers up front gripping innovative cast rotors with internal venting. Tank size – as expected for endurance racing – was quite large at just under 7 gallons. Overall the package was a significant success for Big Red – and the bikes are coveted to this day.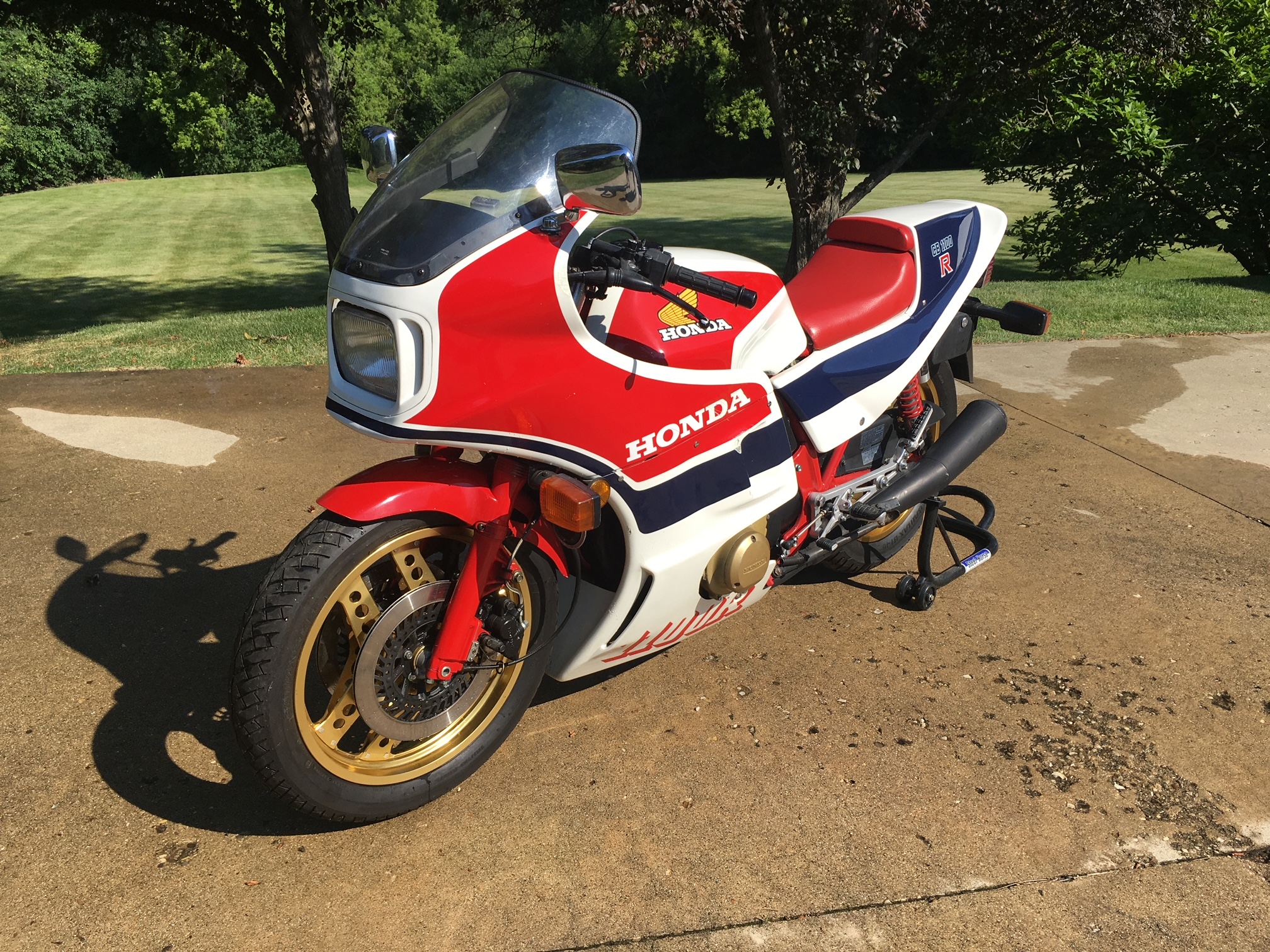 From the seller:
1982 Honda CB 1100 R – titled in Illinois

I have owned the bike since 1985. I bought it from a local Honda dealer
who was selling it as a goodwill gesture for a friend of the shop owner.
The owner had brought it from England I believe, titled it here, but
wanted a "new" bike so was selling this one.
More from the seller:
The bike has a total of 11,500 or so miles on it. It has had the front
forks rebuilt, the complete brake system taken down and rebuilt,
replacing any needed parts with original Honda parts. It had the wheels
dismounted and new tires mounted about 6 years ago, on which there is
maybe 700 miles. The chain was taken off, soaked, and reoiled. It comes
with a rear wheel lift, the original tool kit, the original owner's
manual, copies of the manual (which in reality acts as a shop manual as
it has all the torque values for everything on the bike), a parts manual
for the CB 1100 R models, listing Honda's part numbers. Some cross over
to American Honda parts, some need a place like David Silver to get
parts. It has just come back from a local dealer who deals in sport
bikes, where the carbs were rebuilt as when I went to start it, it
started, but the carbs poured fuel out from the gaskets. Handle bars
have a ratchet system that allows 0.5 degree adjustments to up and down
setting, and obviously infinite adjustment to front and back setting, to
fit the rider.
More from the seller:
There were only 1500 of these made in 1982 and another 1500 in 1983.
These were the minimal numbers Honda had to manufacture to homologate
them for endurance racing. I very much doubt there are more than 4-5 in
this country presently, since they were never officially imported by
Honda. Per the rules of the day the bike had to be a two seater, and two
screws can be removed to remove the rear tanneau, revealing the rear
seat. There are also rear foot pegs. The exhaust is original although I
have repainted it.

The mechanical condition is excellent. It has been gone over by Honda
guys several times in the time I have owned it, with no defects found.
It is not pristine; there are some "battle" marks on the left side of
the fairing. Otherwise it is intact.

Asking Price: $18,500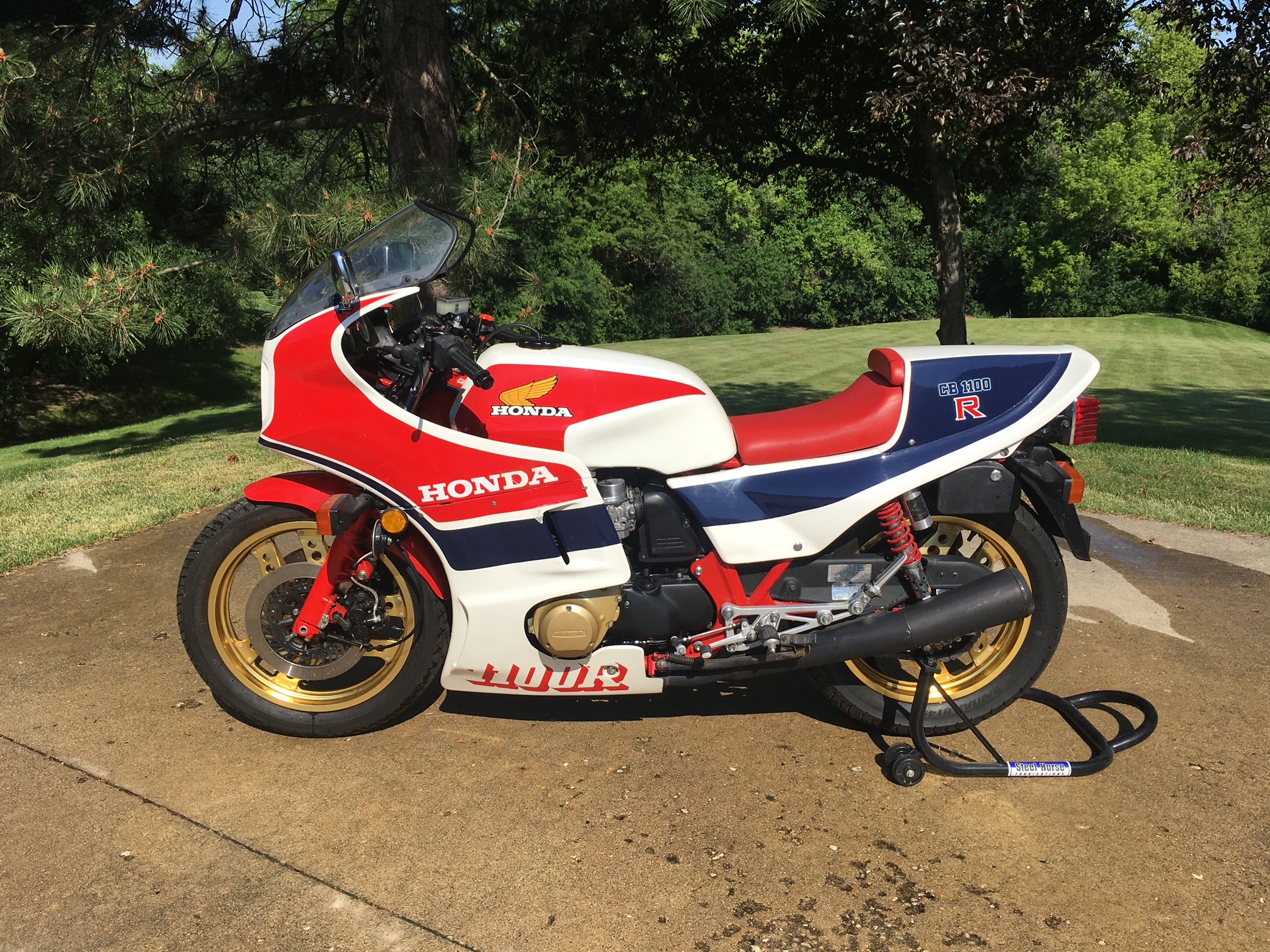 The Honda CB1100R tips the rarity scales pretty close in line with other popular homologation models (i.e. RC30). This is simply because all homologation bikes are built with a limited number target in mind (usually just the minimum number of street bikes to qualify the bike for racing). But with the CB1100R that is further limited by the lack of US distribution (Europe, parts of Asia, Australia and New Zealand). Todays 1982 Featured Listing has a long history with the current owner, and looks to be in great condition for the age. If you are in the market, you would do well to give Paul a shout and strike up a deal. This one probably won't last long. Good Luck!!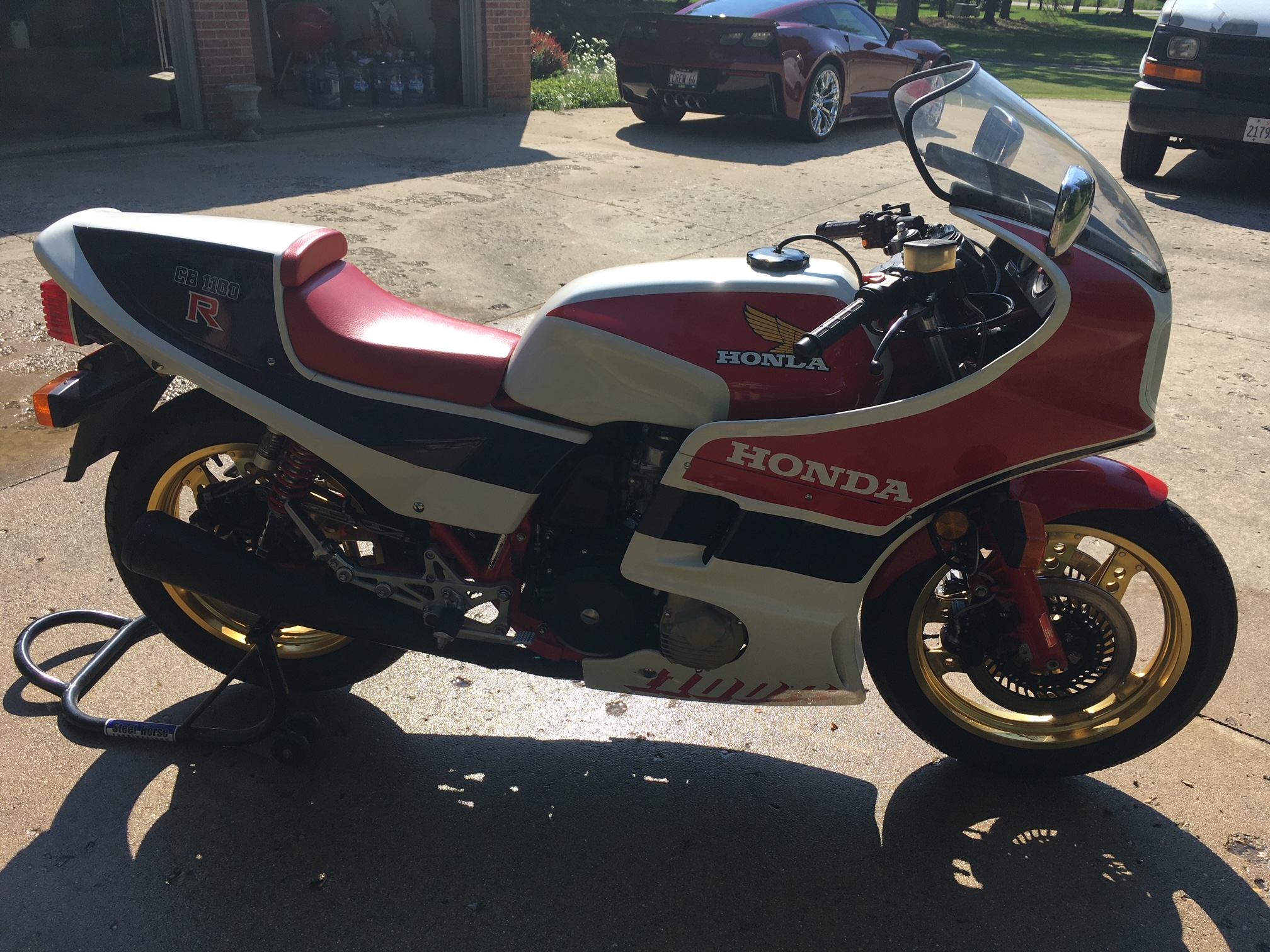 MI