The third revision to the Le Mans had many technical updates, many setting the stage for the 1000.  This Cali example has miles but is in nice shape with a few special touches.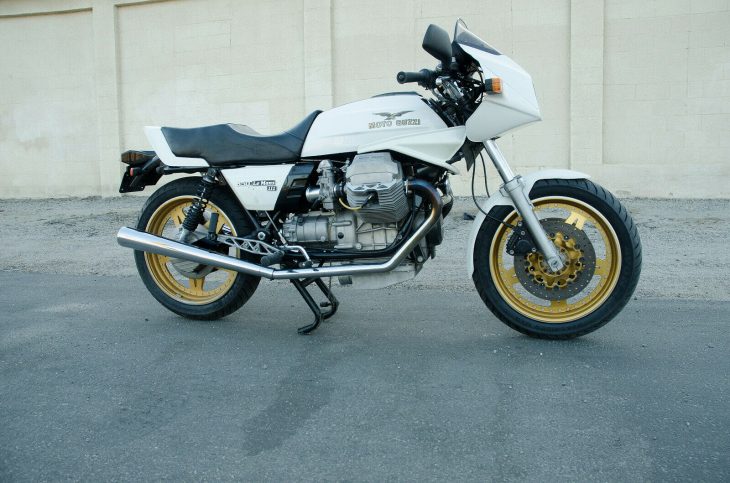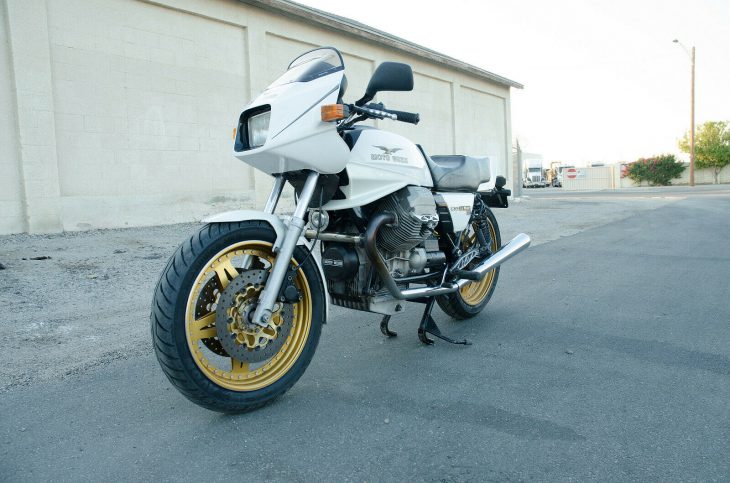 A child of the -80's but thinking earlier, the Mk. III has bigger valves and NiguSil coating on the cylinder walls, helping net 76 hp from the longitudinal twin.  More responsible thinking went into the quiet intakes and exhaust, though the 36mm Dell'Orto carburetors were equipped with an accelerator pump.  Air adjustable forks and dual rear shocks reviewed as needing less psi than recommended for the best handling, and the shaft drive and linked brakes had their well known quirks.  The frame-mounted secondary spoiler picks up air from the cockpit fairing and further slices the Le Mans through the air.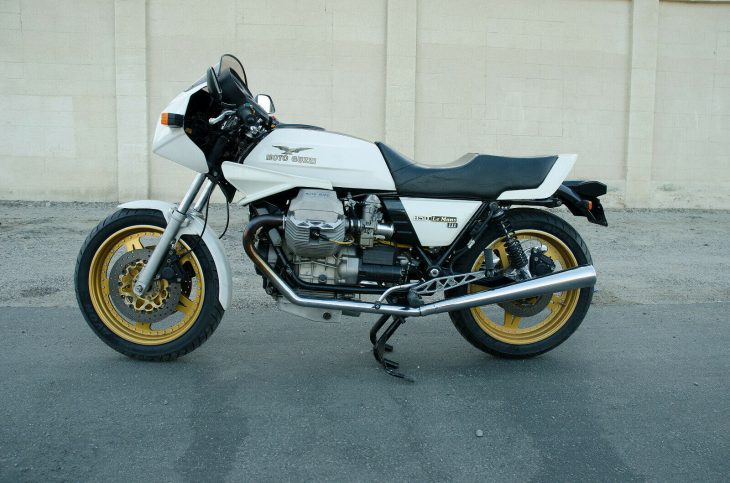 Almost 40 years old now and in such nice condition, the Le Mans' past is almost a non-issue.  Presented by a Guzzi specialist in Indio, CA, it's quite clean with special gold anodized alloy wheels, new tires, and apparently un-filtered velocity stacks.  Fans will like the billet fork brace and head guards.  From the eBay auction:
Made in 11/83 – 29K original miles, motor #VF019393 frame #VF150037, like new motor and tranny. 850cc 76HP motor. This bike came with Rare Astralite gold anodized wheels, and we just put new Avon Roadrunner tires, front and back,  We pulled the motor and transmission, fixed all leaks, and replaced a clutch disc, and intermediate plate.

We installed a new timing chain tensioner, fixed the integral brakes, and new battery.

 Great Guzzi for a daily driver, Super Fast and fun to ride smooth motor and Easy to handle!
Oddly enough, Moto Guzzi's attempts to modernize were met with even more reverence for the older Le Mans, though the 1000 had nearly a ten year run.  The 850's were just a hair lighter but the smaller fairings had a sportier vibe.  Those gold wheels look sharp on the white / black background, and hopefully the reserve isn't too optimistic.
-donn