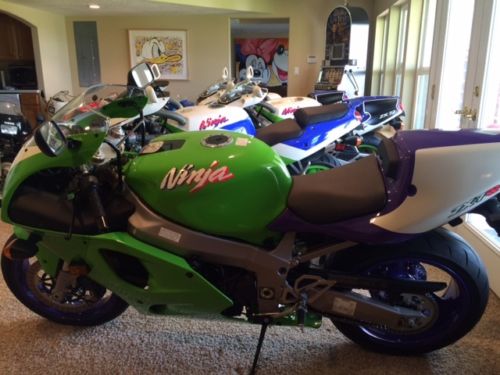 Here we have a nice bit of near unobtainium in almost brand new condition, a 1996 Kawasaki ZX7RR N1 with only 477 miles.  The ZX7RR was a true homologation special and Kawasaki only imported 500 of the designated "N"/street legal models, the minimum required to meet requirements for use in Superbike racing.  Not only was the bike rare in and of itself, the ZX7RR was the last of the Kawasaki 750cc/3-quarters homologation bikes.
The ZX7RR was quite a different beast from the standard ZX7, coming with track oriented tech such as adjustable steering head with inserts, front forks with different internals that allowed more adjustments, larger/41mm flatside carburators, carbon fiber goodies (including an airbox), close-ratio gearbox, 6 piston Nissin brakes (instead of the standard Tokico), different rear shock, no passenger pegs or seat, and a trick muffler hanger.
From the pictures in the auction its clear this particular ZX7RR is owned by a Kawasaki ZX7 enthusiast and has led a pampered existence so far.  The seller states that it has been indoors for the last 15 years, that fuel was drained and battery was removed.   While technically you could do as the seller states and "add a battery, fill with fuel and ride away", you would probably also want to spend a few bucks/pounds/euros and replace brake fluid and possibly rubber/tires.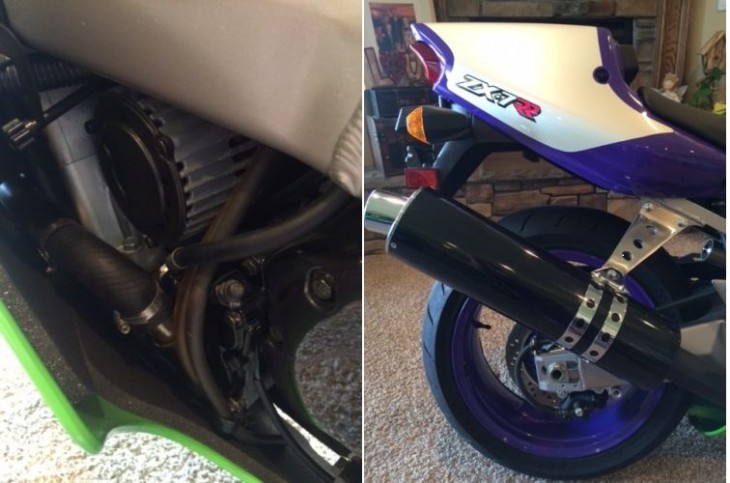 Engine bay looks pristine and goodness that exhaust looks perfect, no "it got scraped while moving the bike" marks.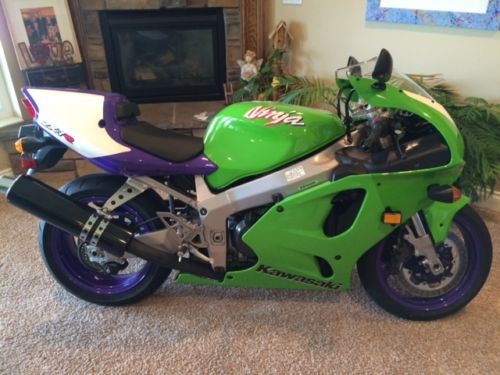 Is this almost new bit of near unobtainum worth the $20,000 USD asking price? Well this is an opportunity to acquire what is essentially a factory fresh ZX7RR which doesn't come up often and bidding is already quite brisk at $13,000 USD.   As supplies of homologation specials like this dry up prices will go up. While you could have picked up a "bitsa" ZX7RR a few years ago for far less, one in this condition is quite rare.
Personally I think the current bid is already above value but if a ZX7RR is what you need to complete your 1990's homologation collection, then you probably won't find one much nicer than this.  It would certainly look great parked next to other homologation bikes such as the Honda RC30, Ducati Desmosedecci and/or Harley VR1000.
-Marty/Dallaslavowner