Honda took some lumps over the cam metallurgy on the early 1980's V4 engines, and re-introduced the engine in 1985 with gear-driven cams and impeccable quality control.  Almost a unicorn in its own right, the VFR700F was a de-stroked 750 staying out of a tariff scuffle.  This example has been refurbished to a level that will please the pickiest concours judge and make the rider happy on the way home.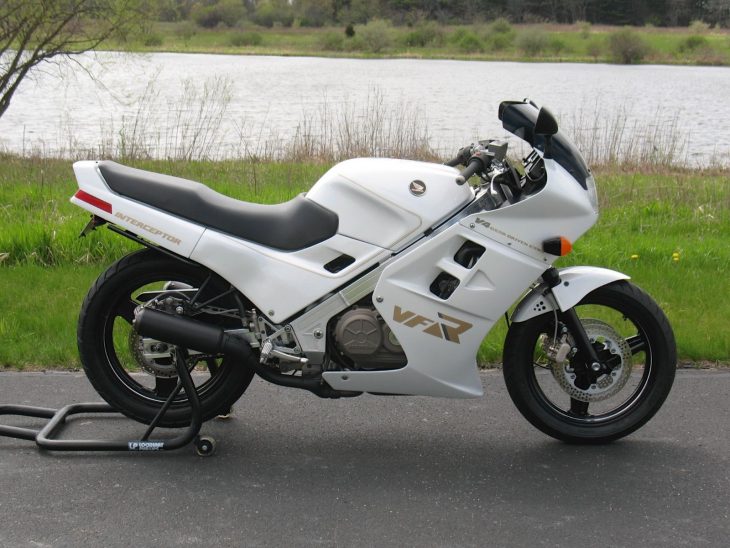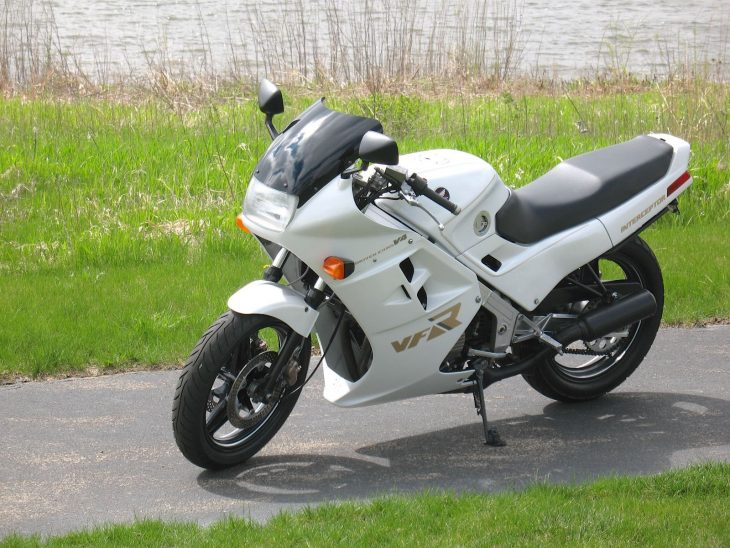 Doubling down on the smooth and compact V4 engine, Honda did the heavy lifting that brought us the WSBK-winning RC30 and RC45, and transferred a great deal of the success to the carburetted 699 cc model.  The twin-spar frame is large section for the era, and the bike had adjustable Showa suspension, with Pro-Link rear.  Keeping with the times, there's a 16" front and 18" rear wheel, helping the slightly overweight bike turn in.  Very together Honda fairing design, and the angle of the frame is reflected in the seat console.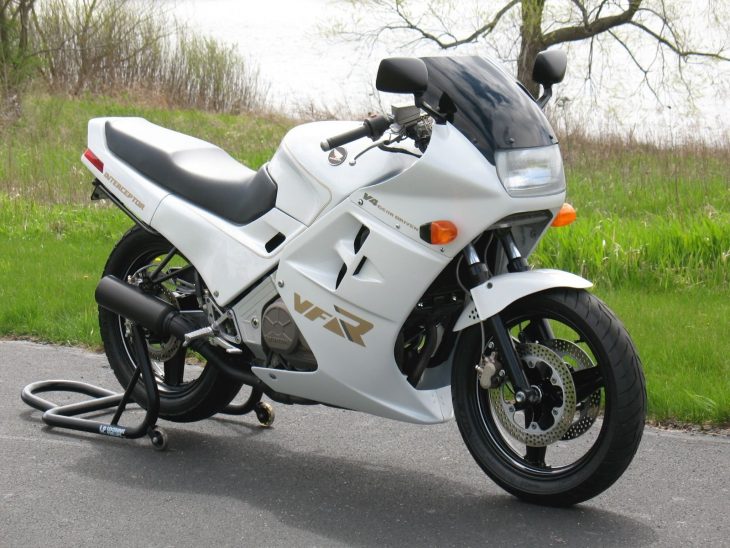 Seeming to have put the entire bike in a vibratory polisher, this VFR700F owner took things to a rare level, cosmetically and mechanically.  Keeping a basically stock look, the rear fender was cleaned up nicely.  Updates to the exhaust and front wheel size indicate a very knowledgeable owner.  Hard to believe it's an '87 with 22K miles.  The owner offers more high-res pictures - here - with comments and upgrades from the eBay auction:
Original bodywork restored and painted in matching original Pearl Crescent White, with black accents throughout the bike. Several desirable upgrades, 22,375 miles, mechanically and cosmetically inspected, cleaned, updated, replaced, repainted, repaired...anything needing attention was accomplished. This Interceptor is in excellent condition, no issues, no disappointments. The paint is new, the mechanics are correct, the tank is rust-free inside. The bike starts and runs perfectly hot or cold, runs straight and has a unique, modern vibe on a vintage bike.

- 17-inch front wheel from CBR600 (in place of OEM 16") with fresh Avon Road Rider
- Wheels finished in black (from original white) with white painted pinstripe
- Galfer stainless steel brake lines, front & rear
- OEM mufflers shortened 5 1/2 inches and painted black -- great sound, great look
- Carb jet kit
- Rear fender eliminator with original turn signal and seat lock mounts shaved from subframe
- LED rear turn signals
- Powdercoated engine covers in "Bronze Texture" -- clutch & alternator
- Seat recovered in marine grade vinyl
- Front fender reshaped for a lighter look
- NOS front turn signals mounted with shorter stalks to tuck the signals closer to the body
- Reproduction windscreen
- ODI hand grips
- New OEM fuel petcock
- Various rubber mounts, grommets, etc. replaced as needed
- Original owners manual
- Bike is completely cleaned and detailed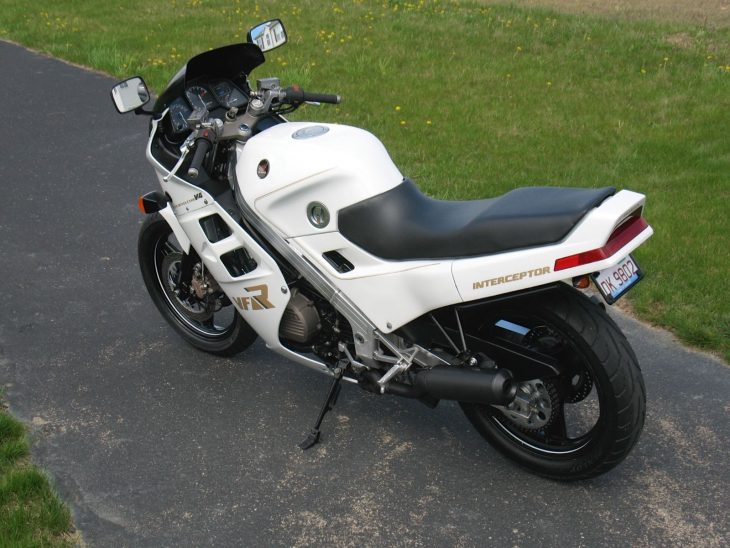 The quality and overall balance of the second generation V4's kept them on a lot of best bike lists through the late 1980's, though the 700 keeps a low profile.  Honda shortly returned to the inline four for their more sporting machines, but continued developing the V4 throughout the 90's.  With only a day to run, the bidding on this updated and beautified VFR is active but seems low.  There is still time to swoop in for this very rare Honda...
-donn