If you are in the US you are probably not too accustomed to seeing a VFR700, as the 750cc and later expanded 800cc and 1200cc "Interceptor" models have been produced in much higher numbers.  The 700cc edition was only build for a few years to comply with a fortunately short-lived tariff the U.S. imposed to protect US motorcycle manufacturers (cough-cough-Milwaukee V-Twin).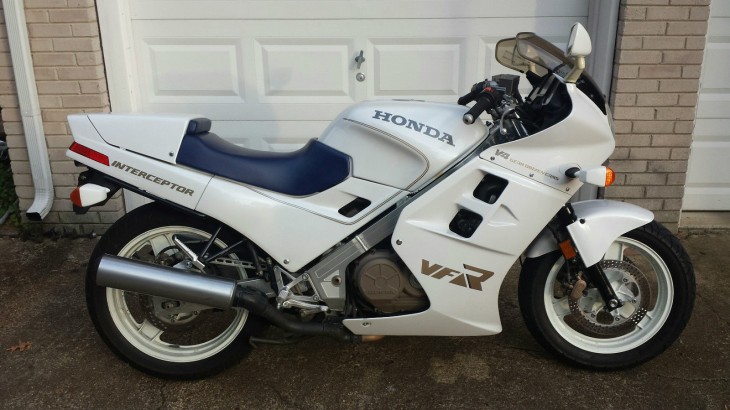 Its important to note that the VFR700 was produced at a time when Honda was trying to recover from a significant corporate failure;  the early V4 "chocolate cam" debacle.   Back in the early 1980's most other major bike manufacturers were happy with air cooling and two valves per cylinder.   However Honda was pursuing new tech such as anti-dive forks, inboard ventilated disc brakes, Comstar wheels and perhaps most significantly, liquid-cooled 90° V4 engine layouts.
As a concept, the 90° V4 design has advantages including compactness, narrow width, and perfect primary balance which provides a silky smooth/nearly vibration-free experience.  However the 90° V4 is more expensive to manufacture and complexity in locating ancillaries and the exhaust system.   Perhaps the complexity of the 90° V4 is what appealed to Honda; as one reviewer famously noted at the time of the V4 introduction "if it's complex, costly, and difficult, this means its perfect for Honda.  They have a penchant for building industrial strength jackhammers for cracking a peanut."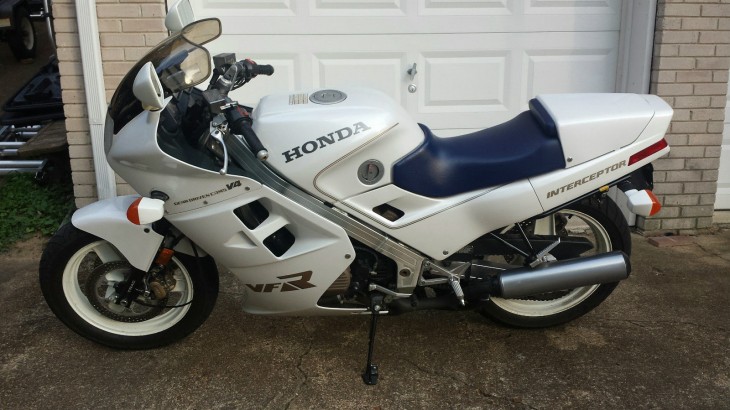 Back in early 1984 a substantial number of VF owners started complaining that their bikes top-ends were starting to have serious issues, include complete failures.  This problem was eventually traced to a camshaft distortion issue which gave rise to the nickname of "chocolate cams" .   The reputation of Honda's V4 effort took an almost Lancia beta level battering but Honda remained committed to the V4 design and focused on making sure their next version was ultra-reliable while still incorporating new features.  Everything came together in the 1986 VFR750FG (Note:  The 700cc shown in this post is just a restricted version of the 750cc version).
When the VFR was released, everyone knew that Honda had put a lot of effort into making sure it was reliable.  But what really surprised people was just how good the bike was.  Consider the following review by MotoGp by Julian Ryder:
"I was at the bike's launch in Jerez and thought it was going to be a good bike.  Of course it had to be…Honda's V4 concept's cred was hanging by a thread so we knew they had put a lot of effort into fixing the reliability.  

At first we we were perplexed by the plain looks..why wasn't it a race rep like the GSX-R or FZ?  But after the first road tests we knew it was very good.  A year later we knew it was a classic; nothing that came out after it was as close, as well balanced."
The VFR would go on to win Motorcycle of the year repeatedly in the 1980's and 1990's and continue on for a multi-decade run.
An excellent explanation of why the VFR was so significant can be accessed here.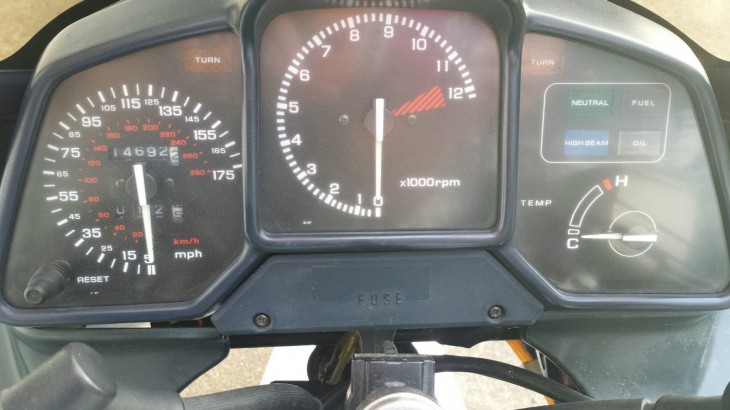 This particular VFR700 looks to be very clean.  The seller indicates its stock except for the hand grips and bar ends.   Mileage looks to be 14,692 but the seller indicates there may be a few more miles put on the bike prior to sale.
Here is what the seller has to say
Completely stock, no modifications except grips and bar ends.
Has 14,XXX original miles.
Was in storage for quite a while with the carbs drained.
Just installed a new battery and added fuel on 6/20/15 and it starts and runs great.
Tires are pretty new too.
Doesn't have the usual cracks around the mirrors as you can see.
Is this VFR700 worth the $3,900 USD Buy-It-Now asking price?   Well the next year 750cc version seems to be selling around $2,800 USD but this is the rarer 700cc version and it does look to be in good shape.  Also a lot of people seem to feel the white version has aged much better/is more attractive than the multicolor 750cc sibling.
Given the extreme reliability built into this bike, I think you could realistically assume this VFR700 just needs fresh fluids and possibly fresh rubber. This will allow the new owner to enjoy having something a bit rare/unusual that can still be used as an excellent daily rider/light tourer.
-Marty/Dallaslavowner