Update 7.30.2018: Ted has updated us that this bike is sold. Congratulations to buyer and seller! -dc
Yamaha threw their hat into the Grand Prix race replica ring with the… Well what this bike was called depended on where the thing was being sold. In Canada and Australia, it was an RZ500, which fits since it was like a bigger, faster RZ350. In Europe, it was the RD500LC, which also makes plenty of sense considering the RD series' history, but with added Liquid Cooling! And in Japan, it was the RZV500R as seen in today's Featured Listing, which sounds the most exotic to me.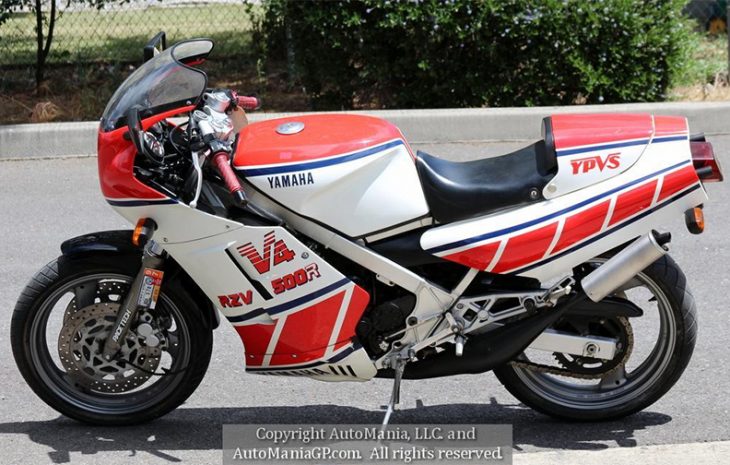 And like Honda's NS400R and Suzuki's RG500, the RZ/RD/RZV was powered by a racing-inspired, two-stroke multi that was shared with no other bike in Yamaha's lineup. That made the bikes very exclusive, but not really cost-effective to produce. But really, what other sort of motorcycle would you power with a liquid-cooled 50° two-stroke V4 that featured twin cranks and a balance shaft displacing nearly 500cc? The rest of the package was likewise geared towards sportbike domination: a six-speed gearbox, a pair of YPVS power valves, Autolube oil-injection system, an underslung rear shock that was very exotic at the time, anti-dive forks, and 16" front and 18" wheels shod with typically skinny period tires.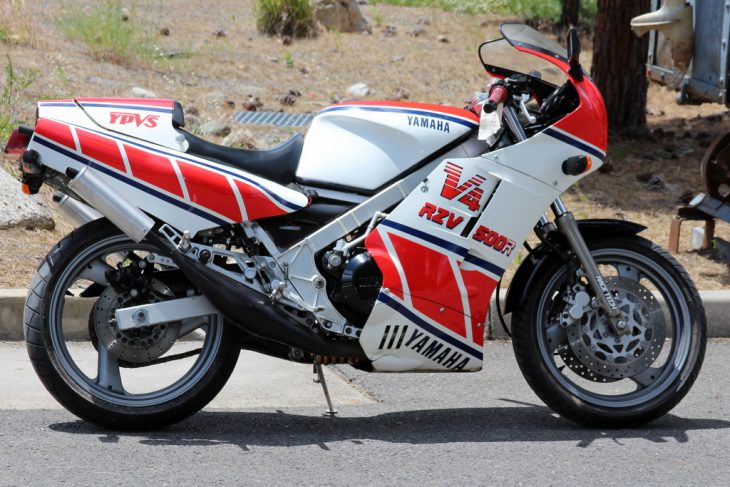 Unfortunately, in spite of the racy looks and the inclusion of magnesium parts, the RZ500 still weighed in at a period-appropriate 450lbs dry. The problem was that rival Suzuki's RG500 weighed significantly less while making more power than the RZ's 88 claimed ponies. The RZ was designed from the start to be a civilized race-replica, but at the time the RG stole Yamaha's thunder with their much wilder ride.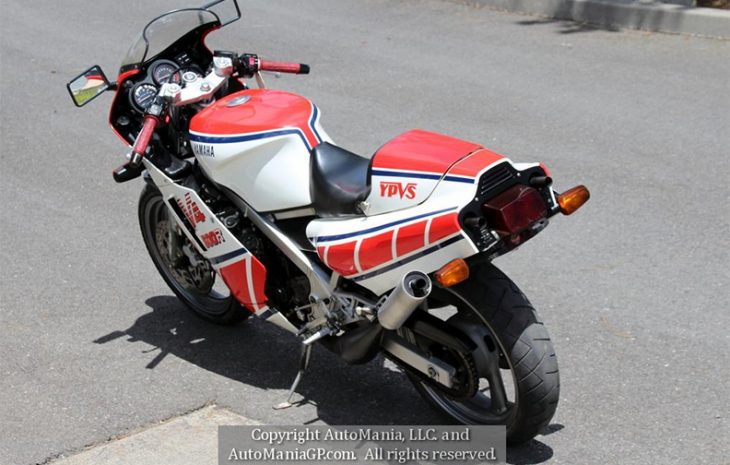 But today, neither bike would be considered particularly fast on a racetrack and the appeal is a combination of nostalgia and the singularly exciting character of a big two-stroke, something the RZ still has in abundance and at a lower cost than an equivalent RG.  The RG has always been "the one to have," and steadily increasing values mean it's been priced out of reach for many fans. But although RZ prices have climbed to keep pace with the general increase of all 80s two-stroke sportbikes, they still lag behind the Gamma, making them the affordable choice.
This example is the Japanese-market RZV500R and featured an aluminum frame instead of the steel units on the other versions. Unfortunately, the aluminum frame wasn't something added to enhance performance, it was to offset the damage done by home market regulations that limited output to 64hp. Luckily, this example has supposedly been de-restricted and features a very sharp set of custom spannies that look far more upswept than the stock parts and should liberate more of the famous two-stroke crackle, along with FZR wheels, brakes, and front forks to match.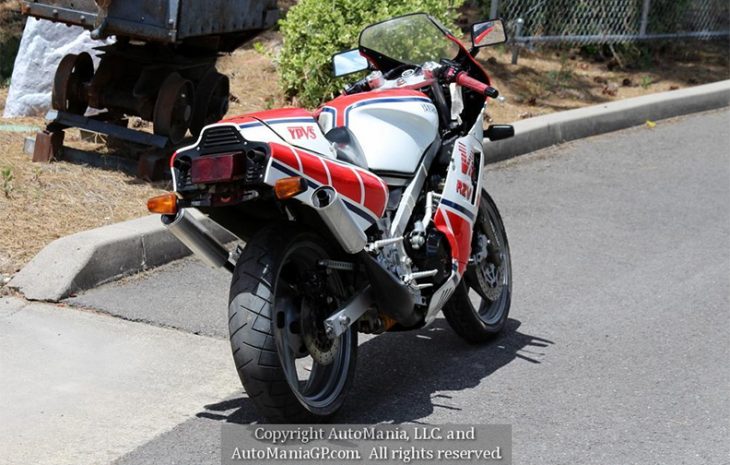 From the seller: 1984 Yamaha RZV500R for Sale
VIN#: 51X002446

Entering the world of RZ500's has introduced me to several collectors who have shared some of their incredible knowledge of the Yamaha model. RZ500's were built by Yamaha in model years 1984 and 1985. They were never sold new in the US and any that are currently here were brought in as Grey Market Vehicles. Yamaha Canada imported the RZ500 model which was also sold in Australia. The United Kingdom model was named the RD500 and came with a different color scheme than the RZ.

All of these models had steel frames and were delivered in what was considered unrestricted versions with higher horsepower than the domestic Japanese version of the motorcycle. The Japanese bikes with restricted horse power had smaller carburetors and exhaust systems to that end. In an attempt to balance the lost of power, the Japanese bikes were equipped with aluminum frames which were considerably lighter, but again, only for Japanese domestic consumption. That model of the RZ was called the RZV500, is model of bike being offered here. Our bike has the aluminum frame, different mirrors and decals identifying it as the RZV, the most desirable version of the bike if unrestricted. In this case that has been done with a set of Tommy Crawford Expansion Chamber Exhausts. The pipes are said to work well, are rare to find and are no longer made. A perfect storm so to speak.

This bike has been modified additionally with what we assume are a period FZR Front Forks and a set of matching wheels. There is also an Ohlin's rear Shock Absorber in the back.

The owner of the bike was a huge enthusiast of Road Race bikes and at the time was doing some club racing. Being in the Service, when it was time to be stationed at another post, the Service took care of moving his personal property including his motorcycles. As per regulations, vehicles that were transported with personal property were to have all of their fuel removed, which was done with a tag hanging from the handle bar noting this. Unfortunately, medical issues evolved that prevented the bike from being recommissioned and it been in this state for over ten years. Sadly for the owner, he never was able to ride again and his family is selling the bike as part of his estate.

Collectors with an interest in the bikes have warned us about trying to start the bike without a serious inspection and reconditioning. Crank seals, carburetors and possibly other work may be needed and we are not in a position or capable of any of it. The bike, in running order, would most likely bring over $20,000 and is now priced accordingly to accommodate the possible needed work. It has an Oregon clear and clean title of ownership.
So this should pretty much be the highest-performing version of the RZ: the lighter aluminum frame combined with the full-power engine. More power, less weight, what's not to like? That is, once the bike is reconditioned, of course… The Seller is asking $15,295 $12,000 for this one and, if you're handy with the wrenches and love to tune two-strokes, or have deep pockets and Lance Gamma's number on speed dial, this could be a good opportunity to pick up a clean RZV with more modern running gear that just needs some mechanical attention.
-tad