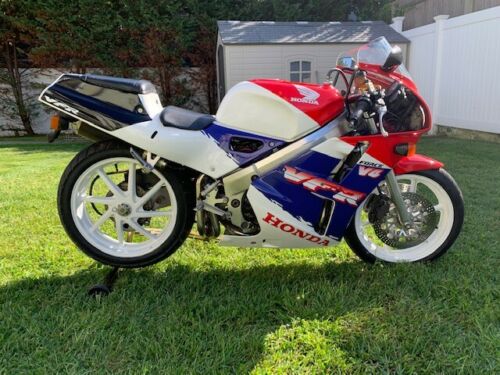 If your budget doesn't stretch to one of Honda's famously rare and storied RC30s, you can find all of the exotic tech in a slightly smaller, much cheaper package with their VFR400R NC30. You get a V4 with a 360° crank and gear-driven cams, a sexy ELF-designed "ProArm" single-sided swingarm, and the twin-headlight, endurance-racing bodywork that is easily mistaken for the RC30 at a glance.
The NC30 is down on power, compared to the RC30, but it also weighs almost 100lbs less, and the 60hp on tap will move the 400lb machine along pretty smartly, with a wide spread of power. But the little V4's real party trick was its incredibly agile and forgiving handling that made it the darling of the 400cc class both on the road and in racing.
Prices have increased in recent years, but you can still pick these up for very reasonable prices, considering how cool and exotic they are, with Honda reliability thrown into the bargain! This particular example looks solid and complete, but does need a bit of work as outlined in the original listing.
From the original eBay listing: 1989 Honda VFR400R NC30 for Sale
1989 Honda VFR400R NC30 with 12,909 km, approx 7,745 mi, as shown on clock's photo. This was recently imported from Asia, and i took it as a trade on another bike, so I do not have too much history. Bike looks good for its year, but it was painted in its past life. Plastic looks good as can be seen in photos, not sure if original plastics, but some repairs can be seen on inner side. It has a Vermont transferable registration, most states accept this, but please check with your local DMV. Bike starts and runs using a temporary fuel source, as it looks like its not getting fuel through the petcock, which seems to be a typical issue with these diaphragm petcocks. Bike will come with a new petcock rebuild kit from UK.

I would say this is an easy project completion bike for somebody with repair ability, I have not ridden it, and it is 31 years old but the previous owner noted they did substantial work to the bike, but please expect to correct and fix other items not described. I have other previous projects, so I'm moving this one on.

Here's what I was told the previous owner completed recently, which looks about correct.

New screen, brace and mirrors. New battery with tender connection. Full service, air and oil filters, new oil and plugs. New radiators, hoses, replacement fan and fluid. New ignition and gas cap/keys. New throttle and choke cables. Carbs were removed, cleaned and rebuilt with new carb kit from Japan, including boot rubbers. Refurbished rear brake caliper and new pads all around with new fluid.

What I visually see that need's to be corrected or finished, but I have not disassembled, is as follows.

General wiring needs to be checked and reconnected, like front and rear flashers, kill switch, radiator fan wiring, as fan was from a different model, but spins with power added, and general wiring. As i said, it turns over, and starts with temp tank, so looks like only general wiring to lights, flashers , gauges and sensors, etc, need a going through. Rev counter needle is partially broken, as can been seen in photo. Rear tire has some age cracking. Front tire is newer, but loosing air over time, maybe issue with wheel rim and seal. Rear Exhaust canister has some wear marks, as can be seen in photos, missing springs to pipe. Rear seat unit is missing lock unit, but new spare lock is included, but seat is east to open, I can send a video.

Bike comes with Haynes Manual and some spares like cables, carb kit, etc.

This is a 31 year old bike, with only the above history known, but with some good finishing, would make a nice collectible piece. But again, its a 31 year old bike, so expect some additional work for a vintage bike like this, if you purchase.
For a guy to claims not to know much about the bike, the listing is pretty comprehensive, and includes a long list of work that's been done, as well as work that will probably need to be done. All-in-all, it seems like a fairly presented project with a reasonable asking price: $6,550. That's a fair bit below what a good, running NC30 is likely to cost, and most of the work seems to be, as the seller suggests, relatively straightforward.
-tad