Update 1.14.2019: This bike has SOLD! Congratulations to buyer and seller! -dc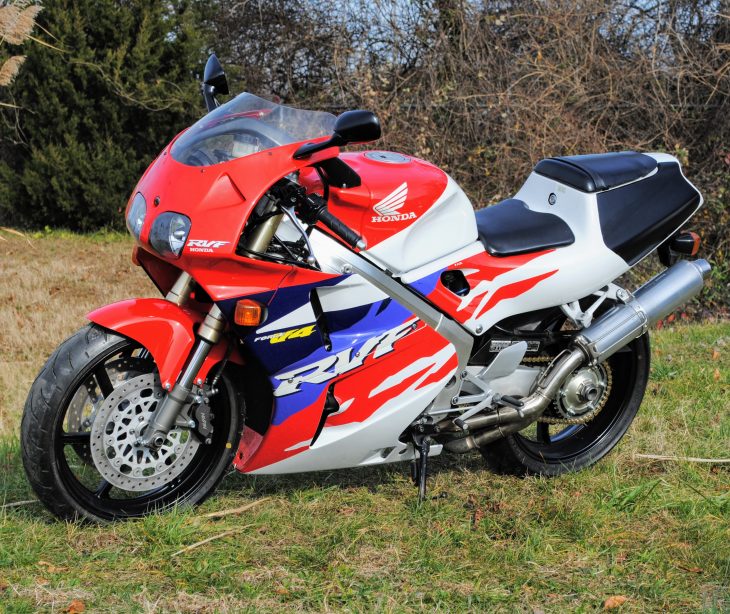 Are you tired of your driver's license taking up room in your wallet? Allow us to present you with an elegant, if not exactly inexpensive, solution. Our friends at Speedwerks are offering up this fabulously clean 1995 Honda RVF400 on a clean U.S. title to those who appreciate revs and razor sharp handling and have no interest in a plodding Sunday cruise. The bikes kicked out about 60 horsepower from the 400cc V4, which isn't enough to scare even the likes of a mid-80s Yamaha Radian, but is more than enough to get you to and beyond seriously extra-legal velocities.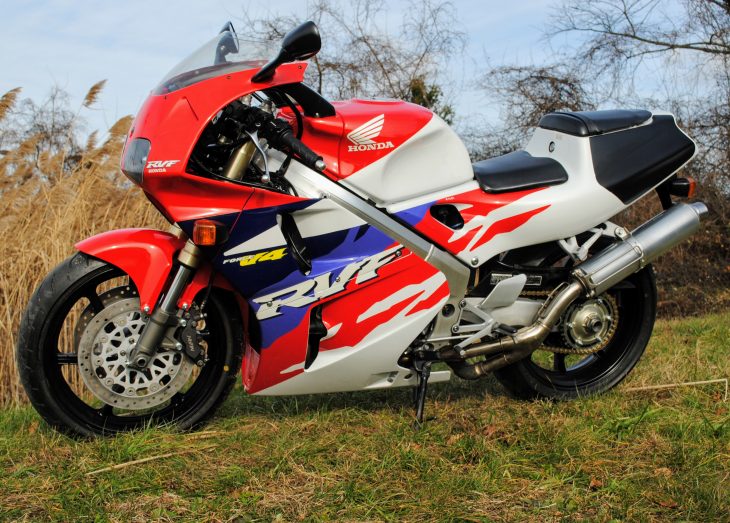 Getting that power requires revving the mini RC to the moon, but the engines are known to respond well to a little neck wringing. Where the bike shines brightest is where the road gets windy, with a scant 365 pounds to pull around, the stiff chassis and its then-state of the art suspension will help you approach riding nirvana. Or at least, they'll do a damn sight better job making your commute interesting than NPR does. The sacrifice, as with anything of this nature, is comfort, though the RVFs don't have the torture rack reputation some of their peers do.
Speedwerks says this thing wears its stock bodywork and is more or less unmodified from how it left the dealer. It wears sticky new tires on its 17-inch rims, and has refreshed fluids, brakes, a fork rebuild and new hardware. From the seller:
1995 Honda NC35 RVF400

Clean US Title, has been in the states for sometime now, we acquired it from a client in some legal trouble with ICE and a hot Asian chick.(long story)

In stock condition with stock bodywork. 16k miles.

Stripped down and cleaned/lubed. Liqui Moly Synthetic oil, antifreeze flushed, new NGK plugs.

Brakes bled,rotors surfaced, new pads, RK chain. Coated wheels, new bearings in front and new Bridgestone S20 evo's.

Forks rebuilt with new seals,bushings and liqui moly oil. fresh hardware throughout chassis.

Carbs and fuel system rebuilt, Derestricted, detailed and dyno'd.

Everything works,runs as new. $10,500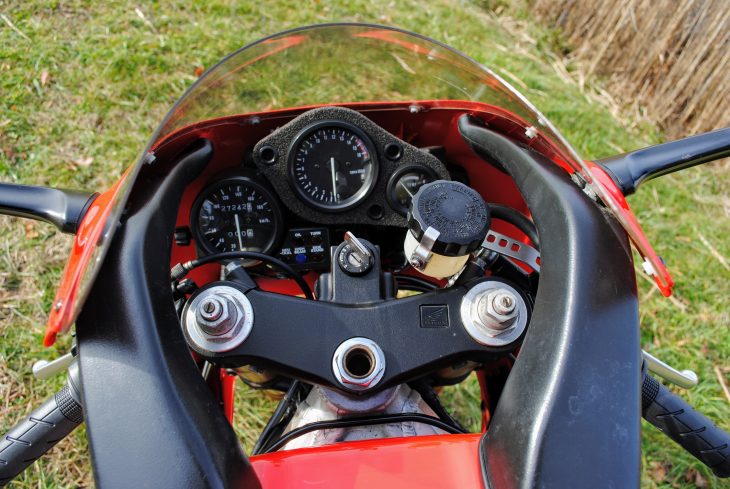 We'd love to hear the long version of what sounds like a sordid tale surrounding Speedwerks' acquisition of the bike. At $10,500, it's priced to chase away tire kickers, but it also much cleaner than your average eBay example, and way cooler than a used 600, which would be the nearest modern equivalent. Hit up Speedwerks at www.speedwerks.com or give them a ring at (302)672-RACE if you're intrigued.