Warning!
This post is in our archives. Links in this post have been updated to point to similar bikes available to bid on eBay.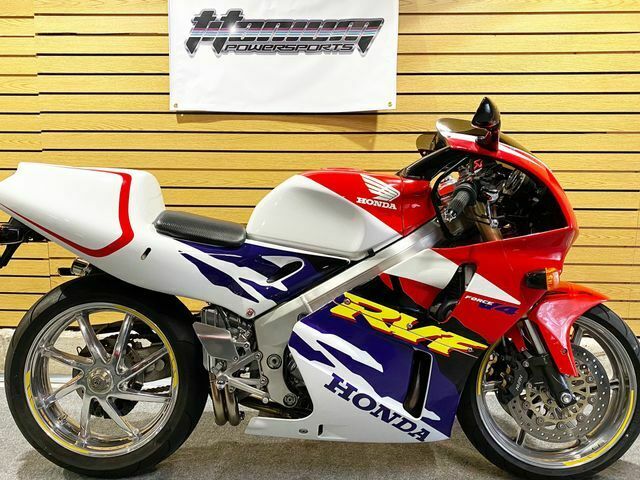 Modern 400s are generally geared towards new or budget-minded riders, but can still be very capable sportbikes: I spent a session or two recently chasing one around Buttonwillow, and it turns out a Ninja 400 can work up a surprising turn of speed. In spite of that, they're still pretty basic machines, specification-wise. But a couple decades ago, bikes like the Honda RVF400R NC35 gave nothing away to the most exotic roadgoing machines, other than a few cubic centimeters of displacement…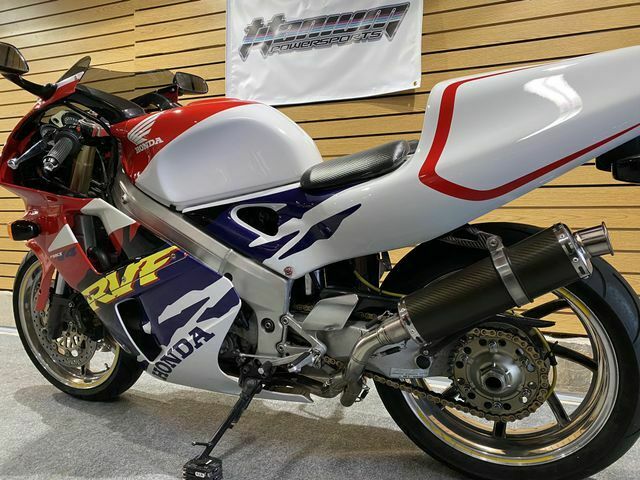 A race-bred V4 engine with a "big-bang" 360° crank, gear-driven cams, a distinctive single-sided swingarm and a rear wheel held on by a single large nut… there were no compromises on the NC35, other than those slightly tacky plastic snorkels jutting out of the tank that feed fresh air to the airbox. The 399cc only put out a claimed 59hp and most of the power is produced up near 13,000rpm, but what is available at lower revs is pretty usable and the bike won't feel as sluggish as the meager power might suggest.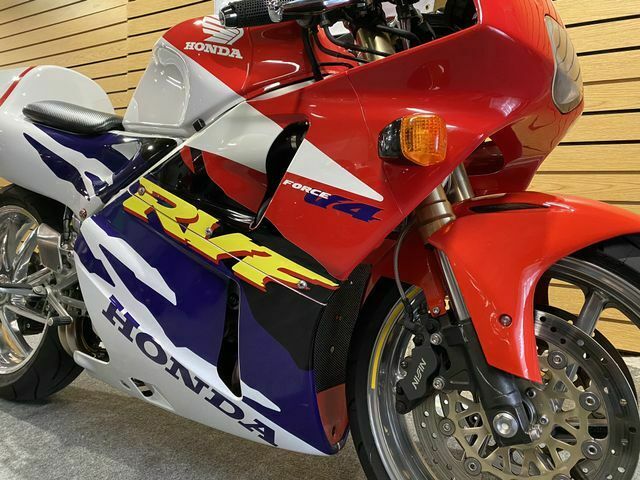 This example isn't a particularly museum-quality bike: the tail section doesn't look original, the no-name exhaust isn't stock, and those polished wheels definitely aren't going to be to everyone's taste. The carbon intake tubes do look much nicer than the plastic originals, but again: not original. All of that also means the $11,990 asking price might be a bit on the high side for a bike that's more an interesting rider than a really collectible example of Honda's baby V4 sportbike.
From the original eBay listing: 1995 Honda RVF400R NC35 for Sale
In 1994, Honda introduced the RVF400, or NC35. Successor to the VFR400 (not confusing at all), the NC35 was two things: a mini-me of the legendary RC45 and one of the greatest 400s ever built. Just like its 750cc big brother, the NC35's fit and finish was top-notch, and the model had all the trappings of a full-size superbike in a potent 400cc package.

Odometer is in kilometers (16,209 kms or 10,075 miles)

Ride away at a price you'll love. Our selection of pre-owned powersports are certified to the highest maintenance standards, ensuring that all of our customers are not only riding in style, but that they're also riding with safety in mind. Since 2018, we've dedicated our efforts to guiding and advising our clients about the best units on the market. We offer a wide range of options, and our professional team is here for your every need.
The RVF400R is pretty uncommon here in the USA, but not impossible to find if you look around, or have the means to import one. If the seller is willing to negotiate on that price, it could be a pretty cool rolling restoration while you track down original bits from overseas, or a really fun project if you raid the Tyga parts catalog for bodywork and performance upgrades…
-tad