Today's Featured Listing Honda NSR250R was one of the most iconic bikes of the late 1980s and early 1990s, at least if you lived in Europe or Japan. We never really got them here in the US, at least not officially. This tiny sportbike was a technological powerhouse, with Honda's usual obsessive attention to detail, including an advanced electronic ignition system and quality components generally found on bikes with much larger displacements.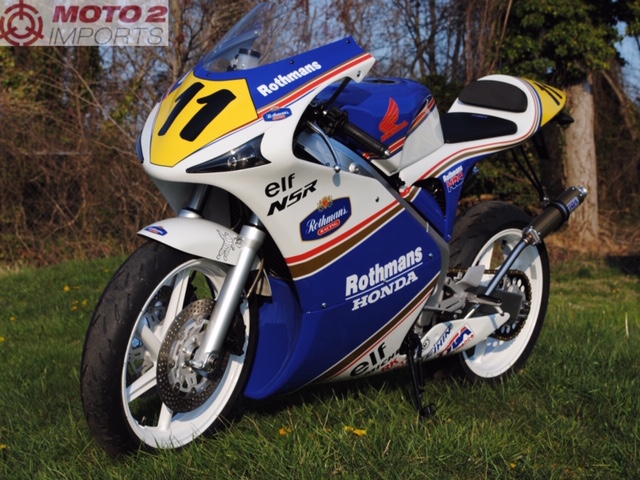 The 1988 model year means this is the MC18 version of the NSR250R, with a slightly undersquare 54 x 54.5mm 90° liquid-cooled 249cc v-twin backed up with a six-speed cassette gearbox nestled in between the aluminum rails of the frame. Engine management was via the PGM-II version of Honda's sophisticated digital ignition matched to a powervalve to increase midrange power, in this case ATAC, an acronym for "automatic torque amplification chamber." Power was quoted at the "official" 45hp, but more was available with tuning.
If you've just looked at the pictures, you might wonder why I'm talking about the NSR250R, since they appear to show something else entirely. But what you're looking at is a highly modified MC18 with a complete set of Tyga bodywork, decked out in the classic Rothmans Replica graphics scheme. I've already lost those of you who know these bikes and prize absolute originality, fans who consider that Honda knew what they were doing, and that any deviation from their template is sacrilege have. Everyone else should read on.
The Tyga fairings honestly modernize the bike and the main giveaway that this is a thirty year old bike is the relatively conventional swingarm setup, as opposed to the "gull arm" version of the MC21 and the single-sider of the MC28. It's not for everyone, especially the squinty headlights, but the swoopy tailsection that evokes the TZR250 and the curvaceous bellypan are very nicely done, and the whole thing is painted up in the classic Rothmans graphics scheme. Under the skin, you can see the stunning expansion chambers that indicate a higher state of tune, and more information on the details of this build at the Tyga Performance website.
From the Seller: 1988 Honda NSR250R for Sale
Up for sale is a fully restored custom build Honda NSR250. My Son purchased this bike while he was in Japan for four years. After he returned to the states he brought the bike back with him and gave it to me as a gift. Pretty cool.

I am a retired ex motorcycle guy and thought I was done with motorcycles. At any rate there were a few items that needed attention so I started to do some basic stuff. I installed a new rear YSS shock as the stocker was blown. Installed a new battery and I fully went through the carbs since it didn't idle very well. During this time I had been looking at bikes on Moto2 Imports who specializes in two strokes like this and started a conversation with them about really doing the bike up proper.

The bike was then shipped to Speedwerks in Dover Delaware for a major renovation.

Steve Long is the master at Speedwerks who did all of the work on the bike.
First off the bike was the first MC18 to be fitted with the all new Tyga GP-T full fairing kit.
The bike was custom painted in Rothman's livery and the paint is stunning in person.
While there the carburetors were fully gone through, the bike was de-restricted and dyno tuned.
The rear wheel was replaced with a 17" rear wheel from a MC21. Both wheels were cleaned, powder coated and now have new Michelin Power RS tires.
The bike has Tyga stainless steel expansion chambers and is equipped with their new shorty carbon silencers.
All of the wheel bearings were replaced and the front forks were resprung and fitted with new seals.
Both sprockets and drive chain are brand new and the battery was replaced since it was in the shop for a fair amount of time.
Both brakes have new pads and fresh brake fluid.

The bike was featured as the Tyga Bike of the Month and I will include the link for that article describing the build. The link below will detail the work that was done on the bike. The last thing is that Steve let me know there was some minor scuffing in the cylinders so they installed a full Tyga OEM top end on both cylinders.

As I mentioned I thought I was done with motorcycles as I am now retired but this was a really fun project to see it go from wow that's cool, a NSR, to something that is now a museum quality build. I have ridden the bike about 15 miles since it was finished. I am too old to ride a sport bike anymore and hate to see it just sit so have decided to put it up for sale.

Price is $9500 OBO
Contact Cameron Kline: cmrnkline@gmail.com or +1 (817) 734-9201
This is a one-of-a-kind motorcycle, a very nicely prepared "restomod" that will hopefully find the right buyer, and the asking price should help that happen. It almost seems too nice to actually ride, but it's been built to perform, should the new owner choose to put some miles on it. Honestly, it be even more a crime to just display it.
-tad