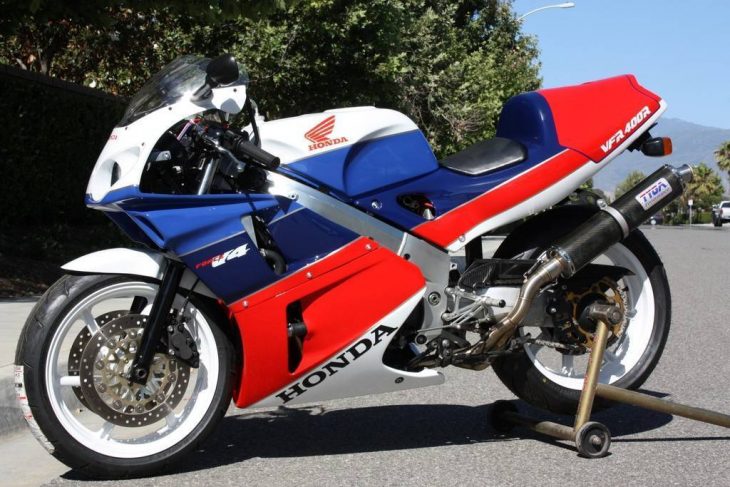 Purists and Honda fans might want to avert their eyes now… Styled like a baby RC30, the VFR400R NC30 has long offered Honda V4 thrills and character in a more affordable, less intimidating package. Of course, the steady rise in RC30 prices means that values for the NC30 are on the way up as well, as the bike has always been like a gateway drug for folks craving a Honda V4 rush. But because the NC30 was made in greater numbers and the bike has been pretty affordable, the bike can be considered less sacred, and is more likely to be subjected to modifications…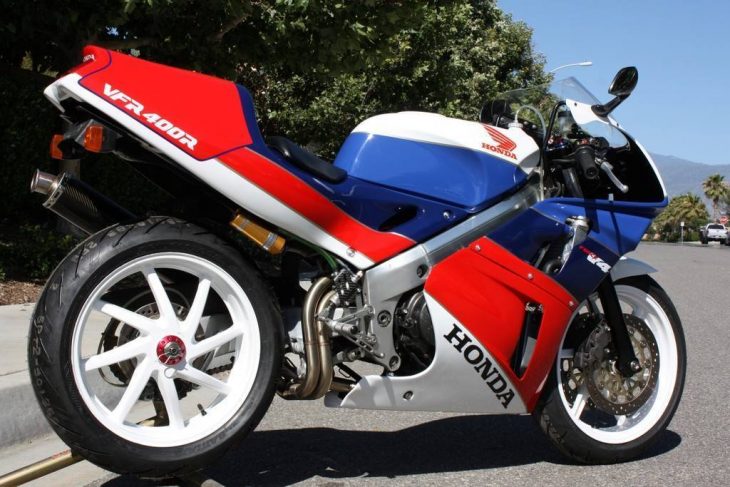 At a glance, you could easily confuse an NC30 for an RC30. The design is intentionally very similar, although the NC has smaller headlights and looks overall a bit like an RC that's been through the wash in hot water. It shares the RC's beam frame design, Pro-Arm single-sided swingarm, and V4 configuration. And the difference in displacement and overall performance is mitigated by a substantial weight disparity: the NC weighs 401lbs wet, compared to the RC's 488lbs wet.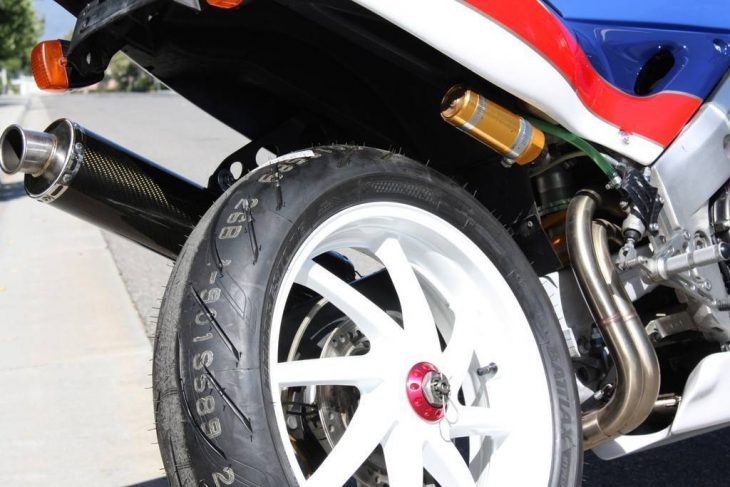 We've gotten used to 200hp road missiles but, with sophisticated electronics needed to help manage these beasts, I think we sometimes underestimate just how much fun a pure, unadulterated 60hp motorcycle can be when it's this light and this thoroughly developed.
The rise in prices will also likely lead to purists being more offended by bikes like this one. Honestly, the modifications, although fairly extensive, are pretty tasteful, carefully thought out, and easy to miss at first since the bike retains the iconic HRC colors. Personally I'm kind of a fan of endurance-racing squinty-eyed headlamp setups like this. Airtech makes some neat ones for the GSX-R and ZX-7 and it makes a great, but maybe too-familiar design look fresh.
Head on over to eBay for a whole bunch of additional pictures of this little resto-mod.
From the original eBay listing: 1992 Honda VFR400R NC30 for Sale
This bike has been a project to build a very cool VFR400 I have worked on over the last couple years after I purchased it from a friend who owned it for quite a few years. This bike has been in the US for many years, it does not suffer from much of the corrosion issues that many new Japan NC30 imports are plagued with. This bike has a 17 digit VIN, which is how I bought it. Currently titled and reg'd in Arizona this bike IS LEGAL TO REGISTER IN CA with the 17 digit VIN. 

This NC30 is turn key, ready to ride, track day or display in your collection. EVERYTHING is new or fresh.

The following is BRAND NEW in last few weeks:

Complete fresh paint and bodywork $3500
Brand new Bridgestone S21's front and back, no miles  $350
Brand new Tyga Full exhaust System $800
New Tyga fork adjusters and re-freshed forks $300
Freshly powdercoated wheels front and back $300
New Thermae upper and lower oversized radiators $600
NC35 17″ rear wheel $350
Full service front to back, oil, filter, coolant brake fluid front and back.

You can probably not build an NC30 like this for less… and I have more in it than I am asking for!!!

This is a 1992 VFR400. It is wearing a Tyga Suzuka Style cowling with an NC35 solo style tail section. The bodywork has just been freshly professionally painted in RC30 style classic Honda tri colors.

The bike is on an NC30 3.5×17″ front wheel with NC35 rotors, the rear wheel is an NC35 17″.
Wheels freshly powdercoated and wearing brand new Bridgestones. 
Tyga Performance Full Stainless exhaust system with carbon can. 
Tyga Performance rear sets
Tyga Performance fork caps with Full rebound adjustment
Ohlins rear shock
Thermae Oversized race radiators
HRC rear brake reservoir
Samco hoses
Braided brake lines

This NC30 is very clean and well sorted, it has a rare Ohlins rear shock, the NC35 17 inch rear and looks incredible with the Suzuka style bodywork. The bike is very clean for its age, please look at the photos with the lower bodywork removed. No leaks or mechanical problems, carbs recently cleaned, jetted for exhaust. Everything works, currently the bike does not have front blinkers installed, but I have a Tyga set that can go with the bike and be installed at your discretion. 

All other electrical works as it should, and it has an updated reg/rec, so no issues with the stock Honda ones that often fail. This bike is also equipped with an aftermarket top speed de-restrictor to get around the JDM 180 kph limit.

Not a stock NC30 by any means, but I think it has all the right mods, looks incredible and will make someone VERY happy… and you will NOT see another one like it at your next bike night!

Please check out all the pictures, contact me with ANY questions or if you need more photos!!!
So it's not completely original, and it isn't even close to stock, but the seller is obviously a knowledgeable enthusiast. Modifications like the NC35 rear wheel make plenty of practical sense and, if you're looking for the V4 experience on a budget and have an irreverent streak, that $10,500 Buy It Now price represents a screaming deal.
-tad