Update 8.17.2020: This bike has SOLD to an RSBFS reader! Congratulations to buyer and seller! -dc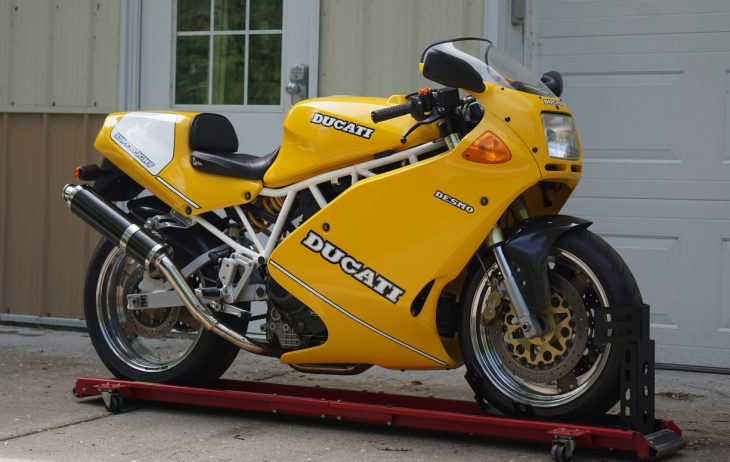 Putting a numbered plaque and some bling on your moribund sportbike is a time-tested method to generate some buzz. It works especially well if you're a storied, but slightly skint manufacturer of moribund Italian sportbikes. But parts-bin engineering doesn't mean the resulting product is necessarily bad, and this Ducati Superlight is proof-positive that the whole can be much more than the sum of the parts.
By 1993, well-heeled sportbike buyers knew that the 916 was right around the corner, and the then-current 888 offered much more performance potential. But that finicky, uncomfortable, and maintenance-intensive machine wasn't necessarily practical, or all that much good on the road. Assuming you wanted to do more than bench-race or compare lap times, the long-serving two-valve Desmodue-powered 900SS made a great platform for a limited-edition sportbike, and the Superlight was just a 900SS with some bolt-on parts.
To be honest, the list of performance modifications to make a Superlight was pretty short: upswept exhaust pipes in place of passenger pegs that gave additional cornering clearance, a stylish solo tail section, and a few carbon dodads to "reduce weight." Most significantly, the Superlight featured Marvic composite wheels: magnesium hubs and spokes bolted up to polished aluminum rims. Combined, the changes saved about 15lbs, compared to the stock bike. Considering the price then and now, a gym membership would be a cheaper and more effective way to increase performance. Of course, nobody really bought a Superlight for its performance potential anyway.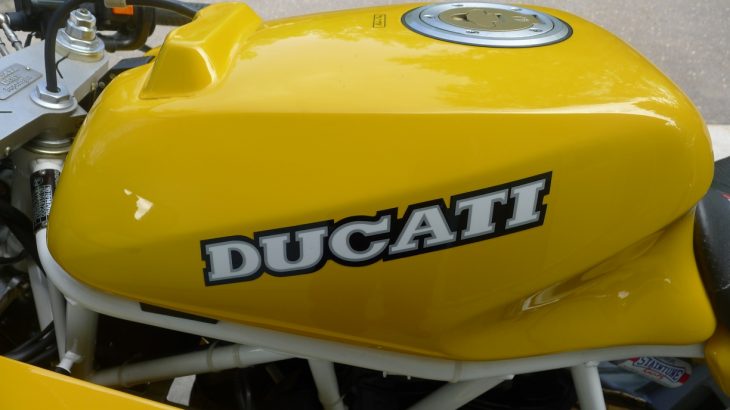 This particular bike is a bit different though, and offers a bit more than your run of the mill Desmodue: a tuned 944cc engine. 86hp might not sound like much, but the stock 904cc engine made a claimed and likely optimistic 80hp. Around 70hp at the wheel is more likely for a factory 900SS, so the big-bore kit installed in this Superlight and the corresponding 69lb-ft of torque to go with the 86rwhp is nothing to sneeze at.
Cosmetically, this is a very nice bike, as you can see from the photos in the listing. It's not completely original, although the 944 kit and Staintune exhaust are certainly period-appropriate upgrades for the performance minded Ducatisti who plans to ride their new acquisition, rather than let it collect dust and appreciate as part of a stock portfolio. The seller is also including all the parts necessary to make the bike appear totally stock so a buyer can achieve stock show appearance if they wanted.
From the Seller: 1993 Ducati Superlight for Sale
1993 Ducati 900SS Superlight. Super clean exceptional performing and running correct (#789/953, Marvic magnesium/aluminum wheels, Brembo full floating iron rotors, carbon fiber front fender, rear inner fender, dash trim, countershaft cover, high pipes, solo tail) example. Excellent original paint, 2 owner bike. Built and tuned by Doug Lofgren. 86 rwhp (944ccc with big valves, headwork and Staintune exhaust – dyno sheet included). Suspension revalved and set up for 200lb rider.Freshly serviced by Ducati master tech (valve clearance check, belts, plugs, oil/filter, flush brakes and clutch). Full Staintune exhaust system, carbon fiber clutch cover, braided steel brake lines, 520 chain/sprockets, lithium battery with special charger. All original parts (except airbox lid) included, along with new belts, factory tool kit, owners manual and Haynes service manual. Tires have aged out and should be replaced, if the bike is to be ridden. ~19,700 miles. No cosmetic defects, except a few minor chips on upper,and front point of lowers behind the front wheel (touched up) and a small rash mark on the edge of the left muffler.

Click here for 80 photos of the bike and scans of service and tuning,

including close up photos of the mentioned defects.

$12,500 $11,500
I've included the majority of the Seller's photos here, but there are additional images available at the link, including close ups of some minor blemishes, dyno sheets, and other documentation. I personally prefer Termignoni exhausts on my 90s Ducatis, but Staintune makes a very high-quality product so, aside from tires, this bike is ready to go. The seller includes a video of the bike starting up and running and the asking price is $11,500 which seems very much in line with prices we've seen recently. If what you want is a delivery-mile museum piece, this might not be the bike you want. But the would make a terrific bike to actually ride, and it's pretty enough to park in your living room between weekend rides embarrassing modern sportbikes in the canyons.
-tad