By the early 1990s, pretty much everyone making a hard-core sportbike was using an inline four engine for their regular production motorcycles. And why not? An inline four is a relatively compact engine, is capable of making excellent power for a given displacement, is smooth-running, and can achieve much higher revs than configurations using fewer, bigger pistons. But Ducati stuck with their sports v-twin, likely because of both budgetary and marketing reasons. With some pressure on various race series' governing bodies, they were allowed a bit of additional displacement compared to inline fours to keep them competitive in terms of outright power, and the wider spacing between power pulses gave them an advantage in terms of traction. But for street riders, the big benefit of a twin was character so, by the mid-1990s, the Japanese manufacturers wanted in on all that sweet vee action. For Suzuki, that meant the introduction of their stylish, half-faired TL1000S.
As has been discussed before, a transversely-mounted v-twin motor is very narrow for good aerodynamics and the perfect primary balance means it's a smooth performer, but packaging in a modern sportbike can be an issue. Ducati refers to their 90° engine as an "L-twin" to differentiate it from other v-twin sportbike engines, and it references the fact that the front cylinder is virtually horizontal, with the rear cylinder sticking almost straight up. Looking at the bike from the right hand side, the engine does indeed look like a capital L instead of a V. The problem is one of packaging: it's a long engine and, with a conventional set up, it results in a long wheelbase or a short swingarm, neither of which is ideal. Notice that, on the Panigale, the rear shock and linkage sit alongside the engine. To get the wheelbase they wanted, Suzuki rotated their own  90° v-twin backwards in the frame to clear the front wheel and used unconventional but very compact rotary damper setup at the rear. The theory is sound but, as many original owners discovered, it didn't work out all that well in practice for the TL.
The issue was that the damper worked fine up until the pace heated up, along with the oil inside, which caused it to quickly loose its ability to, um... dampen. This led to an unenviable reputation for scary tank-slappers and terrifying on-the-limit handling. A larger capacity unit would probably have solved the problem, but several companies have stepped in and developed a compact spring/shock that replaces the stock Suzuki unit and gives predictable performance, allowing the bike's otherwise excellent design to shine.
The TL's handling may have been suspect, but there is no doubting that engine: in various states of tune, it's powered a variety of Suzuki sport and touring models, along with a gaggle of Bimotas and Cagivas. It's powerful, reliable, and makes all those v-twin noises without the occasional frustrations that came with Ducati ownership at the time. Ducati service intervals are even longer than some Japanese makes these days, but when the TL was introduced, Ducati ownership required real commitment to deal with the recommended 6,000 mile valve adjustments. You might be lacking the famous dry-clutch rattle but, fitted with a good set of carbon fiber cans as seen here, the TL makes all the right noises.
Many TLs have led hard lives: they were billed as affordable Ducati-killers and people certainly treated them that way, so it's nice to see one that's been used, but well cared-for.  Some of the aesthetic upgrades may not be to your taste, but good carbon fiber is never a terrible idea, and you can probably find someone willing to swap for the stock parts if you're interested in originality. Something I wouldn't change is the rear shock conversion that's been fitted to sort the handling, the steering damper that should cure any errant bar motions, and the carbon cans fitted to bring out the expected big-twin boom.
Reading the seller's detailed description, there's something strangely familiar about it though...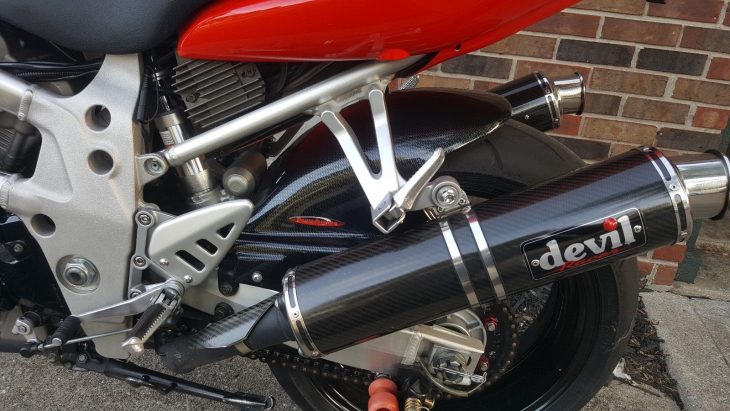 From the original eBay listing: 1997 Suzuki TL1000S for Sale
Up for sale is a fantastic condition fuel injected 1997 Suzuki TL1000S with just over 21k on it. This bike has great personality, tons of low-end power and mid range grunt. Super fast but easily controllable and has great handling. This bike would make a great weekend twisty runner, commuter bike, or fully at home on the track. It is extremely fun to ride. It rides very smooth and can keep up with most sport bikes thru the twistys. Its a fantastic mixture of lightweight body/frame (gotta love the trellis style frame) and the perfect amount of power for the street. You wont be disappointed with this bike. Thousands of dollars in aftermarket goodies and hundreds spent on recent maintence items. This bike is ready to hop on and ride.

The bike has thousands of dollars in aftermarket upgrades and accessories below is a list:

1. Devil Slip-on Carbon Fiber exhaust (This exhaust is exactly what a V-Twin sport bike should sound like)
2. Carbon Fiber look Rear Hugger
3. Carbon Fiber look Air Dam Surrounds
4. Shorty turn signals front
5. Smoked Windscreen
6. Pro-Grip Carbon Tank Protector
7. Integrated rear tail lamp assembly (brake lights, running lights, and turn signals)
8. Adjustable shorty levers (Silver levers with black adjusters)
9. Aftermarket rear wave rotor
10. Aftermarket front wave rotors (not currently installed)
11. R1 rear shock conversion installed (This fixes all the problems with the rotary damper totally removes it)
12. Renthal Grips
13. Aftermarket black Aluminum side mirrors
14. Weisco Fuel Management (dyno tuned for current setup, runs amazing)
15. Aluminum Pro-Tek front and rear brake reservoir covers
16. Carbon Fiber Exhaust boot shields
17. Stainless Steel brake lines front and rear
18. Fender Eliminator
19. Aftermarket Color Matched Undertail

Here is a list of recent maintence items done to the bike:

1. Brand new oil and filter (Synth oil)
2. Chain adjusted and oiled
3. Coolant Flush
4. Steering Dampener Replaced
5. Spark plugs replaced
6. TPS adjusted/recalibrated
7. Battery Tender Hook-up
9. DID chain
10. Front and rear sprocket

Bike comes with a tub of extras that include the passenger seat, all documents for maintence and tuner, some of the stock parts, as well as some additional parts for the bike. Look at picture to see all. Any questions please ask. Price is negotiable. Need gone ASAP.

Introduced in 1997 and made until 2001, the TL1000S was a shot across Ducati's bow. Tired of the Bolognese firm getting all the press for their sexy, thunderous twins, Suzuki did them one better: a reliable, low-maintenance, liquid-cooled v-twin that made the power of Ducati's 916 at the price of their air-cooled 900SS...

While 125hp may not sound particularly scary now, it was a pretty big number for a v-twin in 1997 and the grunty power delivery, combined with relatively light weight and a compact wheelbase, made for notoriously "entertaining" handling.

In contrast to Ducati's "L" twin, Suzuki rotated their 90° motor backwards in the chassis, allowing better packaging at the front of the bike. This left less room at the back for a traditional shock, so Suzuki whipped up a "rotary" damper that was far more compact than a traditional "linear" shock. Unfortunately, one of the reasons traditional spring/shock combos are so widely used is that they've got 70 years of development behind them and just flat work. When ridden hard, the TL's rotary unit gets hot and loses its damping ability, which may contribute to the bike's reputation for "tank slappers", unintended wheelies, and all-around beastliness.

On paper, the TL1000S should have stomped Ducati flat, but that really never happened. But while the first bike to house Suzuki's new twin may not have set the world on fire, the potential in the engine was obvious. It became the Engine That Powered a Thousand Bikes, finding homes in Bimota's SB8 and the Cagiva Gran Canyon and Raptor models, and it still thumps on in the Suzuki VStrom.

Later reviews toned down the emphasis on the TL's "widowmaker" tendencies, suggesting that things had been exaggerated just a bit at the time. And, if you do plan to really ride this bike hard, a modern steering damper will help keep things under control, and kits are available to change out the rotary damper for a more traditional unit.

The 996cc engine does sound amazing with a set of aftermarket cans fitted, and the bassy thump that pumps out of the twin exhausts is pretty distinctive, like a very good computer simulation of a Ducati, with added bass.

The TL1000S is aging better than most. The motors are pretty bulletproof, parts should be readily available, and would make a great day-in, day-out bike for someone who wants big twin noise and feel, but doesn't feel like paying for Ducati maintenance.

Or someone that really, really likes wheelies.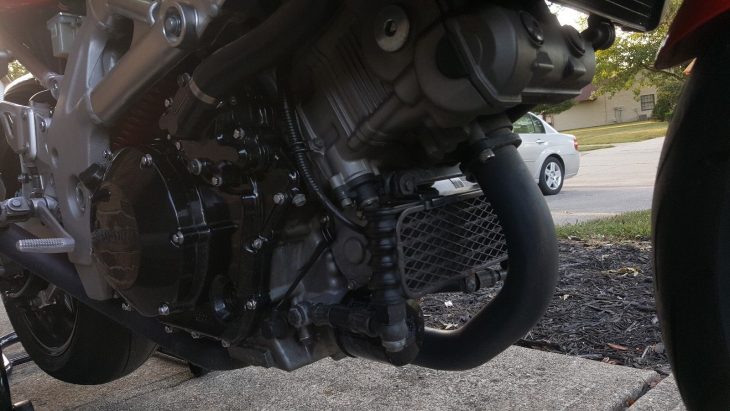 Look, Suzuki's TL1000S is a pretty cool bike, and historically significant as described above, but I'll be frank: the reason I posted this example is because the seller's description is basically a cut-and-paste of another post I wrote a while back! This isn't the first time that's happened and honestly, I'm flattered. Hey, if someone thinks my description of a particular model will help them sell it, I'm doing something right. Reading through it, I do wish I'd been a little less liberal with the quotation marks though... In any event, the TL1000S still offers up a whole bunch of bang for the buck. Nice ones are already pretty hard to find, but still don't command much money. The looks may not be to everyone's taste, but I think it's better-looking than the bulbous, more conventionally-styled TL1000R and, with the replacement of the rotary damper, should be a solid handler. The epitome of 90s styling, with analog big-twin power and tasteful upgrades at a bargain price? What's not to like?
-tad