In the 90s, Ducati captured the imagination of race fans and road riders alike with their exotic, race-winning v-twins, and the Japanese were forced to play catch up on track in in the showrooms, as they'd largely been relying on highly-developed, but less emotional inline fours in World Superbike and endurance racing. The rules of World Superbike certainly favored v-twins at the time, and the Japanese seemed to believe that was all there was to their success, "If a tiny little company like Ducati can do it, we can too!" Unfortunately, both Honda and Suzuki missed their opportunity to cash in, producing "Ducati-killers" that failed to understand exactly why people bought Ducatis in the first place. The Honda SuperHawk was a very good motorcycle cursed with a tiny gas tank and handling that was never really intended to measure up to the track-focused 916, with handsome but fairly bland looks. And Suzuki's TL1000R was a massive failure in terms of its Ducati-slaying ability as well. They'd already built their road-focused TL1000S, so the TL1000R should have been a no-brainer. But while the 916 was narrow, sleek, and very focused on speed, the TL-R was bulbous and heavy, with handling limited by the controversial rotary rear damper carried over from the TL-S. The rotary damper worked fine in theory, but overheated in practice, resulting in sometimes scary at-the-limit handling. Luckily, today's Featured Listing, a track-ready TL1000R goes a long way towards rectifying those shortcomings.
Why use a rotary damper in the first place? Well a bike with a 90° v-twin is generally very narrow [unless you're on a Moto Guzzi], light, smooth and torquey, but presents packaging challenges. Ducati's front cylinder lies nearly horizontal, making for a very long engine and a correspondingly long wheelbase. Suzuki rotated their engine back in the chassis, but that left little room for a traditional rear shock, and they used a compact rotary damper in its place. It was a proven concept, but the execution left a bit to be desired…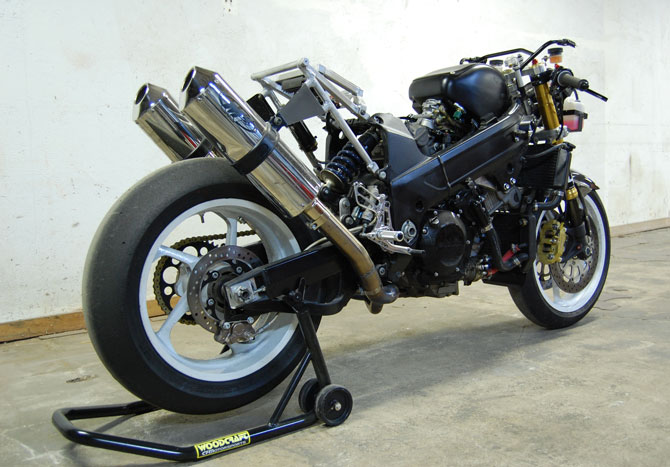 Although the TL1000R was considered a sales flop at the time, low prices and that absolute peach of a v-twin have made it a very appealing roadbike. Keep in mind that Suzuki used this engine to power a whole range of their own bikes, and it was used by plenty of other manufacturers as well. It is reliable, reasonably powerful, and sounds great with a set of aftermarket cans. The TL1000R was a fundamentally sound bike, with all of the elements to be the everyman v-twin Suzuki advertised, but the execution was flawed. Power is never going to rival modern Ducatis, unless you throw a ton of money at the engine. But pounds can be shed, and handling improved with a swap to a more traditional rear shock and good suspension set up.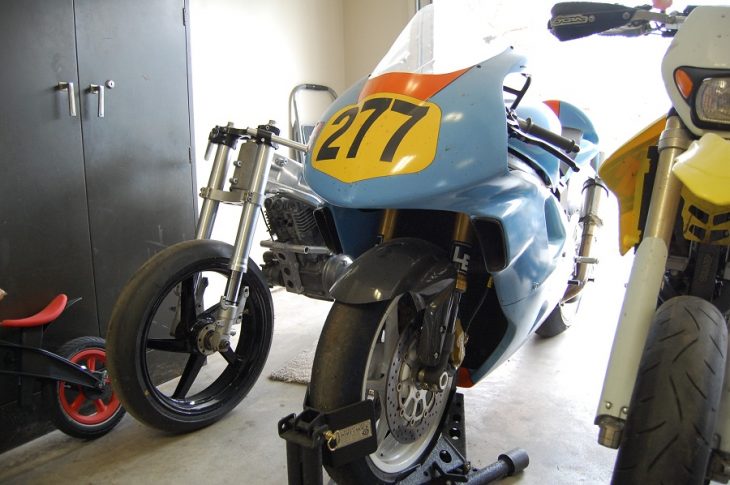 Today's Featured Listing goes back to the TL-R's original stated intent and systematically fixes problems: a complete modern GSX-R1000 front end with a Brembo master cylinder, lightweight bodywork, updated rear shock by Penske, and an Aprilia RS250 solo tail that lightens the bike visually as well, making it the sleek machine it always should have been.
From the seller: TLR1000R Race Bike for Sale
TL1000R for sale, bill of sale, no title, was built frame up piece by piece. Specs follow:

Engine – stock internally, Sharkskinz airbox, M4 full exhaust – rear sections have been modified to pull the exhaust closer to the swingarm for cornering ground clearance, Power Commander III. Yes, I know it's not really a superbike with the stock motor, but the rest of the modifications mean it's not SS legal.

Chassis – LE rear link and Penske shock, 04 GSXR 1000 forke/triples – LE valved and lengthened, Woodcraft clipons, Vortex upper triple clamp, Ohlins steering damper, Sato rearsets

Brakes – Brembo radial m/c, 04 GSXR 1000 calipers with spacers to run 320mm TLR rotors, rear caliper is a Wilwood PS-1 in a captured spacer setup (Pro Fab did the swingarm modification and all the machined parts), Goodridge stainless lines

Body – Sharkskinz body with Honda RS250 tailsection. Rear subframe is all fabricated aluminum.

Misc – Wire harness has been thrifted and ECU has been relocated to the front in fabricated aluminum holder. Clutch m/c is a brembo radial. Throttle is from Yoyodyne, probably more little stuff that I'm forgetting.

$6500, located in Indianapolis

Email is best for me: motorsport.studio at geemale.com
I love the Aprilia RS250 tail section, and the Gulf Racing colors work for me too: I'd love to do a track Ducati 916 up like that! Honestly, $5,600 seems like a heck of a deal for such a fully-developed bike. I've no idea if it'd make a competitive racebike, but if you like twins but don't want to risk your precious 998R in the fast group at a track day, this might be just the ticket. I fully understand why folks would choose something like a GSX-R or R6 as a trackday ride, but it's the funky stuff like this that interests me.
-tad