Update 6.20.2019: We last saw this bike in March of 2018 and bidding ended just shy of $10k. It's back on eBay with a buy-it-now of $17,875. Links updated. -dc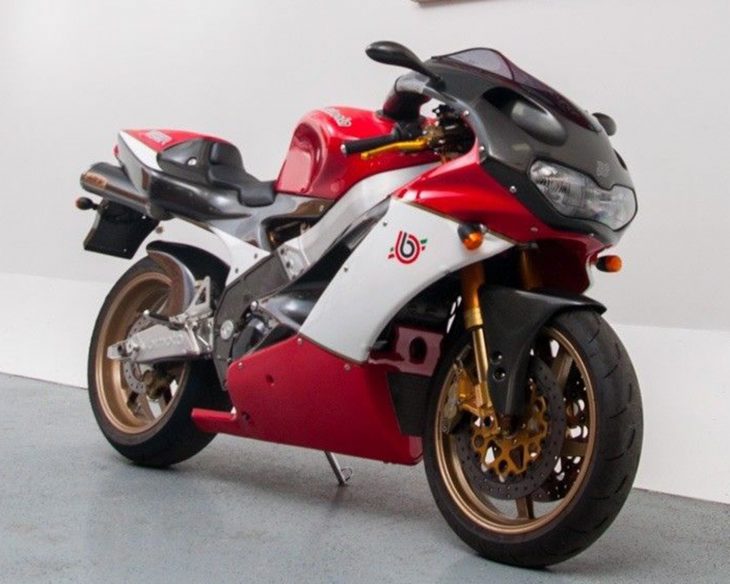 Ducati has come a long way in terms of service costs and reliability. The four-valve Bologna twins have always offered good power and a bulging midrange, sure. But you really had to pay for it in the era of the 916. These days, 15,000 mile intervals between major services help keep costs down and the bikes on the road instead of in the shop but, back in the late 1990s, if you wanted a sports v-twin you could ride every weekend, you were probably looking at something like the Suzuki TL1000R. The duck-billed styling may not have appealed to everyone, the bike was a bit porky, and handling was a bit variable, owing to the rotary damper, but the engine was powerful, flexible, and made the right thumpy big-twin noises with a set of aftermarket cans fitted. That fact wasn't lost on Bimota when they went looking to build the SB8R their own v-twin superbike, although I'd bet it was more likely that Ducati wasn't interested in selling them any 4V twins, since I doubt Bimota was really worried much about reliability and cost…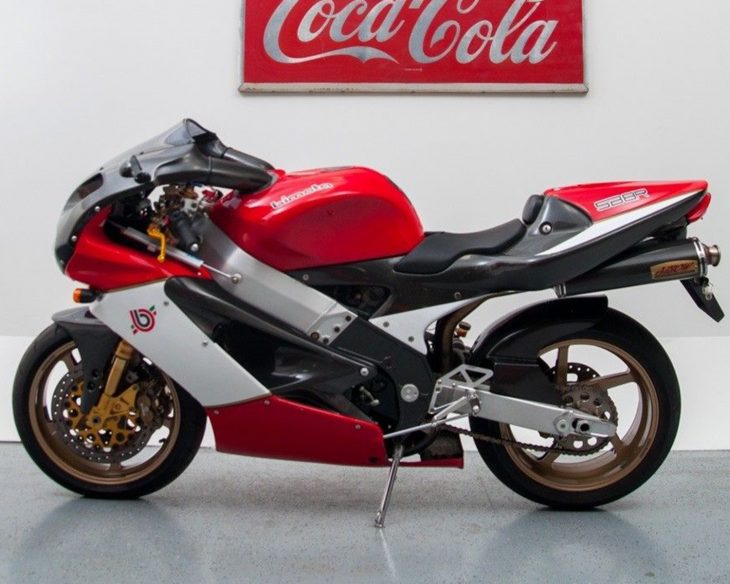 Of course, for a while there, it seemed like the liquid-cooled, four valve, 996cc Suzuki v-twin was the small-block Chevy of the era, since it was used by Suzuki, Cagiva, and Bimota, and probably even a few others I've forgotten, and got stuffed into everything from sportbikes to roadsters to sport-touring bikes. Backed by a six-speed gearbox, the 138hp engine was plenty powerful and very reliable, especially compared to the charismatic, but sometimes temperamental Ducati unit. The biggest issues with the TL1000S and TL1000R were their slight weight problem and the packaging problem "solved" by an innovative but underdeveloped rotary rear damper that had a tendency to overheat and stop damping, leading to the lethal reputation of the earlier TL-S.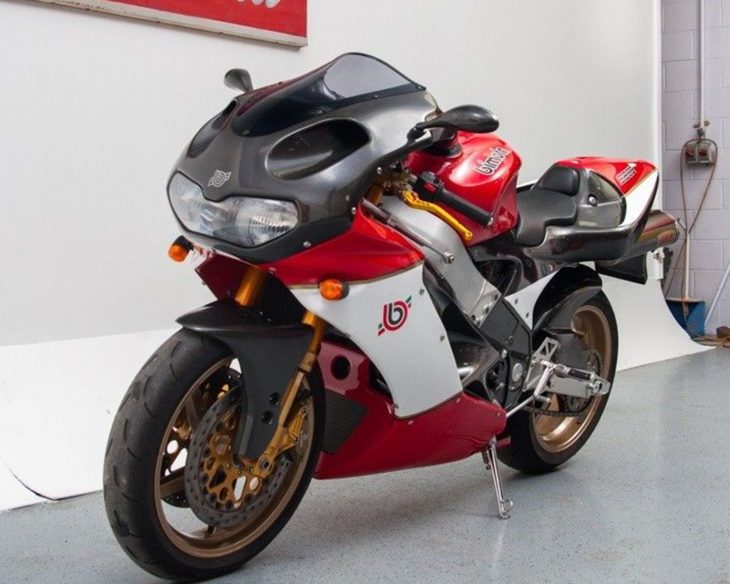 Bimota solved both problems. Reducing weight was pretty simple, since that's always been Bimota's thing anyway. It helped that the rear subframe didn't need to be engineered with a passenger in mind, and the bike was otherwise liberally sprinkled with lightweight materials. Of course, their other thing has always been frames, and this one is deserving of the Bimota name: it's an exotic composite unit, assembled from aluminum beam and carbon fiber elements for maximum strength and minimum weight. That new frame allowed a traditional shock to sit alongside the engine, like a Panigale, and solved the packaging issues. Styling is… different. One of the trademarks of a sports v-twin is the overall narrowness of the package, a result of having only two pistons. Sure, one of them is usually thrashing away at 4,000 feet-per-minute, pointed at your crotch, but that's a small price to pay for for torque, aerodynamics, and character. But somehow the SB8R is positively bulbous, although it does make much better use of the original Suzuki headlamp. It's a good-looking bike, but those intake tubes that snake over the tank from their inlets at the top edge of the fairing completely block your view of the controls, so new riders may fumble around a bit and errantly honk, cancel turn-signals, or shut the bike off until they memorize their location.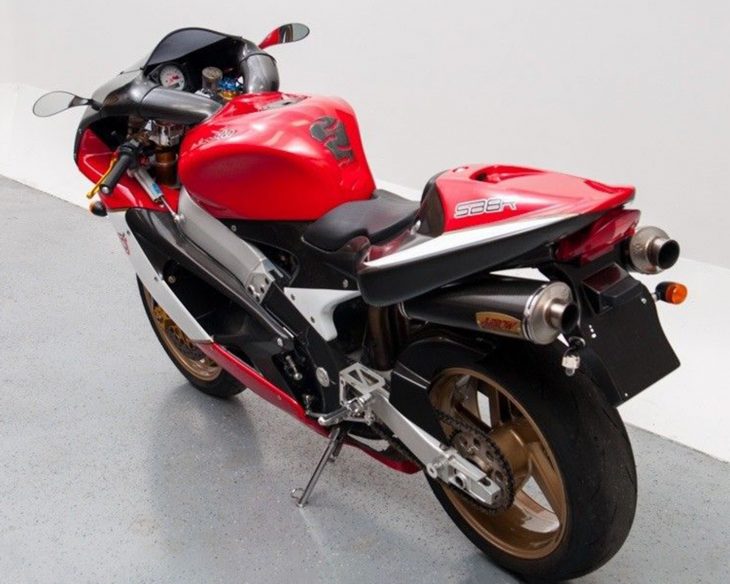 From the original eBay listing: 2000 Bimota SB8R for Sale
Limited-production track ready motorcycle. #3 of around 150 produced total. Aluminum & carbon fiber frame. 1,000cc engine producing 135hp and 5 speed manual transmission. 3,245 miles shown, but the title is mileage exempt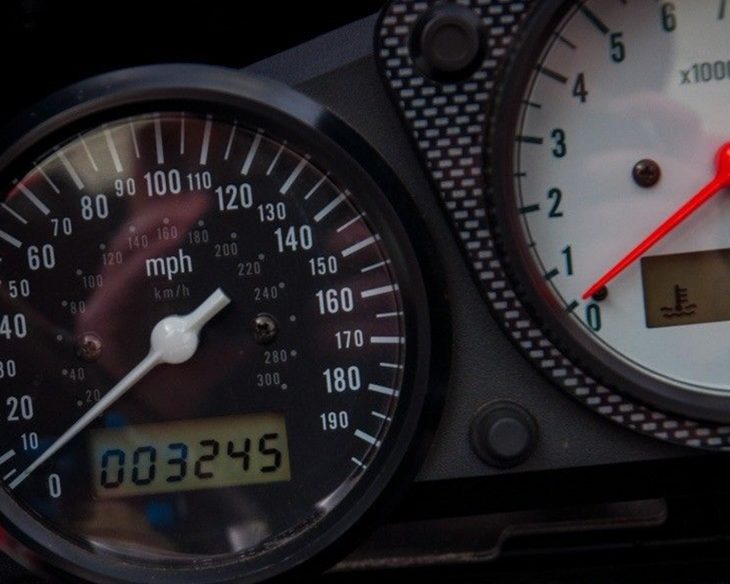 "1,000cc engine producing 135hp and 5 speed manual transmission. Revs kinda high on the freeway, but it's Italian!" Obviously, this is a dealer reselling the bike, but you think they could at least get the basics right… Anyway, aside from the fact that we're apparently missing a gear in the gearbox, it's mostly what you'd expect from a 3,245 mile bike, and includes a set of Arrow carbon cans, along with a few anodized accessories of dubious taste. The broken turn signals are a bit of a concern, since they appear mismatched, are non-standard, and could easily have been repaired before posting the bike up. It's a minor issue, but it suggests that maybe this bike isn't quite as carefully preserved as it appears. Bidding is up just north of $7,000 with another day left on the auction. Mid to late 90s Bimotas are currently at a low ebb in terms of value, so if you aren't afraid to buy a bike that might need a bit of attention to turn it into something that really performs as it should have straight from the factory, or if you're just looking for some very cool garage jewelry on the the [relatively] cheap, now is the time to buy.
-tad