Dr. Jekyll Or Mr. Hyde? Original And Low Mile 1997 Suzuki TL1000S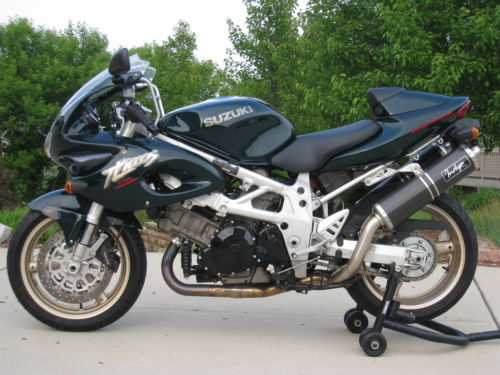 How do you remember the TL1000S ?  Was it a worthy Ducati alternative with innovative ideas and a very nice 90 degree V twin or the widow maker from Hammatsu?  It is definitely a bike with a sorted past but how much is real and how much is legend?  I remember stories of violent and unexpected head shake that would scare even those with the highest of testosterone levels.  I've read of issues with the rotary damper rear suspension.  There apparently were general quality control issues with the initial model year bikes as well.  That is the Dr. Jekyll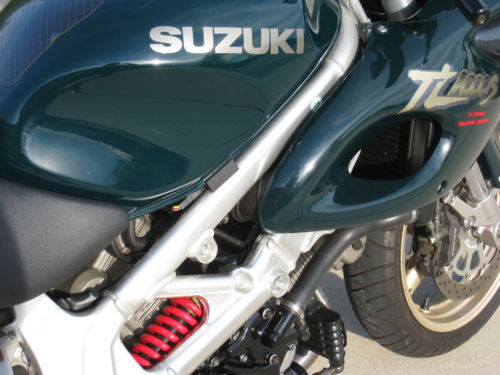 The Mr. Hyde?  Well,  for the most part people absolutely love the darn things.  Most say though, ditch the rotary damper rear suspension as soon as possible.  For a bike released in 97 it had some  nice features.  The frame is a light weight trellis design and the engine featured fuel injection and a back torque limiting clutch.  From the reading I did the bike could be summed up in a word: "Fun"!.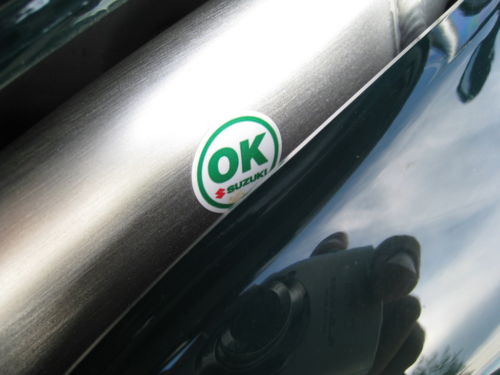 If  the Dr. Jekyll still has you worried,  this bike did go through the Suzuki recall program.  I believe the recall was for the steering damper but I also saw one for the fuel tank as well.
If you've waited, this is the one you want.  Almost 100% original and only 2,300 miles.  The only changes are a tasteful exhaust system and a fuel injection update.
The details:
Up for auction is an extremely clean example of a 1997 Suzuki TL1000S in the rare green color.  This bike is as close to new as you are likely to find anywhere, only 2300 miles on it.  The photo shows 2200 something but I've been riding it, this bike runs awesome and is a blast to ride. The sound is absolutely addicting!  I don't think it's possible to ride this bike and not be smiling, it's that much fun!  The bike is all original except for the stainless steel/carbon fiber exhaust.  I do have the original pipes, mufflers, brackets and rear seat pad.  All are included to the winning bidder as well as a Yoshimura fuel injection adjuster, factory service repair manual, and an owners manual.  The bike has a brand new Yuasa battery this season. There are NO scratches dings or dents, again very clean, very original.  No disappointments if you are looking for a sweet TL1000S.  I do reserve the right to end the auction early as the bike is for sale locally.  Thanks for looking and good luck!  Please email me with any question that you may have.

The bike did have all the original recalls done as proven by the "Suzuki OK" sticker on the right side of the frame.  Yes this bike does have the factory steering damper installed.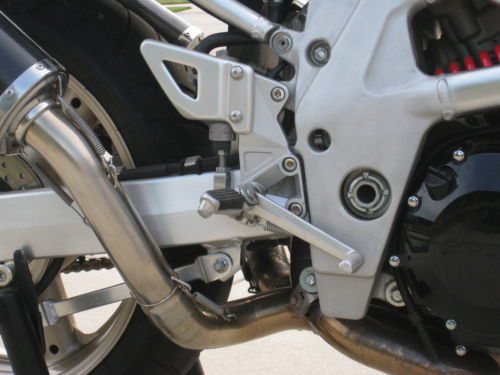 As I've said before, it impresses me when an "average" bike has been taken care of this well.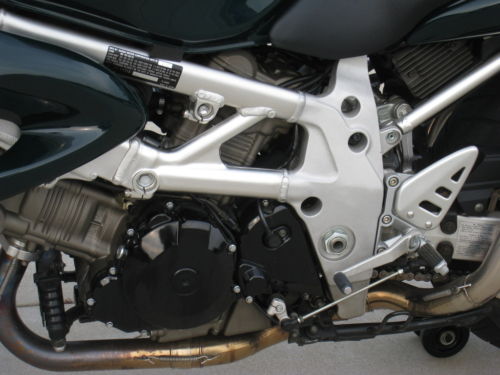 I think the styling has held up well.  It would look just fine in a showroom in 2011.  You may know Suzuki sold these engines to Bimota for the SB8K but did you know they also sold them to Cagiva for the V-Raptor and Navigator?  Don't feel bad if you've never heard of those two.  They never made it to the United States.  Knowing Cagiva, they probably barely made it out of the factory.
A quick spin of the internets revealed there aren't a whole lot of TL1000S's for sale.  It turns out to be a bit more rare than I thought.  I didn't come across a single one that was as nice as this example.  If you aren't spooked then  check it out here.
Ian