Stir the throttle and brakes a bit too thoroughly and a knowledgeable gendarme might just pull you over to check out the S4RS.  Today's is a single-year special, all the best components and the national livery to boot.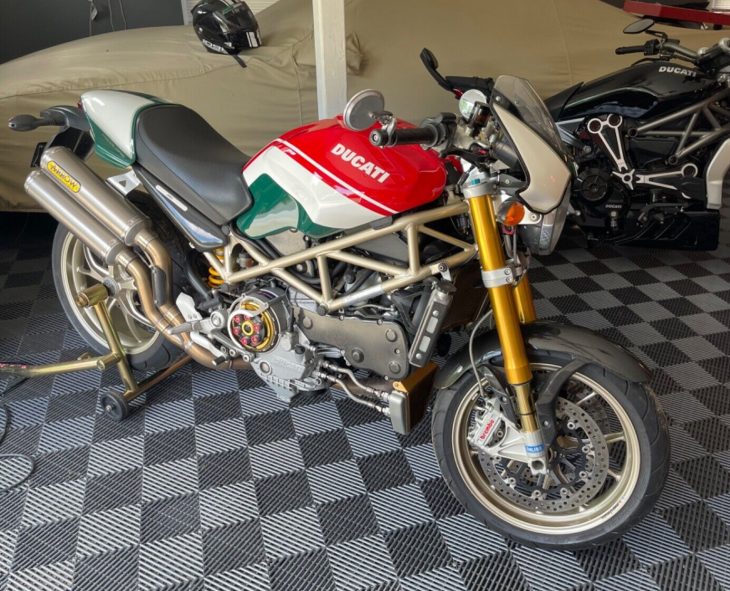 10 years into the Monster, Ducati fit a desmoquattro to the naked, and the market considered it worth overdoing.  S4 with a 916, S4R with a 996, and S4RS with the testastretta 998.  130 hp without a fairing was pretty out there in 2008, with a light gold trellis struggling to find enough places to attach plumbing and electrical.  As a flagship, components on the S4RS were top shelf – Öhlins front and rear, 320mm Brembo radial mounts, and Marchesini Y-spoke wheels.  The seat fairing might look like a hideaway pillion, but the S4RS is a mono.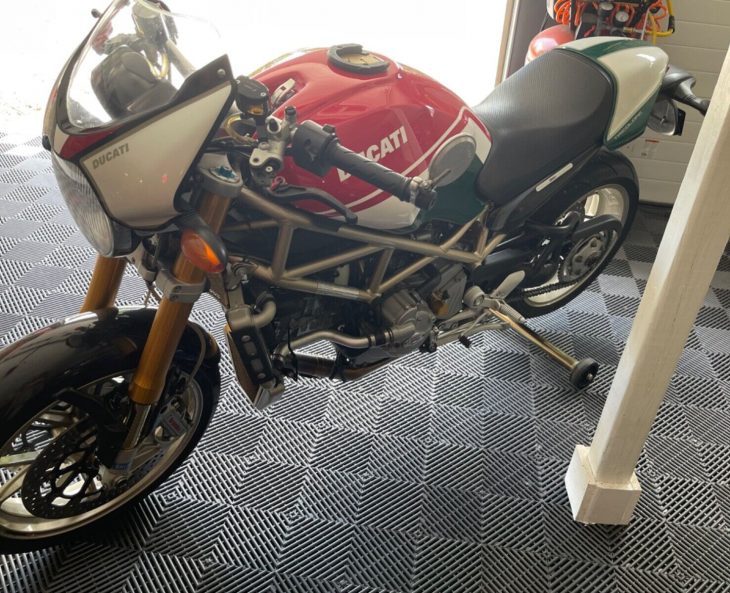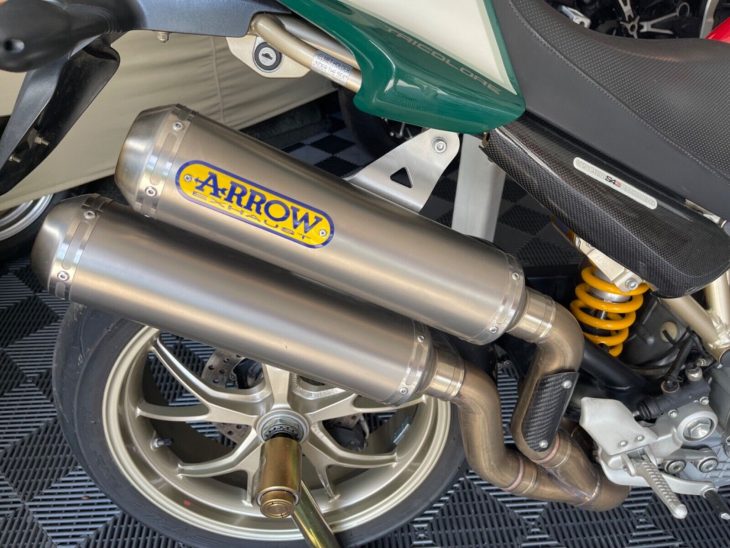 Apparently the seller has an eBay business selling petroliana, but knows their way around a testastretta as well.  Nice mods but more importantly, maintenance is current including a new battery.  Tires aren't mentioned in the eBay auction, but look good –
S4RS Tricolore.  Only 400 produced total.  Bike is very very nice. Mechanicals up to date and had a few tasteful mods.  Full Arrow exhaust system. Number 382 of 400. Every stock part (except the original tires) is included. I bought this from the second owner with 2,700 miles. I have all the paperwork and all keys (2 black, 1 red). Timing belts changed and valves adjusted less than 500 miles ago. Brand new battery, oil and filter, and coolant flush, tires are in good shape. Bike runs great and needs nothing.  Let me know if you would like more or specific pictures. Bike has an Oberon slave cylinder (previous owner) CRG mirrors and levers, Cox Racing screens on the radiator and oil cooler, open clutch cover, plate, springs from EVR.
Not really at home on the highway, the water-cooled four valve Monsters are more comfortable around town, and often add a tooth out back to help rideability.  Lack of fairings helps the engine stay cool(er), and the exposed works have their own beauty.  Quite collectible at this level, the Make Offer button is there if the ask seems a stretch.
-donn