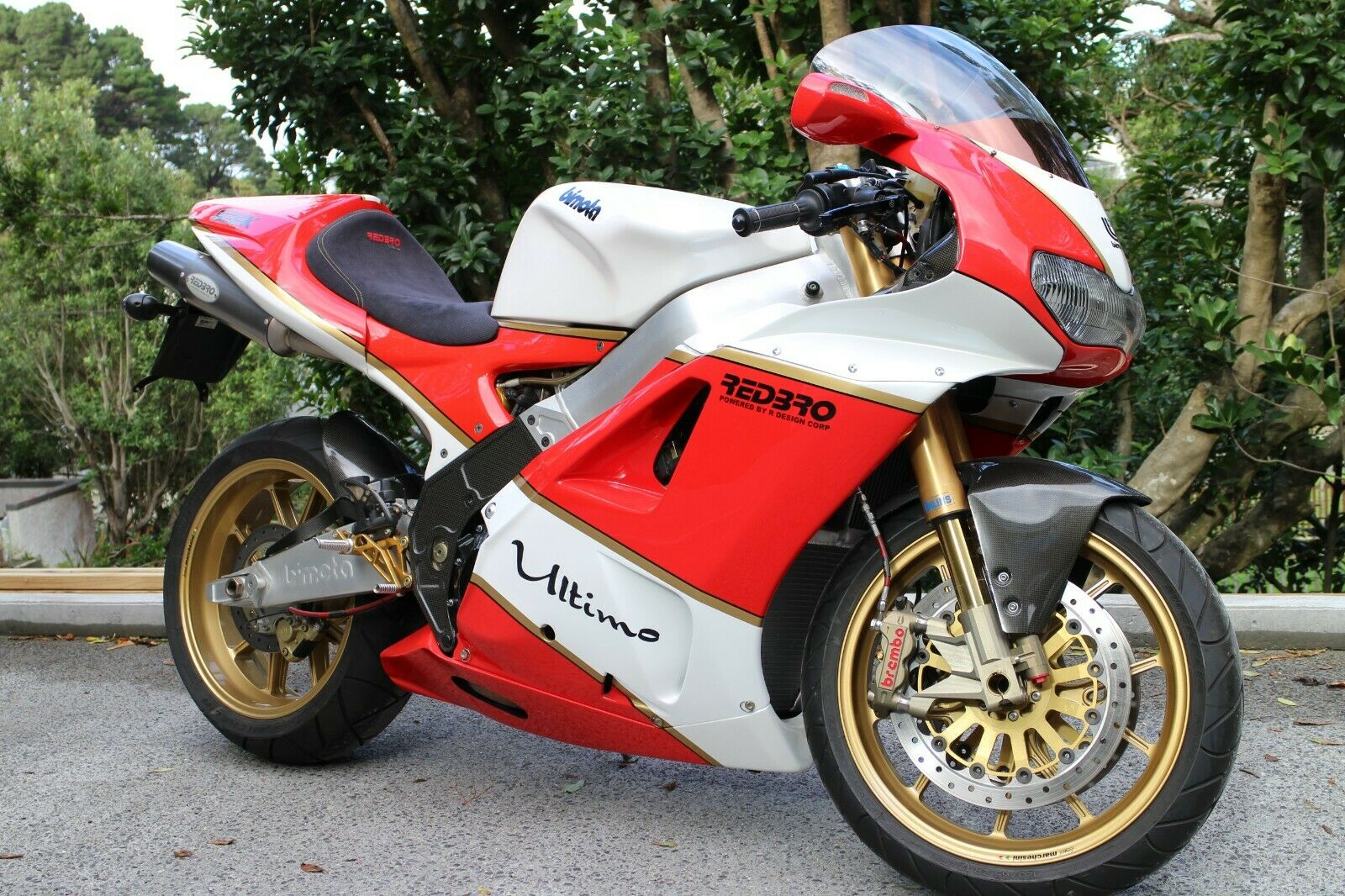 Things are always interesting in the world of rare and exotic motorcycles.  There seems to be an endless stream of things to ogle and dream about.  For many the top of the list is Bimota.  The storied Italian brand has always produced lust worthy motorcycles in low volume.  Over the years they have used many different engine configurations, from many different manufactures, so there is something for everyone.  In the late 90s Bimota tool the Suzuki TL1000R V Twin and decided it would be perfect for their new SB8R and slightly more intense SB8RS models.  These bikes featured a unique carbon fiber frame section as well as top tier suspension for the day.  In 2000 Bimota was racing an SB8R in WSBK with Anthony Gobert.  The high water mark of the year was a race win at Philip Island.  To celebrate this success, Bimota released the SB8K as an updated version of the SB8R.
The SB8K was the end of the Suzuki powered Bimota era.  Details are scarce on exactly how many were built, but there is no doubt the production run was in the tens, and not hundreds of bikes built.  To make things even more confusing, Bimota also had a few variants of the SB8K.  The "standard", Gobert, and Santamonica edition round out the field.  Make no mistake, all of these were rare, expensive and interesting options in period.  One can only imagine how amazing it would have been to source one of these bikes new.  But what might be even more amazing is that it seems that there was a market even higher up the food chain.  Apparently there were people that saw the SB8K as too common, or not focused enough, so the SB8K Ultimo was created.
The aptly named Ultimo was dripping with even more high performance and exotic components.  It was the brainchild of the Japanese importer for Bimota, Redbro Racing.  They had a history of turning the wick up on other Bimota for the Japanese market.  For just over 6 million Yen, you got even better Ohlins forks, upgraded brakes, and a host of internal engine modifications.  The Motor breaths through a Moto Corsa Ti exhaust system that is sure to please the ears.
From the Seller's eBay listing:
Only 10 SB8K Ultimo bikes were ever built, for the buyer that wanted something very special. This bike has Marchesini magnesium wheels, Brembo mono block brakes, full Ohlins front and rear suspension, Ohlins steering damper. Stack dash, modified ECU, High compression forged pistons, 12:1. High lift cams, Titanium silencers. (moto corsa), Alcantara fabric seat, full carbon body work, tank, sub frame all as standard equipment on this model. The new price when released in Japan was 6,000,000Yen.(39,000pounds) Essentially brand new 22 year old bike, the dash says 38km traveled, but according to Stack, the dash will never read zero as km are added to the dash whilst testing. The Stack dash can be scrolled through many different screens and setting by the pass button on the LHS bar, very cool. I estimate the bike has done 3km. The SB8R isn't even in the same league as this model. With forks, calipers and wheels alone worth over 10,000Pounds. The bike has been fully serviced and runs like a dream. Send me an email and I can send you a link to watch the bike running on you tube. The bike is located in New Zealand. Included in the buy now price is crating the bike and transport to most major ports. London, LA. etc. Price does not include local import or port charges or insurance. This is a very special, rare bike, running the beautiful TL1000R engine you wont be disappointed adding this one to your collection. It sounds and looks amazing.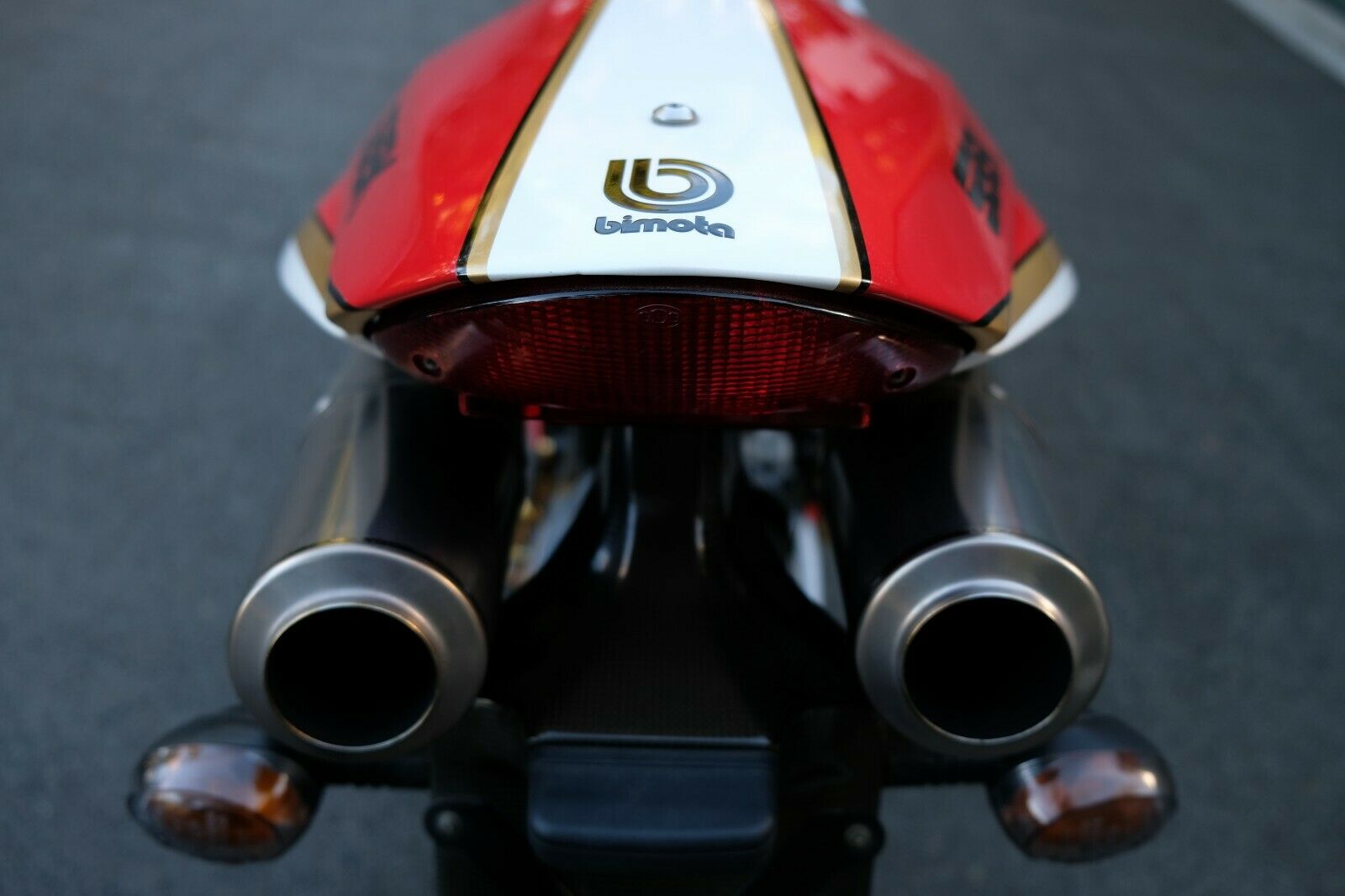 In the late 90s and early 2000s it was not uncommon to see owners modifying their vehicles, or well known shops to do a limited run of in house custom builds.  Many of these builds have either not aged well, or have not survived long enough to be collectable.  This example here represents a chance to experience a really interesting period in time again with essentially a brand new bike.  The bike seems perfectly preserved and would be well suited for a static collection, or returned to the road for enjoyment.  The seller appears to be no stranger to the bike, or transporting around the world.  This would be a wonderful benefit to a potential buyer, almost as much as the seller's offer to crate and ship the bike to your local port.  With anything this rear, it is hard to put an exact value on it.  Currently listed at just under twenty thousand British pounds.  This price point is not for everyone, but when you think about how special this bike is it is hard to think of a better way to spend the money.