Pug-ugly and well-endowed, the Aprilia Tuono has always been a bike for those who favor performance over looks. Sort of like the motorcycling equivalent of Ron Jeremy… I've never ridden a second-generation Tuono like this one, but I've ridden the less scantily-clad RSV1000R with which it shared its major components, and I'd assume it also has that bike's torque, agile handling, and surprisingly effective wind protection. Okay, maybe scratch that last bit…
None of Aprilia's v-twin sportbike offerings are really lookers, so it's the bits under the plastic and carbon-fiber we're really interested in here. Aprilia has always made great-handling machines, and their aluminum beam frames seen on the RS250 and first-generation RSV Mille and Tuono are gorgeously sculptural. The second-generation v-twins had a more angular design, but it was equally effective, and feature quality suspension at both ends from Showa, Sachs, or Öhlins, depending on which version you're looking at, along with light-weight wheels and quality Brembo brakes.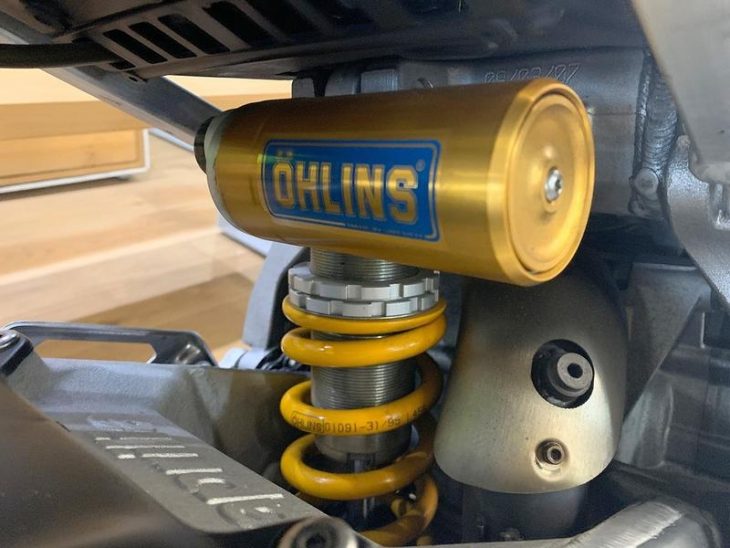 Unlike other manufacturers of naked sportbikes, Aprilia didn't bother to detune their Tuono. They just ripped off the fairings, stuck on a little bikini unit to house the lights and give the gauges a place to live, slapped on a set of handlebars, and called it done. They didn't even detune the 130-odd horsepower engine at all. In this case, we're talking about the compact, Rotax-designed v-twin that displaced 998cc and used an unusual 60° layout, with a pair of balance shafts to cancel out the resulting vibrations.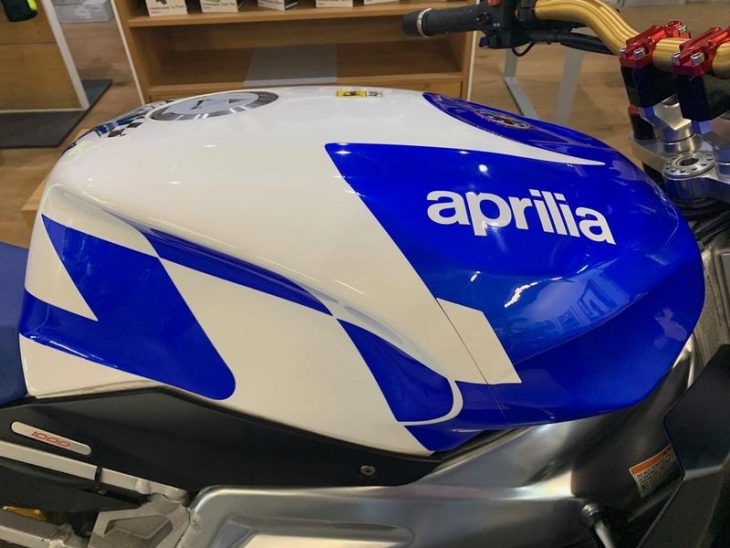 From the original eBay listing: 2007 Aprilia Tuono 1000R for Sale
AKRAPOVIC EXHAUST SYSTEM-LITHIUM BATTERY-OHLINS STEERING STABILIZER-OHLINS REAR SHOCK-RIZOMA MMIRRORS-THROTTLEMEISTER-3D LEVERS-F/R/FRAME SLIDERS-3D FOOTPEGS & FOORESTS-SEAT COWL-FENDER ELIMINATOR-TANK PROTECTOR-BAR RISERS-NEW LITHIUM BATTERY-PUIG TINTED SCREEN-SPARE KEY. ALL FLUIDS CHANGED. 12403 MILES-EXCELLENT CONDITION.
These tend to have more miles than your average Italian sportbike, a testament to the Tuono's practicality. Or at least its usability. Luckily, the 12,000 miles indicated are nothing to worry about, unless it's been pretty badly abused. This one includes a few quality upgrades and features a BMW vibe with those handsome blue-and-white graphics. There are just hours left on the auction, and the bike is selling for a reasonable $6,750. You can find Italian exotica for less money, but the Tuono still offers a huge fun-to-dollar ratio, along with excellent reliability.
-tad