After years of road and track success with their smaller-displacement machines, most notably the sleek, Suzuki-powered RS250, Aprilia decided to move up to the big leagues and take a piece of the big-bike pie away from Ducati with their RSV1000. An intentional move away from Ducati's sleek but utterly impractical 916, the RSV combined styling that was almost hyper-modern, all angles and textures, along with ergonomics that allowed you to survive a full day's riding without needing to down half a bottle of ibuprofen the next morning. Powered by a liquid-cooled Rotax-designed 60° v-twin displacing 998cc, the bike had plenty of performance on tap to match the exotic, if not particularly beautiful looks.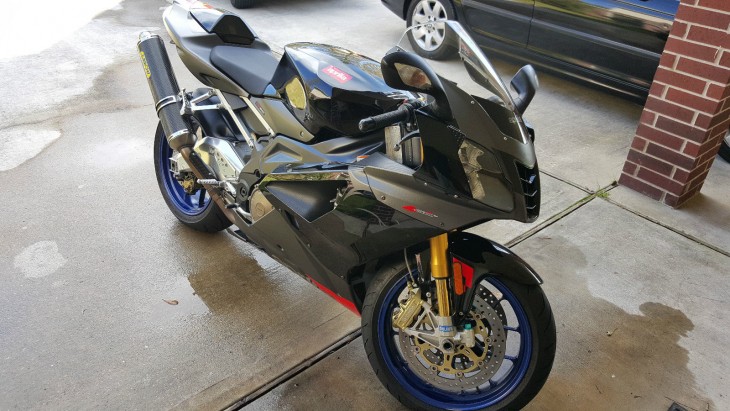 After the bulbous first generation model, the updated RSV as seen here was introduced in 2004 and used the same basic platform, with the bodywork updated to a much sleeker "stealth-fighter" design. While the earlier bike was undeniably effective, the scaled-up RS250 style was slightly awkward and bulky and, as I've mentioned previously, the headlight really does look like Mickey Mouse.
Go Google it, I'll wait.
Anyway, the redesign kept the good stuff intact: classic Italian stability and handling, a charismatic, if slightly agricultural engine that put paid to the notion that Italian bikes are fundamentally unreliable and expensive to maintain. While Ducatis of the period were still holding regular and expensive belt and valve-adjustment schedules over their owners' heads, the Rotax v-twin is famously durable and easy to maintain, making this the Italian sex-machine for riders who can't be bothered with Italian sex-machine diva histrionics.
From the original eBay listing: 2007 Aprilia RSV1000R for Sale
Condition: Aprilia RSV 1000R is in good condition. Normal wear and tear. Lower fairing cracked which is an easy replacement. Has never been dropped or crashed.
Description: year:2007
make:Aprilia
Model:RSV
Engine:V60 Magnesium four stroke longitudinal 60° V twin. Liquid cooling with three way pressurised circuit. Double overhead camshaft with mixed gear/chain timing drive. Four valves per cylinder. Patented AVDC (Anti Vibration Double Countershaft).
Transmission:6-speed
Horsepower @ RPM:143 HP@10.000 RPM
Torque @ RPM:103 Nm @ 8.000 RPM
Displacement:997.62cc L
History: Second Owner
Features: Arrow aftermarket slip-on exhaust
I realize that the seller is just copying specs in the listing, but the pedant in me always gets annoyed when I see "longitudinal" used to describe this engine and "transverse" to describe a Moto Guzzi v-twin. Engineers should feel free to chime in here and correct me, but that term describes crankshaft orientation, not head orientation: Chevy Corvette? Longitudinal. Honda Civic? Transverse. BMW flat twin? Longitudinal. Honda CBR1000? Transverse.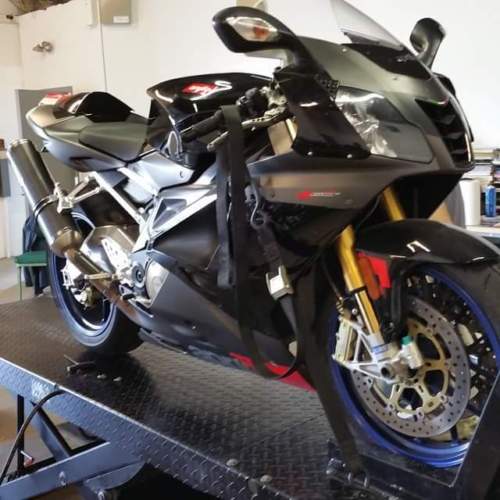 Anyway, this example is basically stock, apart from the slip-ons and is in good cosmetic shape, apart from the cracked lower fairing. With a $5,500 Buy It Now price, v-twin RSVs represent a pretty great sportbike buy at the moment. Certainly, there are 996s to be found for less than that, but those really aren't all that rare and buyers certainly need to be prepared for higher maintenance costs.
-tad